Key Points
Statements released by the United States and China were consistent in describing a truce; but inconsistent in their details.
The hit to the U.S. economy has been small so far; but if the additional tariffs were to be implemented, the haircut to GDP becomes more severe.
Trade is but only one area of tensions between the United States and China—keeping the temperature down in the coming weeks will be crucial.
The stock market is in a festive mood as December gets underway. What started as a post-correction rally courtesy of more dovish statements from Federal Reserve Chairman Jerome Powell last week; got an additional spark from the post-dinner announcements from Presidents Trump and Xi at the G20 meeting over the weekend.
A truce was called by the two leaders, with tariffs paused at their current levels over the next 90 days while negotiators try to craft longer-term solutions to the two sides' conflicts and disagreements. This is worth a cheer in the short-term, but some enthusiasm curbing may be in order beyond the stated time frame for negotiations. There was little in the two sides' statements that would suggest the longer-term structural aspects of the United States-China rivalry.
In fact, there was little in the two sides' statements that were even consistent. Even the press conferences were held separately—there was no joint session to discuss the outcome of the leaders' dinner, allowing each side to spin it their way. Hat tip to our friends at High Frequency Economics for highlighting the statements' differences.
White House statement from Press Secretary Sarah Huckabee Sanders:
"President Trump has agreed that on January 2, 2019, he will leave the tariffs on $200 billion worth of product at the 10% rate, and not raise it to 25% at this time."
Xinhua, China's state news agency:
"Chinese President Xi Jinping and his U.S. counterpart, Donald Trump, agreed here Saturday to continue the trade talks between the two countries and stop imposing new tariffs."
Sanders' statement:
"China will agree to purchase a not yet agreed upon, but very substantial, amount of agricultural, energy, industrial and other product from the United States to reduce the trade imbalance between our two counties. China has agreed to start purchasing agricultural product from our farmers immediately." (Emphasis is mine, to highlight that there was not much in the way of an actual agreement on substance.)
Xinhua on details as presented by State Councillor Wang Yi:
"China will import more marketable products from the United States in efforts to gradually ease imbalances in two-way trade." (Missing are the words "immediate," "soybeans" and "agricultural products.")
Sanders' statement:
"President Trump and President Xi have agreed to immediately begin negotiations on structural changes with respect to forced technology transfer, intellectual property protection, non-tariff barriers, cyber intrusions and cyber theft, services and agriculture."
Xinhua's different take on China's perspective:
"The two sides also agreed to open markets to each other...adding that China will, in the process of its further opening-up, work to gradually resolve the legitimate U.S. concerns." (Emphasis is HFE's.)
Sanders' statement:
"Both parties agree that they will endeavor to have this transaction completed within the next 90 days. If at the end of this period of time, the parties are unable to reach an agreement, the 10% tariffs will be raised to 25%."
Wang's different take as reported to China's media:
"Terms of both sides will follow the guidance of the principled consensus reached between the two leaders, and step up negotiations toward the cancellation of all tariffs imposed this year so as to reach a specific mutually beneficial agreement at an early date." (No mention of 90 days.)
As noted by Carl Weinberg at HFE, "China sees the next round of talks as aimed at ending existing tariffs, while the U.S. side sees them as aimed at unresolved trade issues. These are very different perspectives."
Wang's conclusion as to future contact:
"The two presidents agreed to keep in close touch with each other through visits, meetings, phone calls and correspondents to continue providing guidance for the bilateral ties." (Sanders' statement had no reference to future contact.)
Looking ahead at "negotiations"
The Trump Administration's key trade representatives—Robert Lighthizer and Peter Navarro—are seen as trade hardliners who are unlikely to walk into further negotiations with their tails between their legs. As noted by GavekalResearch, "the trade and national security hardliners in Washington are likely to keep ratcheting up the pressure on Beijing via investment restrictions, export controls, and perhaps limits on visas for Chinese students and workers in tech fields. If trade negotiations—for which no framework has yet been announced—go poorly, it's possible the threat of tariffs could be revived next year." (Emphasis is mine.)
In addition, "Xi Jinping made no concessions on key issues such as market access, forced technology transfer, subsidies for state firms and aggressive industrial policy. Instead Xi pledged to buy more U.S. goods (a promise he is always happy to make), ban exports of the opioid drug fentanyl (which he probably would have done without the threat of tariffs) and offered to reconsider the Qualcomm-NXP merger his regulators previously scuttles (probably a meaningless gesture, since Qualcomm has already paid a breakup fee, appointed a new CEO and moved on)."
We've been citing trade as an important risk over the past year in our outlooks. A pause in the ratcheting up of tensions is certainly a positive, but there are no guarantees that a formal agreement is made over the next 90 days. The prior hits suffered by the stock market, the potential hits to overall economic growth, and the pressure (direct and indirect) the administration likely felt from corporations most affected by the tariffs, may have been enough of a push to call a truce.
As we've noted, the economic hits to the U.S. economy to-date have been fairly minor; but as you can see in the chart and table below, the hits would become increasingly more dire if the additional tariffs are put in place. The hits to China's economy and world trade overall would be even greater. The stakes are high.
Tariffs' Hit to U.S. GDP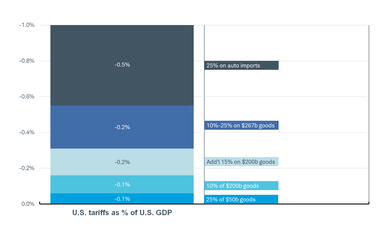 Source: Charles Schwab, Cornerstone Macro.
Tariffs' Hit to Global GDP/Trade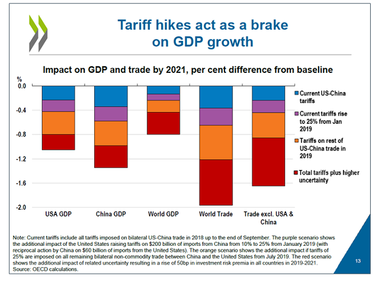 Source: Organisation for Economic Co-operation and Development (OECD) Global Economic Outlook, November, 2018. (http://www.oecd.org/economy/outlook/Growth-has-peaked-amidst-escalating-risks-economic-outlook-presentation-11-2018.pdf).
It could be argued that U.S. growth this year is sufficiently healthy to absorb a one percentage point-plus hit to real gross domestic product (GDP); however, estimates over the next few quarters are for a meaningful deceleration in growth—providing less of a cushion. As you can see below, from a 2018 peak growth rate of 4.2% in the second quarter, the Atlanta Fed's GDPNow forecast is that growth will slow to 2.6% this quarter; while Bloomberg shows the consensus forecasts for next year getting to only 2.0% by next year's fourth quarter.
Slowdown Expected for Q4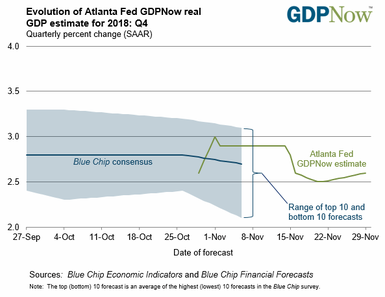 Continued Slow Growth Expected in 2019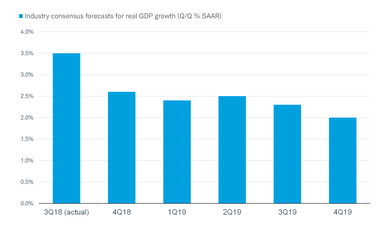 Source: Charles Schwab, Bloomberg, as of November 30, 2018.
In sum
The next 90 days are crucial and should signal to both sides a sense of urgency; as the additional hits to both economies would be substantial if the remaining tariffs kick in. Each side is likely to continue to emphasize the positives, but the devil will be in the details of the negotiations.
Trade is not the only area of tension between the world's two largest economies. When I sat down with Stamford professor and world-renowned historian Niall Ferguson at Schwab's IMPACT conference in November, he highlighted again the implications of the end of "Chimerica." Echoing some of those sentiments, our friends at EurasiaGroup concluded their note today with this:
"There are too many areas of tension right now between the United States and China for any one meeting to fix. Amid a climate of intensifying rivalry and mistrust, hardliners in the Trump administration are scaling up aggressive measures against China over issues related to cyber activities and commercial espionage, as well as foreign policy flash points such as the South China Sea. There remains significant potential for U.S. actions in the coming weeks that raise the temperature in the relationship and make it politically more difficult to pragmatists on both sides to make concessions."
Well said.