by Eddy Elfenbein, Crossing Wall Street
S&P reported that dividends for the S&P 500 grew by 15.49% in the second quarter. This was the tenth-straight quarter in which dividends have risen by more than 12%.
This is especially impressive because it comes after the dividend surge from Q4 when dividends rose by 22.77% in an effort to beat higher taxes.
For Q2, the S&P 500 paid out index adjusted dividends of $8.61. Think of it this way: The S&P 500 is currently about 1,625. Every month, it pays out about three points' worth of dividends. For all of 2013, the dividends paid out will be roughly double what was paid out ten years ago.
In the short term, dividends are very boring. But they do add up, and they also tend to be pretty consistent.
Here's a look at quarterly dividend growth: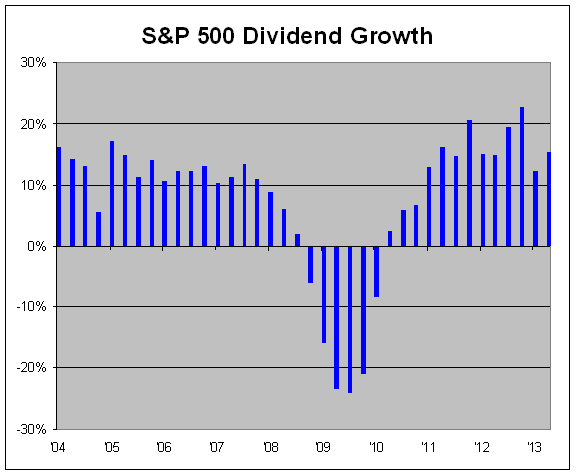 Here's trailing four-quarter dividends: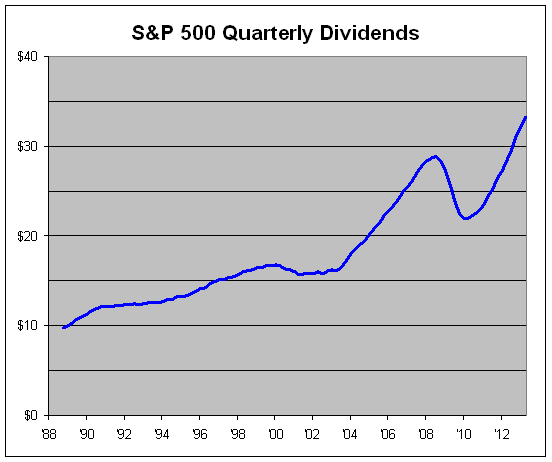 Posted by Eddy Elfenbein on July 1st, 2013 at 11:39 am
The information in this blog post represents my own opinions and does not contain a recommendation for any particular security or investment. I or my affiliates may hold positions or other interests in securities mentioned in the Blog, please see my Disclaimer page for my full disclaimer.
Copyright © Crossing Wall Street