by Ryan James Boyle, Senior Economist, Northern Trust
America's subsidies for domestic EVs have created new tensions with Europe.
The best laid plans of mice and men often go awry. The pandemic recovery brought with it a new appetite for active industrial policy plans, especially in the United States. As the new laws transition from ideas to plans to real investment, they are revealing some unintended consequences and fueling new trade frictions.
The last substantial U.S. spending measure was the curiously-named Inflation Reduction Act (IRA) of August 2022. It had little to do with inflation reduction; among its larger components is $391 billion in funding for domestic clean energy production and technologies to lower emissions. Electric vehicles (EVs) were a major component of this strategy, offering generous tax credits to purchasers, but with strings attached. To qualify, new EVs must be assembled in North America, with a minimum amount of critical minerals sourced domestically.
Those requirements have created new tensions between the U.S. and its European trading partners. Autos are a global market; the imported share of new vehicle sales in the U.S. has long hovered in the range of 20-30%. A new restriction on this vital import sector is unwelcome, to put it mildly. French president Emanuel Macron warned the new barriers will "fragment the West," while the European Commission alleges that the restrictions violate World Trade Organization rules.
Domestic preferences interfere with global supply chains.
The program's creators were overzealous. By the IRA's own definitions, few current vehicles will meet the domestic content requirements to qualify for tax deductions. Some relaxation is in order. As the year ended, the U.S. made a concession of allowing imported EVs to be eligible for tax credits if they are commercially leased. The U.S. has also delayed domestic sourcing requirements that were due to start on January 1, 2023.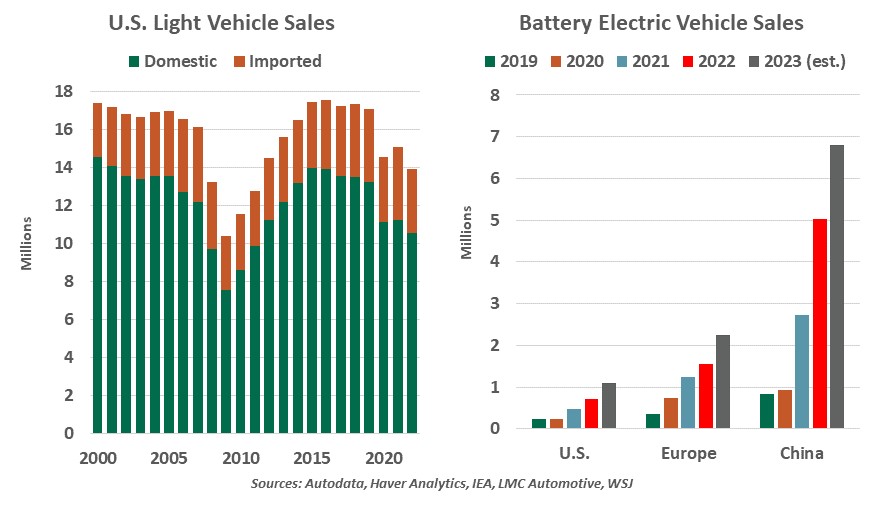 Taken to an extreme, the EU alleges these restrictions may work against the U.S.' goal of reducing China's production and export power. The EU suggests that if it becomes more difficult to trade with the U.S, it will do more business with China, already the world's largest EV market. To counter what they see as unfair industrial practices, European nations are considering support for their own domestic production.
The challenges of supply chain resilience and climate change are global. Regional skirmishes only take attention and valuable time away from more important objectives. We're hoping for some deflation in EU/U.S. trade tensions in the months ahead.