by Vaibhav Tandon, Northern Trust
India's economic links with Russia leave it in a delicate position.
Most Asian economies are net importers of important commodities like oil.  These nations are facing significant consequences as a result of the Russia-Ukraine conflict.  But the continent's third largest economy, India, stands to lose more than the others.
Indian equity markets retreated 11% in just over a month beginning in early February, when the U.S. started warning about the imminent invasion.  The rupee depreciated to an all-time low of 77 against the dollar as New Delhi tried to reconcile its relations with the West on one side and historically deep military trade ties with Russia on the other.
Between 2000 and 2020, Moscow accounted for two-thirds of New Delhi's defense imports, amounting to almost $36 billion.  Even though Russia and India have deep military ties, the commercial link between the two isn't that strong.  Bilateral trade amounts to $10 billion, only 1.3% of India's total trade.  As a result, the direct shock to Indian gross domestic product (GDP) from the sanctions and the war will be limited.
The indirect effects, however, are an entirely different story.  The pandemic has already wreaked havoc on millions of Indians and the country's economy, with India's GDP likely to remain 12% below its pre-crisis level at the end of 2023, according to Oxford Economics.  Global disruptions related to the invasion of Ukraine will produce pain where it hurts Indians the most: in their pocketbooks.
India imports a wide range of commodities from Russia.  Supplies are still arriving: all are exempted from sanctions, as of now.  But rising commodity prices will push already high inflation up further, hurting growth prospects.
India has seen the biggest surge in import prices, even more than war-torn Ukraine.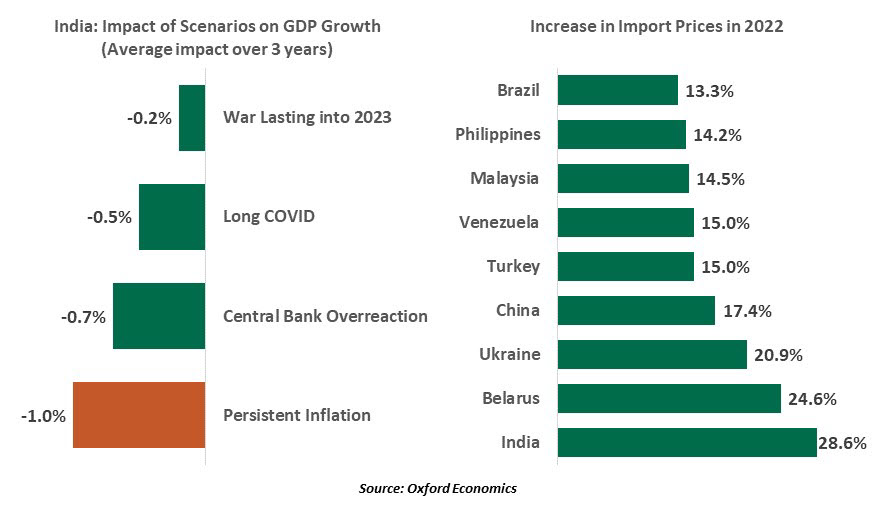 Energy and food represent a large share of spending by India's consumers.  Indian households use about 25 million tons of edible oil each year; about 85% of the country's sunflower oil was imported from Ukraine and 14% from Russia over the last four months.  New Delhi is also a significant importer of fertilizer from Moscow.  Interruptions in supplies of these products will add to cost pressures.
India also imports nearly 80% of its fuel needs.  According to a report, a $5 per barrel rise in oil prices increases India's current account deficit by $6.6 billion.  The impact to consumers is compounded by second order effects, in the form of higher transport and freight rates.
The country has also witnessed a significant decline to its terms of trade this year, due to a surge in import costs.  Despite adequate foreign exchange reserves and improved external balances, this dependence has placed the Indian rupee under pressure.
The pandemic has worsened India's public deficit.  While this is not an immediate crisis, the oil shock will reduce demand and dent government revenue from excise duties on petroleum products.  This impairment may delay planned capital expenditure or derail the government's medium-term fiscal consolidation plans.
Sanctions have only added stress, especially new restrictions preventing Russian banks from accessing the SWIFT payments system.  Indian exporters have accrued about half a billion dollars in unsettled payments from Russia.  To soften the blow, a rupee-ruble trade arrangement has been put in place to ease cross-border transactions, repeating a strategy used after the collapse of the Soviet Union.  The Indian Oil Corporation Limited recently signed a deal with a Russian oil company to import 3 million barrels of crude at a discount.
The deal allows the country to increase its imports of Russian oil, but it invites scrutiny from the West, as it goes against their efforts to isolate Moscow.  The U.S. is India's top trading partner and the second biggest source of foreign direct investment.  Similarly, the European Union is also a major trade and investment partner.  Any deterioration in economic ties or sanctions, as a consequence of New Delhi's stance, will have significant consequences for the economy.
This places India on an economic and diplomatic tightrope.  A fall to either side will be costly.
---
Information is not intended to be and should not be construed as an offer, solicitation or recommendation with respect to any transaction and should not be treated as legal advice, investment advice or tax advice. Under no circumstances should you rely upon this information as a substitute for obtaining specific legal or tax advice from your own professional legal or tax advisors. Information is subject to change based on market or other conditions and is not intended to influence your investment decisions.
© 2022 Northern Trust Corporation. Head Office: 50 South La Salle Street, Chicago, Illinois 60603 U.S.A. Incorporated with limited liability in the U.S. Products and services provided by subsidiaries of Northern Trust Corporation may vary in different markets and are offered in accordance with local regulation. For legal and regulatory information about individual market offices, visit northerntrust.com/terms-and-conditions.
Copyright © Northern Trust