by Ryan Detrick, Senior Investment Strategist, LPL Research
The big winners after the U.S. election in November were small cap stocks. In fact, in the fourth quarter, the Russell 2000 Index gained a very impressive 8.4% versus the S&P 500 Index's gain of 3.3%. The catch is, so far this year small caps have consolidated those big gains as the Russell 2000 has advanced 1.9% versus a 6.8% gain for the S&P 500.
As we noted on Friday, 2017 has been historically boring in terms of volatility. Right on time, however, the S&P 500 traded in a daily range of only 0.22% that day—the smallest daily range of a full day of trading in nearly three years. In fact, the S&P 500 hasn't closed up or down 0.5% for 13 consecutive days, the longest since 14 in a row in 1995.
Turning to the action in small caps (or lack thereof), we're seeing one of the tightest ranges of consolidation ever. Over the past 20 weeks, the Russell 2000 Index has traded in a range of 6.8%—the smallest 20-week range going back to at least 1990. To put that in perspective, over that period, 127 individual weeks had a greater range than what we've experienced over the past 20 week period. One thing is sure; a range this tight won't stay this tight forever, and a big move could be coming soon. Think of it like this:  The coil is tight, and one catalyst could allow it to spring. Of course, the big question is which way it springs.
Per Ryan Detrick, Senior Market Strategist, "Small caps have done a great job consolidating their late-2016 gains. Sure, they've underperformed large caps by a wide margin so far this year, but from a technical perspective there isn't much wrong with this picture, and they could be getting ready for another surge higher."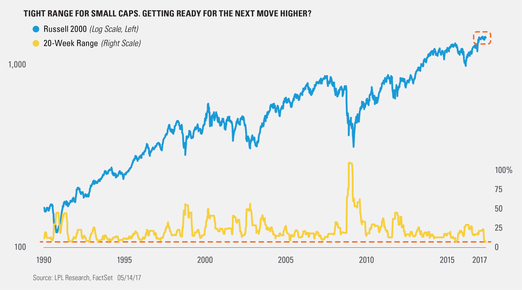 Overall, we believe the market has been overly pessimistic toward the potential Trump agenda by rotating away from policy sensitive areas in recent months, including: financials, industrials, and small caps. Small caps specifically should benefit more from a potential policy boost (tax reform) and being pro-cyclical. This recent consolidation looks nice and should allow for small-caps to play catch-up over the coming months.
*****
IMPORTANT DISCLOSURES
The economic forecasts set forth in the presentation may not develop as predicted.
The Standard & Poor's 500 Index is a capitalization-weighted index of 500 stocks designed to measure performance of the broad domestic economy through changes in the aggregate market value of 500 stocks representing all major industries.
Investing in stock includes numerous specific risks including: the fluctuation of dividend, loss of principal and potential illiquidity of the investment in a falling market.
Indices are unmanaged and cannot be invested into directly. Unmanaged index returns do not reflect fees, expenses, or sales charges. Index performance is not indicative of the performance of any investment. Past performance is no guarantee of future results.
Small cap stocks may be subject to a higher degree of risk than more established companies' securities. The illiquidity of the small cap market may adversely affect the value of these investments.
Because of its narrow focus, sector investing will be subject to greater volatility than investing more broadly across many sectors and companies.
The Russell 2000 Index measures the performance of the small cap segment of the U.S. equity universe. The Russell 2000 Index is a subset of the Russell 3000 Index representing approximately 10% of the total market capitalization of that index.
The opinions voiced in this material are for general information only and are not intended to provide or be construed as providing specific investment advice or recommendations for any individual security.
This research material has been prepared by LPL Financial LLC.
To the extent you are receiving investment advice from a separately registered independent investment advisor, please note that LPL Financial LLC is not an affiliate of and makes no representation with respect to such entity.
Not FDIC/NCUA Insured | Not Bank/Credit Union Guaranteed | May Lose Value | Not Guaranteed by any Government Agency | Not a Bank/Credit Union Deposit
Securities and Advisory services offered through LPL Financial LLC, a Registered Investment Advisor
Member FINRA/SIPC
Tracking # 1-608275 (Exp. 05/18)
Copyright © LPL Research