For this week's edition of the SIA Equity Leaders Weekly, we are going to revisit the Nasdaq Composite as this index has moved to new all-time highs again this week after nearly breaking through  resistance when last discussed on August 25, 2016.  As we hit these new all times highs Tuesday, Health Care stocks helped with this push.  However, after President Elect Trump took to the stage today, his commentary had a negative effect on Drug stocks specifically, so we will look at the iShares Nasdaq Biotechnology ETF as well to see the outlook for this sector.
Nasdaq Composite Index (NASD.I)
We last looked at this chart back on August 25, 2016, and the index has continued it upwards trajectory after breaking through the 5000 psychological resistance level.  After breaking prior resistance of 5246 in August to new all-time highs, the NASD.I has continued this breakout and reached a new high again today at 5563.65 closing just a few points under our first level of resistance of 5567.23.  Further strength could encounter resistance at new psychological levels approaching 6000.
Although the move this week seems to be a very bullish sign and chart pattern, occasionally these breakouts could have quick reversals along the way.  We will watch anxiously for follow-through.  With the Presidential elections behind us, a recent rate move upwards by the FED, and the Dow Jones Index trying to make new all-time highs as well, continued volatility appears to be a likely prediction heading into the new year.
Click on Image to Enlarge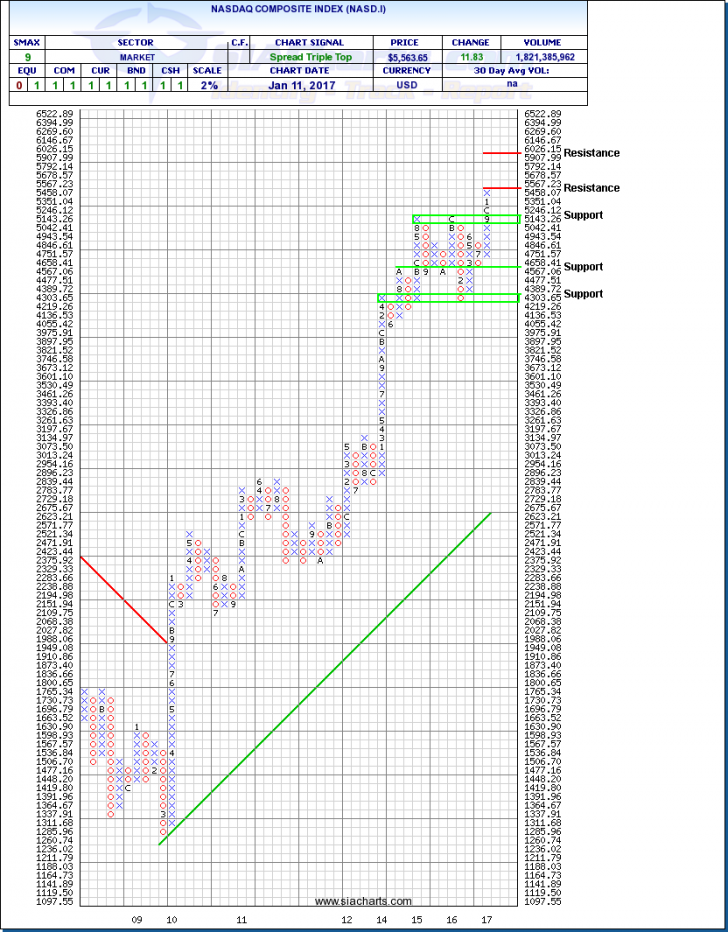 iShares Nasdaq Biotechnology ETF (IBB)
On the topic of the Nasdaq reaching new all-time highs, a President Elect Trump, and an environment for continued volatility;  let's look at an ETF whose constituents are a part of the Nasdaq.  Because of the potential for more government pressure on drug pricing after sharp increases in the costs of some life-saving drugs drew scrutiny in the press and among lawmakers, the drug makers have been on edge for about 2 years.  This has left the entire sector a somewhat volatile space.
Off about 3% at todays close, the iShares Nasdaq Biotechnology ETF (IBB) was negatively affected as U.S. President Elect Donald Trump said pharmaceutical companies are "getting away with murder" in the prices they charge, promising that would change which sent the IBB sharply lower.  With Trump's campaign platform ripe with potential change for the drug industry, volatility is sure to continue within this space in the near term.
Currently approaching its first meaningful level of resistance at $290.40, there could be further resistance between $300 and $320.  From a support perspective, it  could be important to see if IBB holds above $243.
Click on Image to Enlarge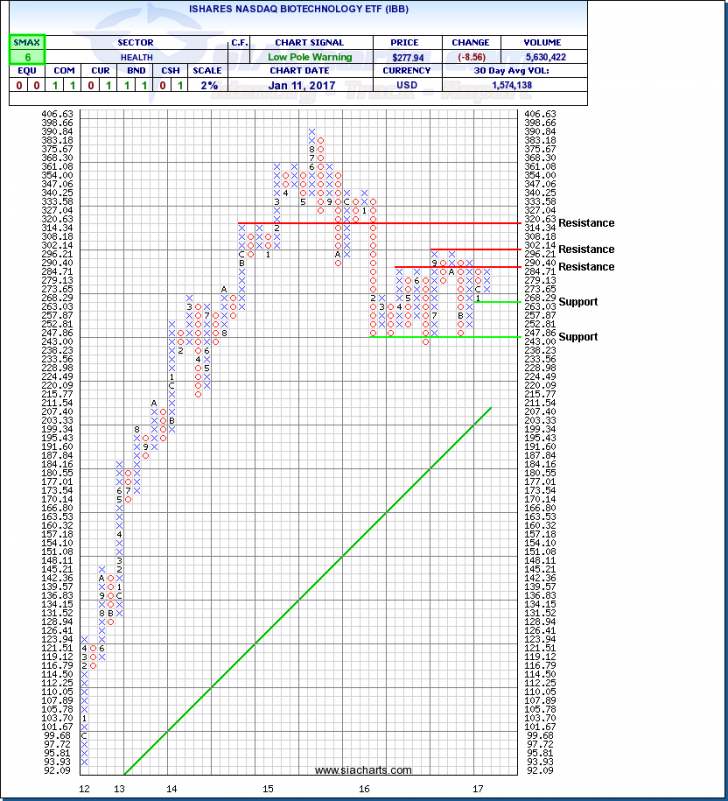 SIACharts.com specifically represents that it does not give investment advice or advocate the purchase or sale of any security or investment. None of the information contained in this website or document constitutes an offer to sell or the solicitation of an offer to buy any security or other investment or an offer to provide investment services of any kind. Neither SIACharts.com (FundCharts Inc.) nor its third party content providers shall be liable for any errors, inaccuracies or delays in content, or for any actions taken in reliance thereon.
For a more in-depth analysis on the relative strength of the equity markets, bonds, commodities, currencies, etc. or for more information on SIACharts.com, you can contact our customer support at 1-877-668-1332 or at siateam@siacharts.com.
Copyright © SIACharts.com