Brazil's Stock Market has had a Miserable Five Years
by Tiho Brkan, The Short Side of Long
Unless you've been living in a cave, it shouldn't be a surprise to any of us that the Brazilian stock market has been beaten down hard, while its economy is in the worst recession since 1930s. Investors are watching developments of national companies and politicians mixed in a corruption scandal, while recent economic data (including the GDP headline) shows the situation is deteriorating even more. There isn't an analyst, trader or economist that has anything even remotely positive to say about this country right now (and rightfully so).
However, despite recent abundance of negative news, we have noticed that the stock market refuses to make new lows (for now). MSCI Brazil, seen in the chart above, has found support on a very long term trend line while the 3 year compound return has been as negative as it was during its major low in 2002. We also noticed a bullish reversal during yesterdays trade, so as die hard contrarians, we will be watching this market very closely for a potential trade idea…
Hedge funds are heavily long USD into ECB meeting & jobs report
As the week draws to a close, we have the ECB meeting and Non Farm Payrolls report, both of which will cement the short and medium term direction of the US Dollar and the European Euro. The chart above shows that hedge funds and other speculators are universally bullish on the Dollar (bearish on the Euro) and therefore positioned accordingly. No surprise there, as we are now close to approaching $50 billion in net long positions. To us, this is too bullish and could signals that there might be a chance of a shake out. Personally, we here at Short Side of Long would prefer buying a pullback (if it comes).
Finally, one interesting price development we have recently noticed is that despite Gold, Silver and Platinum making new lows even as I write this post; Gold & Silver mining companies have so far refused to follow lower. SentimenTrader noted yesterday that "the only other times this has happened, using the HUI Gold Bugs Index since its inception in 1996, occurred in the summer of 1999, early 2001 and November 2008. All showed gains over the next three months, averaging +20%." Once again we are keeping a close eye out on this sector for a potential trade (just like Brazil).
While Gold has made new lows, miners continue to hold support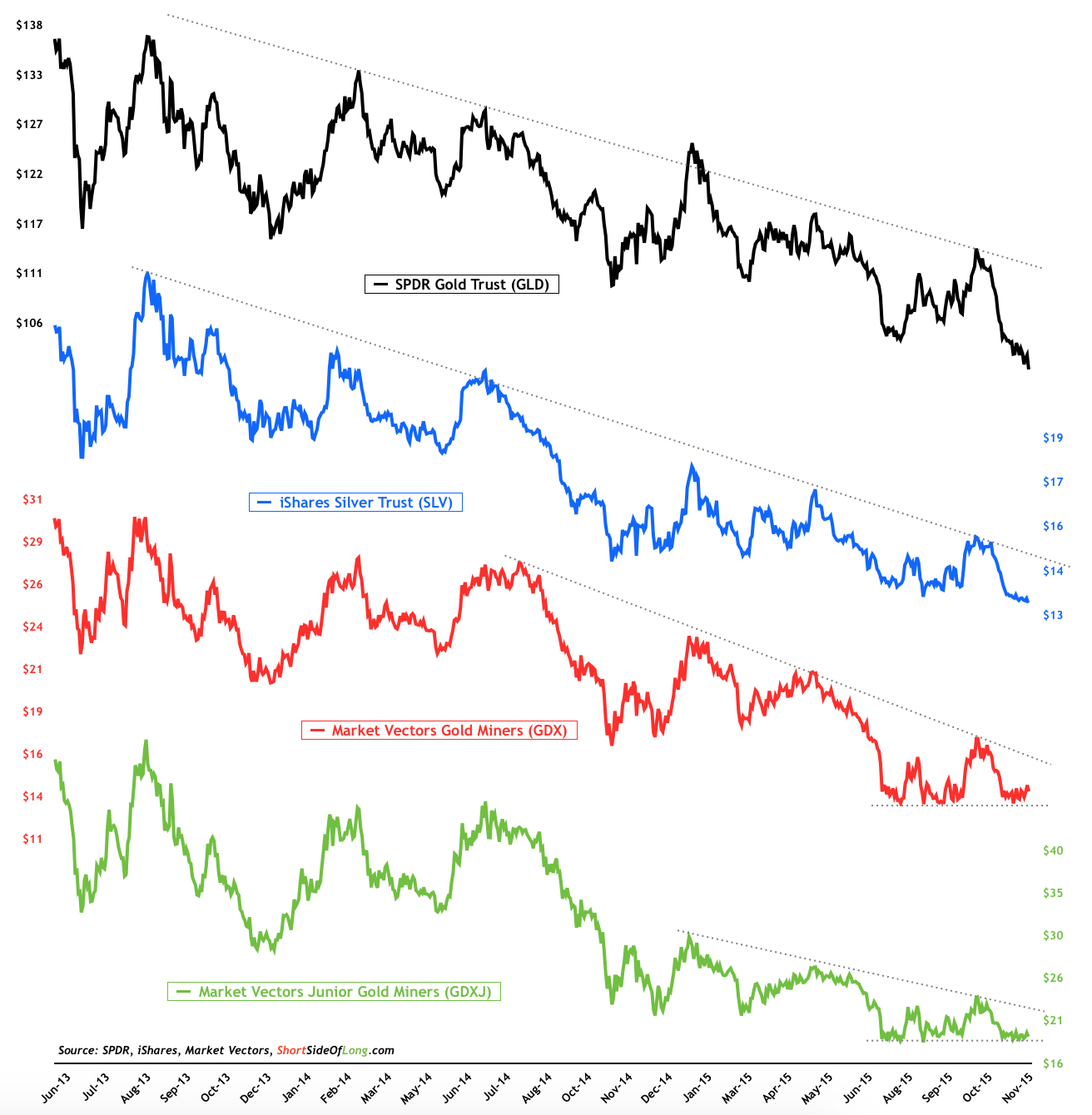 Source: Short Side of Long
Copyright © Tiho Brkan, The Short Side of Long