by Eddy Elfenbein, Crossing Wall Street
The fourth-quarter was another strong quarter for dividends. The S&P 500 paid out $9.52 per share in dividends (that's an index-adjusted number). That's an increase of 6.58% over last year's fourth quarter. But remember that Q4 2012 saw a 22.77% surge in dividend payments to take advantage of the change in tax laws.
Dividends have now risen for 15 quarters in a row. We don't have the final earnings numbers in yet, but dividends most likely paid out just under one third of corporate profits.
For the full year, dividends rose by 11.99%. While that's below the 29.60% rally for the S&P 500, it's not absurdly behind it either. In fact, dividends have actually outpaced the S&P 500 over the last three years. From the end of 2010 to the end of 2013, the S&P 500 rose 46.97% while dividends paid rose 53.95%.
Here's a look at the S&P 500 (blue line, left scale) along with trailing four-quarter dividends (red line, right scale). The two lines are scaled at a ratio of 50-to-1. In other words, whenever the lines cross, the market's dividend yield is exactly 2%. We also get a glimpse of how much everyone panicked in 2008 and 2009.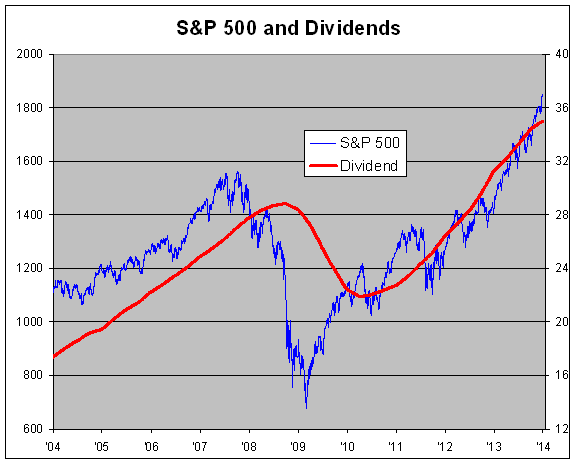 Copyright © Crossing Wall Street