The Economy and Bond Market Radar (November 18, 2013)
Treasury bond yields fell by a few basis points this week as Janet Yellen's Senate confirmation hearing turned out to be largely a non-event as she stuck to her dovish roots. Economic data was mixed at best. This was true both domestically and abroad.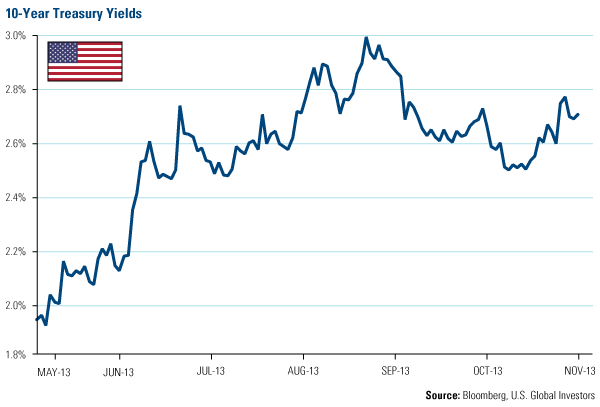 click to enlarge
Strengths
Chinese economic data continued to show year-over-year strength in October with industrial production rising 10.3 percent and retail sales rising 13.3 percent.
Japanese GDP rose 0.5 percent in the third quarter, which was better than expected and a fourth straight quarterly increase.
Fed Chairman nominee Janet Yellen reiterated her stance for accommodative monetary policy for the foreseeable future.
Weaknesses
The housing market continues to have challenges with housing affordability dropping to nine year lows on higher interest rates and rising home prices. On a related note, mortgage applications fell 1.8 percent in the most recently reported week.
Small business optimism fell sharply in October with many citing Washington as the problem.
Eurozone GDP grew a disappointing 0.1 percent in the third quarter.
Opportunities
Despite recent conflicting commentary, the Fed continues to remain committed to an overall accommodative policy and is unlikely to raise interest rates in 2013 or 2014.
Key global central bankers remain in easing mode such as the European Central Bank (ECB), Bank of England and the Bank of Japan. An ECB policy maker commented this week that the ECB could adopt negative interest rates or quantitative easing to lift inflation.
There remain many moving parts to the taper decision and it is very possible that tapering could be delayed well into 2014.
Threats
Inflation in some corners of the globe is getting the attention of policy makers and may be an early indicator for the rest of the world.
Trade and/or currency "wars" cannot be ruled out which may cause unintended consequences and volatility in the financial markets.
The recent bond market sell off may be a "shot across the bow" as the markets reassess the changing macro dynamics.