April 18, 2023
In today's economic update, Claire Fan from RBC Economics says, "March saw a continued progression of enhancements in Canadian CPI." The headline inflation rate experienced its most significant deceleration since the early days of the pandemic, plummeting to 4.3% in March from 5.2% in February. This substantial easing, Fan explains, can largely be attributed to a reduction in energy inflation, which dropped by a whopping 6.9%.
March's energy prices, Fan notes, dipped below those of a year prior when the Russian invasion of Ukraine stoked fears about worldwide oil supply and subsequently drove up commodity prices. Nevertheless, price pressures also began to alleviate for food (rising at 8.9%) and other goods and services excluding food and energy (growing at 4.5%). Though still elevated in March, growth in food prices has consistently decelerated since reaching its zenith in January 2023.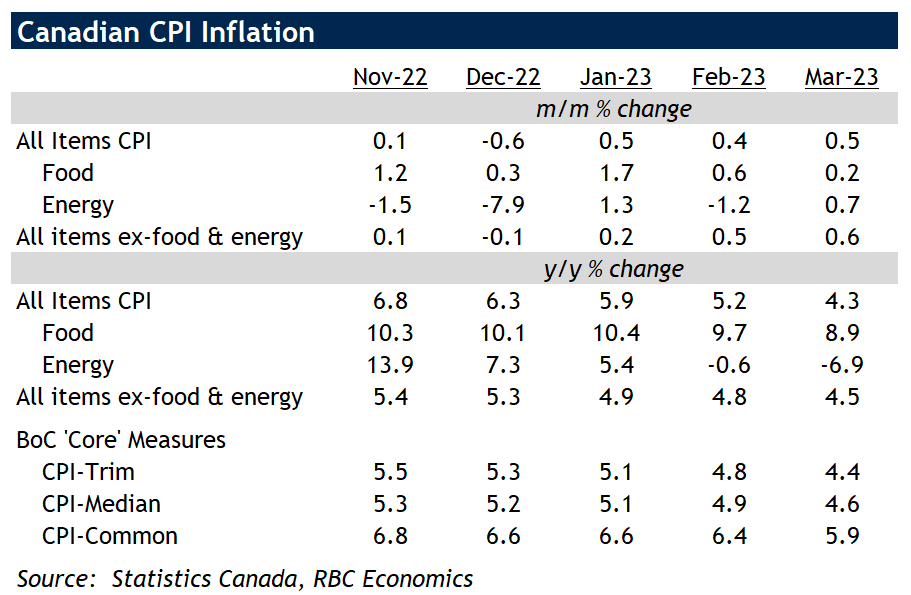 As Fan reports, significant contributors to core price gains in March encompassed travel tours and car purchases, which counterbalanced more modest declines in fuel oil and home-owning related expenses. The Bank of Canada's (BoC) favored core measures—CPI trim and median, as well as the newly introduced "super core" or CPI trim services ex-shelter—all experienced moderate slowdowns, averaging a 3.6% annualized rate over the previous three months.
Fan highlights that the percentage of the consumer price basket growing beyond the BoC's 1% to 3% target range remained relatively stable at 54% in March on a three-month annualized basis. However, this figure represents a decline from a peak hovering around 80% in the summer of 2022.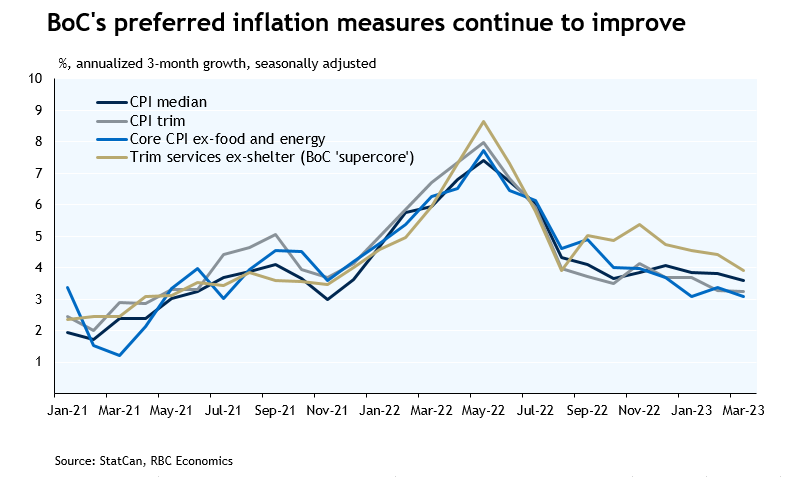 To sum up Fan's analysis: inflation continues to exceed the Bank of Canada's target, yet it consistently demonstrates signs of easing. She predicts that interest rate hikes from the past year will persist in gradually elevating household debt payments, consequently decelerating consumer spending and further easing price pressures in the future. Fan expects core CPI readings to revert to approximately 3%—the upper limit of the BoC target range—by year's end. Until this transpires, she anticipates the BoC will maintain the overnight rate at its current 4.5%.
Footnotes:
1 Adapted from source: "RBC Royal Bank." 18 Apr. 2023, view.website.rbc.com/?qs=ff359bdd2016aa440784514b3599e797eb7c8b9f65486b0ae913020747fedd4c3a7f84cf3a5e042b6f45deea3672c9e26135fd65cf21934e6af37aa8180c8521de1d2bab9933d3b88113a312894ce14a.