According to FactSet, global lithium prices have continued to decline since mid-November, reaching $30K per ton, a level last seen in Q4 2021. This drop is attributed to weaker demand for Chinese electric vehicles (EVs) and larger vehicle inventories. Shares of select lithium producers have fallen significantly, with most trading below their end-of-2021 levels.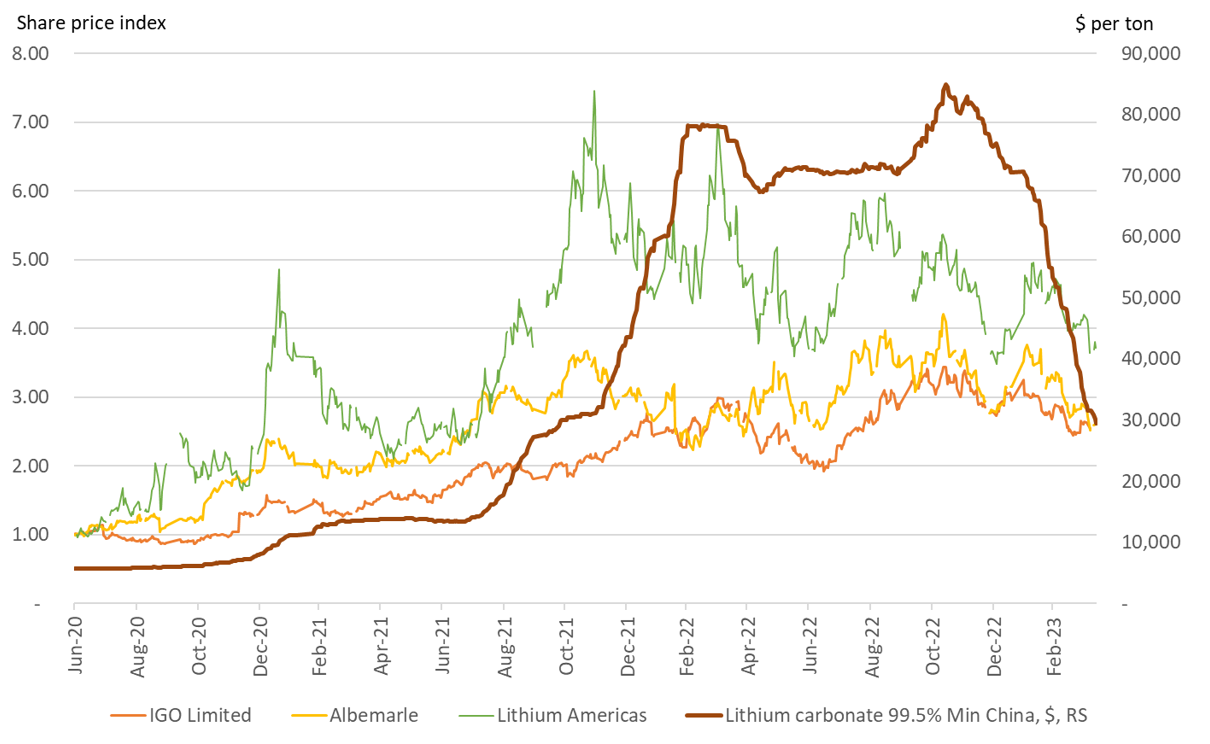 Sources: Investing.com, FactSet
Thematic sectors have seen varied performance, with circular economy names, energy storage, transition material miners and producers, and solar and wind companies experiencing gains. However, the hydrogen segment has continued to show relative weakness, with Nikola and Hyzon Motors underperforming. EVs, particularly Lucid and Polestar, have outperformed, though the reaction to the US EPA's proposed tailpipe emissions regulations to promote EV production has been muted. Charging companies such as ChargePoint have diverged, while Tesla has not benefited significantly from the EPA announcement.
The EPA's proposed regulations aim to limit light- and medium-duty vehicle tailpipe carbon and greenhouse gas (GHG) emissions to an average of 82 grams/mile across a company's production by 2032. This represents a 56% reduction from the 2026 target, potentially avoiding 7.3 billion tons of carbon dioxide emissions through 2055. Currently, Tesla is the only automaker reportedly able to meet these standards. The rules are now open for public comment before formal adoption.
Heavy-duty vehicle emissions standards have also been proposed, with projections of avoiding 1.8 billion tons of carbon dioxide through 2055. Although the rules do not mandate a threshold for EV production, the EPA anticipates that EVs could account for 67% of new vehicle sales in 2032. The EPA estimates a $1.6 trillion benefit from these rules due to reduced health risks typically exacerbated by pollution. However, critics argue that the EPA is neglecting the higher short-term costs, supply chain issues, and insufficient charging infrastructure that could impede EV adoption.
In related news, the US Department of Energy (DOE) is considering lowering estimated fuel efficiency ratings for EVs, which have not been updated in two decades, to encourage automakers to focus on fuel efficiency in traditional vehicles.
Internationally, G-7 nations have disagreed on phasing out coal power by 2030, signaling inaction ahead of COP28. The UK has announced a plan for cleaner water, while Germany is set to close its last nuclear power plant this week. India has extended a transmission fee waiver for green hydrogen plants, and Sinopec plans to build a west-to-east green hydrogen transmission pipeline in China.
On the social and governance front, shareholders are pressuring companies on climate issues ahead of annual general meetings. UK fund manager LGIM has signaled its support for shareholder resolutions at JPMorgan, while Citi is phasing out fossil fuel financing. Investor activists and environmental groups have filed shareholder proposals at Japanese banks and TotalEnergies for climate action disclosures and emissions reduction efforts by 2030.
Regulatory actions include potential antitrust investigations into Apple by French regulators, shareholder lawsuits against Fox Corp over 2020 election coverage, Indian startups calling for an antitrust probe of Google, Chipotle suing Sweetgreen for copyright infringement, and China proposing security reviews on AI products prior to their release.
Workplace issues have also come into focus, with Tyson workers going on strike ahead of an Arkansas chicken plant closure, the Biden administration urging US meat processors to ensure no child labor is used, UK health leaders warning of a disruptive junior doctor's strike, and a Norway wealth fund employee suing for workplace gender discrimination.
Footnotes:
1 Adapted from source: StreetAccount, FactSet. "Lithium Price Decline Continues and Other ESG-Related News This Week." 13 Apr. 2023, insight.factset.com/lithium-price-decline-continues-and-other-esg-related-news-this-week
2 Photo by Michael Marais on Unsplash