by Sean Newman, Invesco Canada
Argentina's presidential primary elections shocked investors Sunday when President Mauricio Macri suffered a major defeat against leftist politician Alberto Fernandez, whose running mate is controversial former president Cristina Kirchner. According to the official election results, Macri received 32% support while Fernandez received 48%, a much wider margin than expected. Election authorities reported high voter turnout at 75%, and Fernandez won every province except Cordoba and the City of Buenos Aires.
[backc url='https://sendy.advisoranalyst.com/w/J8pxsj3OgR4yxKxsA1169Q']
In Argentina, the candidacy of Kirchner is perceived as a return of populism — often referred to as "Kichnerism/Peronism." This brand of populism (which was also touted by Kirchner's husband, former president Nestor Kirchner) is faulted with creating much of the economic disarray inherited by Macri when he took office. Cristina Kirchner is facing corruption allegations, which she denies.
The first round of the presidential election is set to take place on Oct. 27, with the second round, if required, on Nov. 24. The new president takes office on Dec. 10. To win the first round, a candidate must obtain more than 45% of the votes, or more than 40% plus a lead of at least 10 percentage points compared to the second-place candidate. Otherwise, the first two candidates move to the second round.
Markets took the news very negatively
The day after the election, the Argentine stock market plunged 48% (in US dollar terms), the second-worst daily decline of any global stock market since 1950.1 The interest rate paid on the central bank's benchmark interest rate rose to 74.8% from 63.7%, and the Argentine peso depreciated by more than 20%.1 US dollar-denominated sovereign bond prices fell 20-25 points, while corporate and provincial bond prices fell, on average, 10-15 points. 1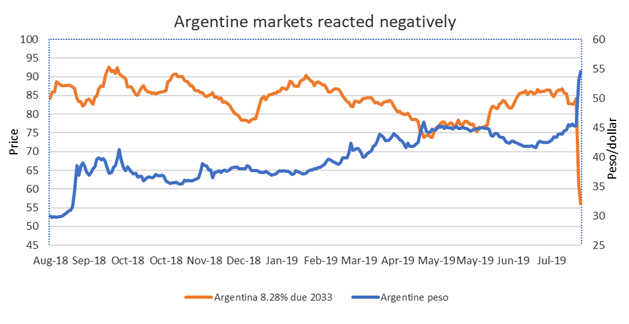 Why this reaction?
In 2001, Nestor Kirchner took over the presidency amid a similar economic shock. He restructured the country's external hard currency debt, raising concerns that the ticket of Fernandez and Cristina Kirchner might take the same tack. Other market concerns center around uncertainty over policies a new Fernandez/Kirchner team might pursue:
Will there be a relationship with the International Monetary Fund (IMF)?
What will energy sector pricing policy be?
Will there be new/higher agricultural export taxes?
Will there be caps on government lending rates?
Will capital controls be reinstated?
Who will fill key positions, such as Finance Minister and Central Bank Governor?
The future of the current IMF program is also in question. Without the IMF's help, Invesco Fixed Income believes Argentina would find it very difficult to service its debt obligations, and it has not accessed international capital markets since June 2018. We estimate that Argentina's gross financing needs are substantial, at around $145 billion in 2020 and $157 billion in 2021.
Invesco Fixed Income outlook
Given the election outcome and Argentina's current asset valuations, we expect bond prices to remain volatile until there is more clarity on what a Fernandez/Kirchner government might look like.
During the campaign, Fernandez pledged policy continuity, saying that he saw no clear benefit to making radical changes after the election and reversing Argentina's commitments to the IMF.
So far, there has not been much to calm markets with both parties still in election mode. We believe markets would find solace in announcements of orthodox policies in the categories highlighted earlier. But until then, election uncertainty is likely to weigh on market sentiment.
We assign the following probabilities2 to the October election:
10% probability of a Macri victory
70% probability of a Fernandez win with a generally orthodox policy approach
20% probability of a Fernandez win with a hard-left policy bias
While valuations are currently attractive, in our view, we believe it is prudent to monitor these very fluid political developments and we remain on hold until more firm policy announcements are made.
This post was first published at the official blog of Invesco Canada.