CORRECTION: In our email sent today, February 15, 2018, we erroneously referred to Dan Dupont as a growth investor, in the headline. He is, in fact, a Value Investor. Please accept our apologies for any confusion we may have caused.
We recently interviewed Dan Dupont, portfolio manager at Fidelity Investments Canada.
In our review of this exclusive interview with Dan Dupont, what struck us about him were several admirable qualities. He is modest, and unassuming. He is pensive, and mild mannered. He practices what he preaches, and does not seem at all swayed by consensus thought, institutional imperative, nor the pressure to chase performance. What he is concerned about is downside protection, and though this seems to be an obvious aspect of managing portfolios, we got the impression that this instinct is hardwired in him, perhaps due, in part, to his upbringing. Our conversation with Dan Dupont provides a glimpse into what drives the thinking of one of Canada's most respected PMs.
And, given that we recorded this interview with Dan Dupont at the cusp of 2018, when markets were in the midst of attaining most Wall Street analysts' forecasts for markets for ALL of 2018, you'll understand why the conversation was an important one, and why we came away from it feeling the way we do, and about how emotionally challenging the task of portfolio management is.
Dan Dupont assumed management of Fidelity Canadian Large Cap Fund (in blue in chart below) on March 25, 2011.
Fidelity Canadian Large Cap Sr A vs. S&P TSX Composite (since March 25, 2011)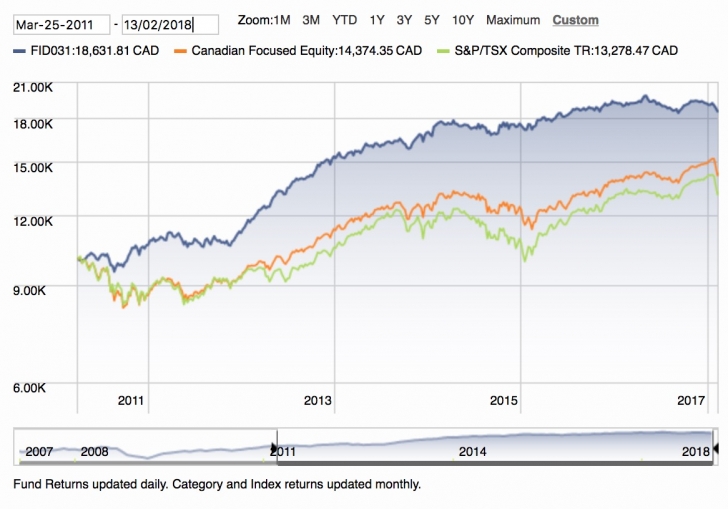 Chart Source: Morningstar
Part 1

Part 2

Part 3

Part 4

Part 5

Dan Dupont manages Fidelity Canadian Large Cap Fund and co-manages Fidelity NorthStar Fund with legendary manager Joel Tilinghast. They are respectively rated 5 and 4 stars by Morningstar.
He is also sub-portfolio manager of Fidelity Monthly income, Fidelity Income Allocation Fund, and Fidelity North Star Balanced Fund.
[dynamic-0012]