BMO ETF Portfolio Strategy Report
In Search of Value
by Alfred Lee, CFA, CMT, DMS, Vice President, Portfolio Manager & Investment Strategist, BMO ETFs
In this report, we highlight our strategic and tactical portfolio positioning strategies for the fourth quarter using various BMO Exchange Traded Funds (BMO ETFs). Our key strategy changes are outlined throughout the report and in our quarterly outlook on page six.
• In recent months, rising interest rates have been a main focal point for investors as central banks around the globe look to tighten monetary policy. In an interesting turn of events, the Bank of Canada (BoC), having made two emergency cuts to its overnight rate in 2015, has become the most hawkish amongst its peers. Between the beginning of May and the end of September this year, the five-year government of Canada yield gained 73 basis points (bps) to 1.75%.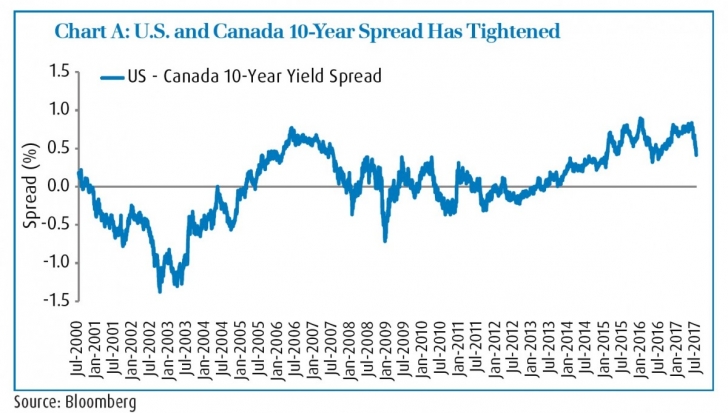 • In addition to the gain in Canadian interest rates, the gap between U.S. and Canadian bond yields have converged (Chart A). Economic data out of Canada, such as stronger than expected gross domestic product (GDP), has also been supportive of higher interest rates. A number of economists have since revised their interest rate expectations for 2018 to the upside. As a result, much of the bullishness has likely already been priced into assets.
• The Canadian dollar, which has gained 8.3% relative to the U.S dollar in the five months since May, has been one of the top performing currencies over that period. In recent quarters, we had correctly recommended hedging U.S. dollar exposure; however, recent developments may suggest the greenback is now looking more attractive. The CFTC (Commodities Futures Trading Commission) Commitment of Traders report shows speculative positions are now net long the loonie, which tends to be a contrarian indicator. Investors will likely refocus on the actions of the U.S. Federal Reserve (Fed) in coming months as it looks to shrink its balance sheet and is anticipated to raise rates again before the end of the year. The U.S. dollar looks fundamentally set up for a rally, but the technicals have to show it is more than a countertrend rally (Chart B).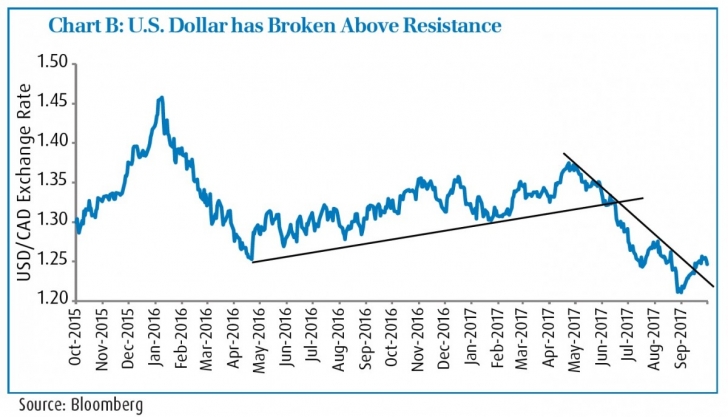 • Equity markets have rallied in recent months as a result of a more robust economy. The rally has been further sustained with additional investors forced to participate due to a fear of missing out. The valuation of most equity markets is now becoming stretched, particularly in the U.S. Consequently, investors may want to look to diversify their factor exposures in certain regions.
• Gold prices have experienced a 13.2% gain year to date due to geopolitical unrest. As tensions have risen between the U.S. and North Korea, bullion has gained as it is seen as a safe haven trade. Should headline risk of nuclear threats continue in the face of the Fed tightening monetary policy, gold prices may experience some headwinds. Should the Fed look to raise rates, the U.S. dollar would likely be a better safe haven than precious metals.
Read/Download the complete report below:
etf_psr_q4_2017_e by dpbasic on Scribd
Alfred Lee, CFA, CMT, DMS, Vice President, BMO ETFs
Portfolio Manager & Investment Strategist
BMO Asset Management Inc.
alfred.lee[at]bmo.com
Copyright © BMO ETFs