Jeffrey Gundlach Webcast: "Small Change"
Notes:
While there was nothing markedly new from Jeff Gundlach in his latest monthly webcast, it appeared that the DoubleLine CEO either had just read or otherwise agreed completely with JPM's Marko Kolanovic, who as we noted earlier, warned that even a modest spike in vol coupled with a plunge in liquidity, could lead to "catastrophic losses" for the year's best performing strategy: short convexity, or otherwise selling volatility. Recall what JPM said.
May 17th and similar events bring substantial risk for short volatility strategies. Given the low starting point of the VIX, these strategies are at risk of catastrophic losses. For some strategies, this would happen if the VIX increases from ~10 to only ~20 (not far from the historical average level for VIX). While historically such an increase never happened, we think that this time may be different and sudden increases of that magnitude are possible. One scenario would be of e.g. VIX increasing from ~10 to ~15, followed by a collapse in liquidity given the market's knowledge that certain structures need to cover short positions.
Highlights:
DoubleLine CEO Jeffrey Gundlach reiterated Tuesday his forecast for a summer drop in U.S. stocks.
Ahead of that decline, Gundlach said traders or speculators should raise cash now.
He also expects volatility to pick up later this year.
Short-term investors should sell stocks and get ready for a drop in the market this summer, Jeffrey Gundlach, CEO and CIO of DoubleLine, said Tuesday.
A few hours later, Gundlach made the same warning during his webcast, in which he - like Gandalf - warned that "we're on increasing watch for volatility," Gundlach said, pointing out that "there is a massive amount of money that is being short VIX."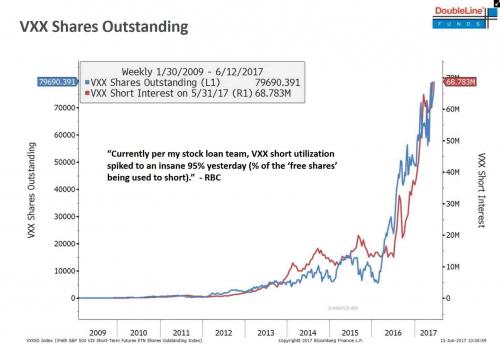 "It's a trade that's made a lot of money and its very very crowded, which suggests to me the days of low volatility are numbered," he said. We "probably won't see it continue through year end."
What does the above mean in trading terms?
"If you're a trader or a speculator I think you should be raising cash today, literally today. If you're an investor you can easily sit through a seasonally weak period,"
Gundlach repeated that while he does not expect a recession any time soon, he does anticipate a summer correction in S&P.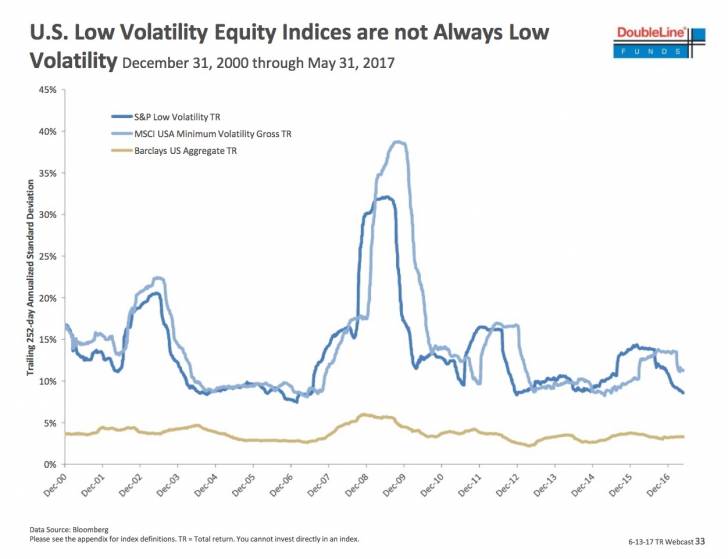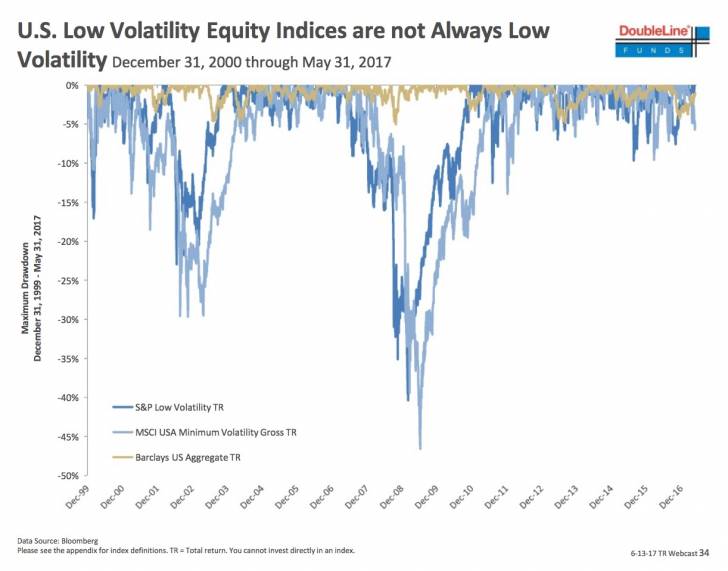 Aside from an imminent vol spike, Gundlach also went off on a political tangent and summarized his views on the ongoing drama in DC, saying "the establishment in Washington is trying to undermine Trump by running out the clock on his administration."
"They're really just trying to wait Trump out, trying to obstruct his agenda as much as possible," Gundlach said quoted by Bloomberg. "Small change is what they're looking for."
Speaking during the Sessions testimony, he called the political charade taking place in DC "a sideshow or entertainment" and said the US political conflict is "rope-a-dope," after the strategy used by Muhammad Ali to wear out opponents. It remains to be seen if the Democrats, or Trump, win this particular boxing match.
* * *
Finally for those who missed it, here is Gundlach's full slideshow
Gundlach Pres June 2017 by zerohedge on Scribd
Copyright © ZeroHedge.com