by Richard Turnill, Global Chief Investment Strategist, Blackrock
Richard spells out why we think slower economic growth in China could be a good thing.
China's economic growth is slowing down slightly after an unexpectedly strong first quarter—Should you worry about a hard landing? At least not for the time being, we think. A moderate slowdown from the surprise 7% growth rate of the last quarter is in fact welcome, in our view, as the country rebalances its economy and downshifts to a more sustainable pace of growth that is less reliant on credit.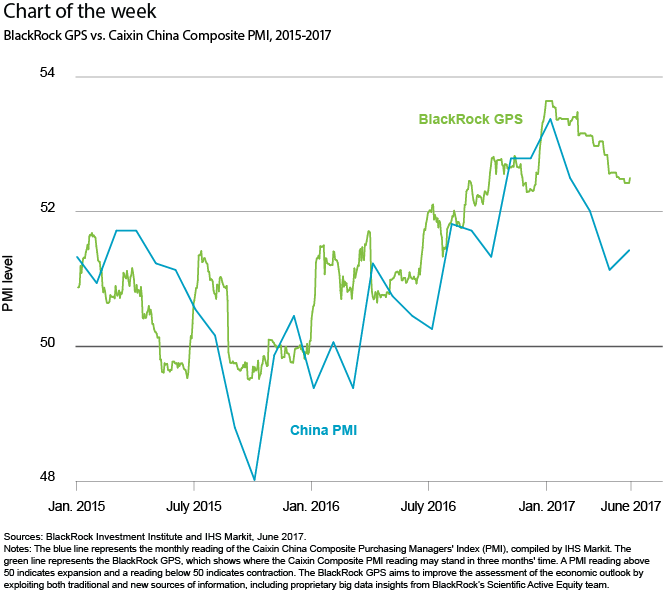 China's economic growth accelerated to nearly 7% in the first quarter, and has since moderated. Investors are now also concerned about softer manufacturing activities and weaker commodity and Chinese equity prices. But our BlackRock GPS economic indicator points to only a moderate cooling, with potential for upside in China's composite Purchasing Managers' Index (PMI) in coming months, as the chart shows.
A softer landing
We don't see reasons to worry about a near-term China hard landing. Some of China's recent slowdown was tied to expiring tax rebates that boosted auto sales in 2016. But overall consumption is holding up—reflecting a rebalancing to services and away from fixed asset investment.
A crackdown on financial leverage could limit spending by state-owned enterprises in the second half of the year, but we see it as unlikely to hurt private sector lending. Policy tightening has mainly targeted the "shadow" financial sector, smaller banks and non-bank lenders, which hold debt more than twice the economy's size. We see policymakers treading carefully to prevent accidental seizures in this system, but there are risks of overtightening in a highly leveraged economy. The longer China's debt problems are not addressed, the more the risks grow.
A Communist Party congress in the fall could be a signpost for China's willingness to reform. For now, we see global reflation supporting exports. In addition, China's authorities have stabilized the yuan, though the currency remains a bellwether of investor confidence.
Bottom line
Renewed worries about China appear overdone, and we see real growth rate holding near 6.5% for now. We like Asian equities and also see opportunities in Asian sovereign and credit markets with solid fundamentals and reform momentum.
Read more market insights in my Weekly Commentary.
Richard Turnill is BlackRock's global chief investment strategist. He is a regular contributor to The Blog.
Investing involves risks, including possible loss of principal.
This material is not intended to be relied upon as a forecast, research or investment advice, and is not a recommendation, offer or solicitation to buy or sell any securities or to adopt any investment strategy. The opinions expressed are as of June 2017 and may change as subsequent conditions vary. The information and opinions contained in this post are derived from proprietary and nonproprietary sources deemed by BlackRock to be reliable, are not necessarily all-inclusive and are not guaranteed as to accuracy. As such, no warranty of accuracy or reliability is given and no responsibility arising in any other way for errors and omissions (including responsibility to any person by reason of negligence) is accepted by BlackRock, its officers, employees or agents. This post may contain "forward-looking" information that is not purely historical in nature. Such information may include, among other things, projections and forecasts. There is no guarantee that any forecasts made will come to pass. Reliance upon information in this post is at the sole discretion of the reader.
©2017 BlackRock, Inc. All rights reserved. BLACKROCK is a registered trademark of BlackRock, Inc., or its subsidiaries in the United States or elsewhere. All other marks are the property of their respective owners.
183585
Copyright © Blackrock