Doesn't Anyone Want to Own Stocks Anymore?
by Ryan Detrick, LPL Research
A recent Gallup poll showed that the percentage of U.S. adults invested in the stock market is near a 20-year low. With the S&P 500 Index at new all-time highs, this lack of participation in stocks is quite surprising.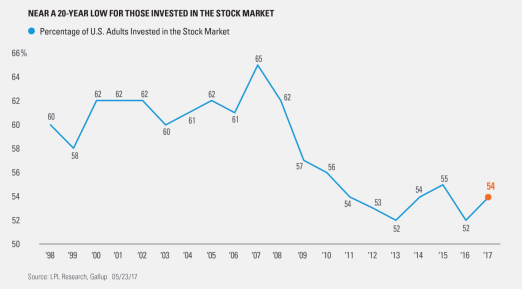 The poll asked respondents if they were invested in an individual equity, stock mutual fund, or a self-directed 401(k) or IRA. This same poll, which reflected that up to 65% of adults were invested in the U.S. stock market in 2007, just ahead of the financial crisis, indicates that participation has dropped 11% over the past 10 years.
Per Ryan Detrick, Senior Market Strategist, "The big question is: Do you need Mom and Pop investors to come back full force into equities before the bull market can end? From a contrarian point of view that makes sense, but it isn't quite so simple. We'd continue to focus on the improving fundamentals, strong technicals, and modest valuations (when you factor in low inflation and historically low interest rates) as a reason to expect higher equity prices. Still, this survey shows we are a long way away from seeing Uber drivers giving stock tips or your Aunt talking about the next hot tech IPO at Thanksgiving dinner."
*****
IMPORTANT DISCLOSURES
The economic forecasts set forth in the presentation may not develop as predicted.
The Standard & Poor's 500 Index is a capitalization-weighted index of 500 stocks designed to measure performance of the broad domestic economy through changes in the aggregate market value of 500 stocks representing all major industries.
Investing in stock includes numerous specific risks including: the fluctuation of dividend, loss of principal and potential illiquidity of the investment in a falling market.
Indices are unmanaged and cannot be invested into directly. Unmanaged index returns do not reflect fees, expenses, or sales charges. Index performance is not indicative of the performance of any investment. Past performance is no guarantee of future results.
The opinions voiced in this material are for general information only and are not intended to provide or be construed as providing specific investment advice or recommendations for any individual security.
This research material has been prepared by LPL Financial LLC.
To the extent you are receiving investment advice from a separately registered independent investment advisor, please note that LPL Financial LLC is not an affiliate of and makes no representation with respect to such entity.
Not FDIC/NCUA Insured | Not Bank/Credit Union Guaranteed | May Lose Value | Not Guaranteed by any Government Agency | Not a Bank/Credit Union Deposit
Securities and Advisory services offered through LPL Financial LLC, a Registered Investment Advisor
Member FINRA/SIPC
Tracking # 1-611482 (Exp. 05/18)