by Ryan Detrick, Senior Investment Strategist, LPL Research
We've pointed out many times over the past few months how historically non-volatile the S&P 500 Index has been this year. Last week, we noted the S&P 500 had gone a record 14 consecutive days without exceeding a 0.5% intraday range, well above the previous record of six days. Note that this is looking at the intraday high to low – not the daily change.
Here's another way to look at it. As of yesterday's close (92 trading sessions), the S&P 500 had closed up or down 1% or more only three times. That is the fewest 1% moves to start a year since 1972, when there were two.
Per Ryan Detrick, Senior Market Strategist, "There is good news and bad news. Starting with the bad news, the lack of volatility so far this year is extremely boring for many investors. The good news? Boring is good. Some of the best years in market history have also been among the least volatile. There's still a long way to go in 2017, and we do expect volatility to rise from these historically low levels, but this could bode well for the bulls going forward."
Last, it doesn't stop there as another record is being broken in 2017, as the S&P 500 Index hasn't closed higher or lower by 0.5% for 14 consecutive days, tying the longest streak since 1995. Incredibly, it hasn't made it to 15 in a row since 1969. As the chart below shows, these long streaks usually happen in bull markets and many times can take place ahead of stock market rallies.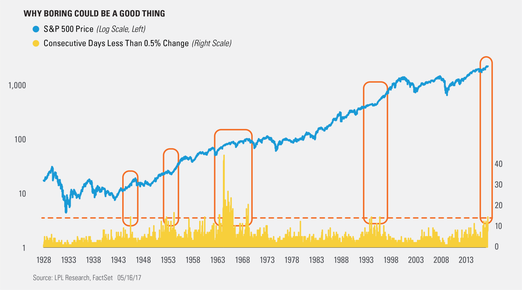 IMPORTANT DISCLOSURES
The economic forecasts set forth in the presentation may not develop as predicted.
The Standard & Poor's 500 Index is a capitalization-weighted index of 500 stocks designed to measure performance of the broad domestic economy through changes in the aggregate market value of 500 stocks representing all major industries.
Investing in stock includes numerous specific risks including: the fluctuation of dividend, loss of principal and potential illiquidity of the investment in a falling market.
Indices are unmanaged and cannot be invested into directly. Unmanaged index returns do not reflect fees, expenses, or sales charges. Index performance is not indicative of the performance of any investment. Past performance is no guarantee of future results.
The opinions voiced in this material are for general information only and are not intended to provide or be construed as providing specific investment advice or recommendations for any individual security.
This research material has been prepared by LPL Financial LLC.
To the extent you are receiving investment advice from a separately registered independent investment advisor, please note that LPL Financial LLC is not an affiliate of and makes no representation with respect to such entity.
Not FDIC/NCUA Insured | Not Bank/Credit Union Guaranteed | May Lose Value | Not Guaranteed by any Government Agency | Not a Bank/Credit Union Deposit
Securities and Advisory services offered through LPL Financial LLC, a Registered Investment Advisor
Member FINRA/SIPC
Tracking # 1-608861 (Exp. 05/18)
Copyright ©  LPL Research