For this week's edition of the Equity Leaders Weekly, we are going to re-examine two commodities which have experienced significant price changes in 2016, the Silver Continuous Contract (SI.F) and the Gold Continuous Contract (GC.F). Since we last looked at Silver way back on the April 28th edition of the Equity Leaders Weekly, we have witnessed significant volatility in both directions. Though it has only been about 7 weeks since last looking at Gold, the shiny metal in that time has seen further deterioration moving through a couple of significant support levels.
Silver Continuous Contract (SI.F)
Back when we last looked at the Silver contract on April 28, 2016, the contract had bounced off its February low and looked to challenge resistance levels at 17.50 and 18.  In the months following that report, Silver had managed to rally all the way back up through the $20 level before stalling out until just prior to the US election where it then began the current reversal to the downside.
The recent roller-coaster ride in Silver started at lows not seen since 2010 where support was formed at 13.51; from there over the course of 7 months the commodity rebounded over 50% to ultimately break through the downtrend line which had been intact since 2013.  As per the attached chart, this break to the upside only momentarily held and with the newly formed downtrend line we find important support levels at 15.21 and then lower at 13.51.  To the upside, past support at around 17 serves as a new resistance level; further resistance is found at 18.91 and 20.88.
With a current SMAX of 1 out of 10, a far cry from the 10 out of 10 seen last April, Silver is exhibiting near-term weakness against all asset classes.  Going into a very uncertain 2017 it will be interesting to see if silver retests the lows seen early last year or again stages another rally.
Click on Image to Enlarge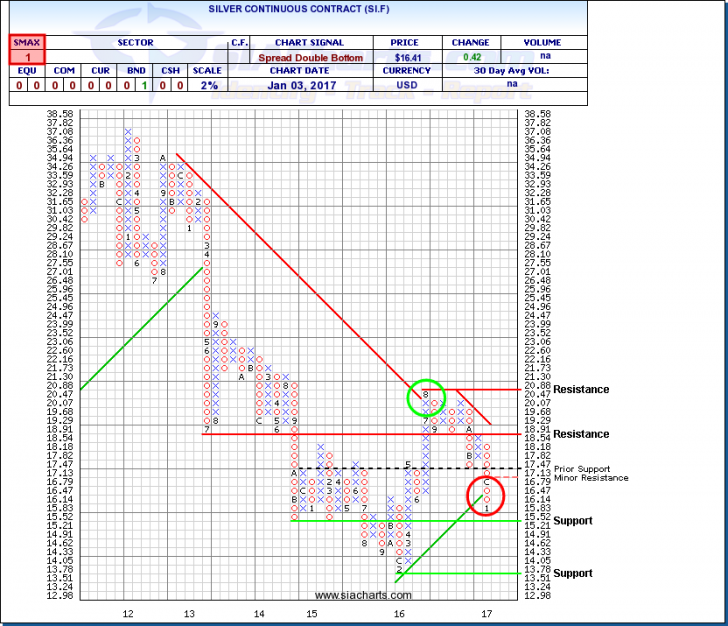 Gold Continuous Contract (GC.F)
As mentioned in November just after the US election when we last looked at Gold,  we had seen Treasury bond yields moving higher and a resurgence in the US dollar.  That strength in the US dollar continued with the highly anticipated interest rate hike in early December where we saw Gold break through support at 1200, and then through 1150.
Looking at the chart, the multi-year downtrend (similar to the Silver contract) had broken to the upside last year.  This very strong move stalled out in later summer and began to deteriorate in the fall with continued speculation on the US Federal Reserve and the looming US election.  Unlike Silver, the Gold contract has yet to form a new downtrend but all eyes will be watching the 1066 and 1045 support levels; beyond that, the psychological 1000 mark will be the key level to watch.  With an SMAX score of 2 out of 10 the Gold Continuous Contract is also showing near-term weakness against all of the asset classes.
Click on Image to Enlarge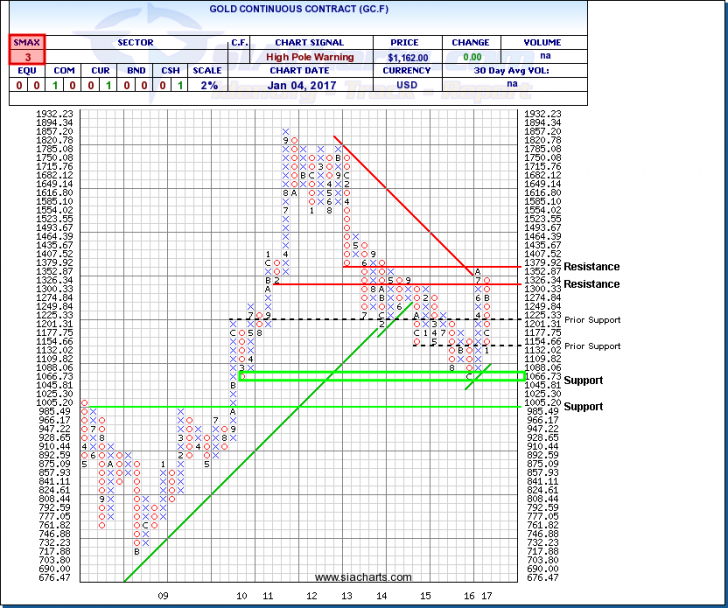 SIACharts.com specifically represents that it does not give investment advice or advocate the purchase or sale of any security or investment. None of the information contained in this website or document constitutes an offer to sell or the solicitation of an offer to buy any security or other investment or an offer to provide investment services of any kind. Neither SIACharts.com (FundCharts Inc.) nor its third party content providers shall be liable for any errors, inaccuracies or delays in content, or for any actions taken in reliance thereon.
For a more in-depth analysis on the relative strength of the equity markets, bonds, commodities, currencies, etc. or for more information on SIACharts.com, you can contact our customer support at 1-877-668-1332 or at siateam@siacharts.com.
Copyright © SIACharts.com