by Don Vialoux, Timingthemarket.ca

Observations
Technical deterioration in the energy sector was notable yesterday. 'Tis the season for weakness in the Canadian energy sector!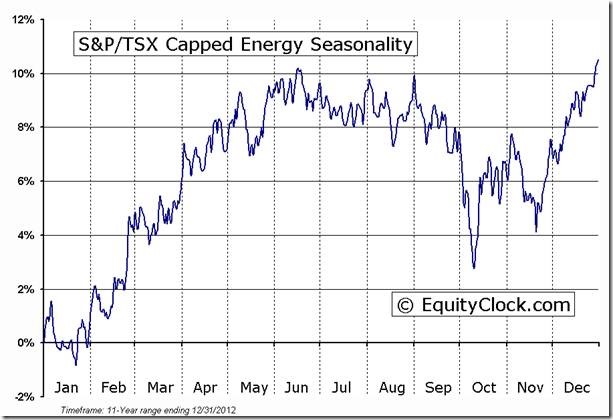 StockTwits Released Yesterday @EquityClock
Technical action by S&P 500 stocks to 10:00: Mixed. Breakouts: $STI, $AIG. Breakdowns: $HRB, $BF.B, $KO.
Editor's Note: After 10:00 AM EDT, six S&P 500 stocks broke below intermediate support levels: WAT, VMC, ALB, BA, HAR and SHW
TransCanada $TRP.CA completed a double top pattern on a move below $59.14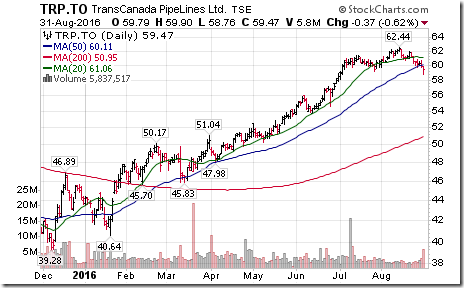 Nice breakout by Magna International $MG.CA above resistance at $53.25 establishing an intermediate uptrend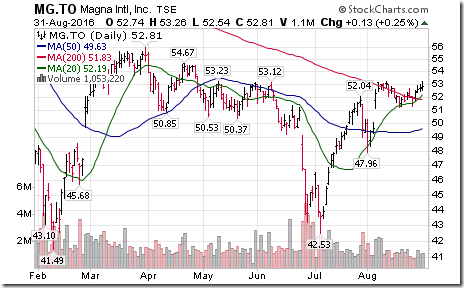 Vulcan Materials $VMC completed a Head & Shoulders pattern on a break below $114.89.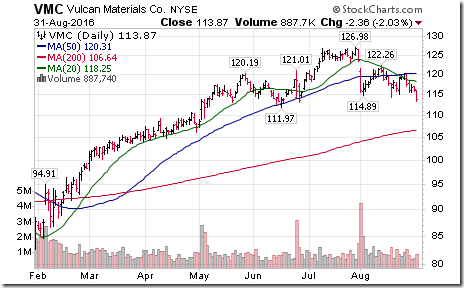 H&R Block $HRB broke support at $23.16 and $21.66 establishing an intermediate downtrend.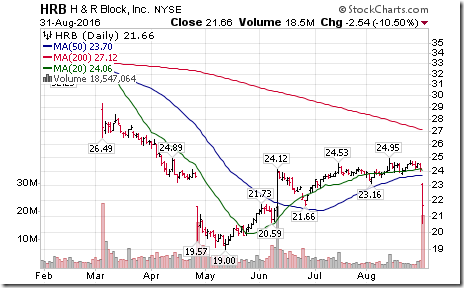 'Tis the season for weakness in H&R Block $HRB to the end of October.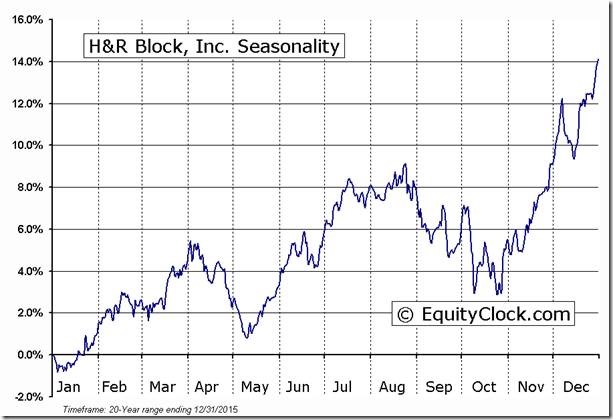 Boeing $BA broke support at $129.88 establishing intermediate downtrend.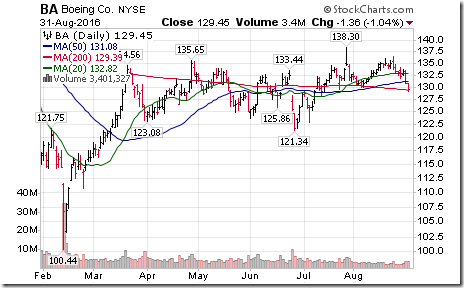 Sherwin-Williams $SHW broke support at $284.43 establishing an intermediate downtrend.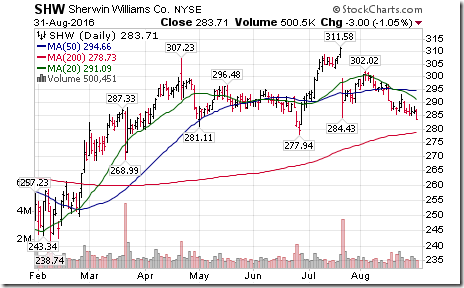 'Tis the season for weakness in Sherwin-Williams $SHW until the end of September!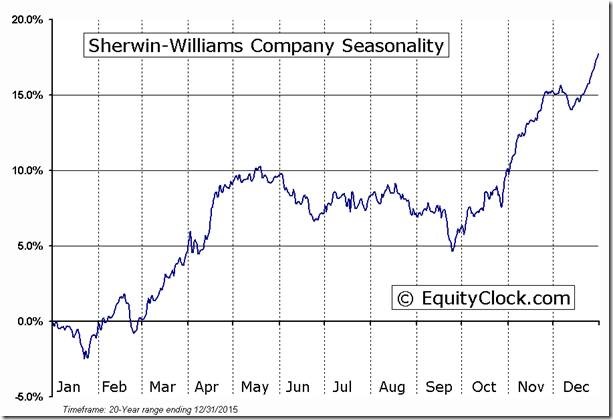 Grain prices remain under pressure. Soybean ETN $SOYB moved below $18.12.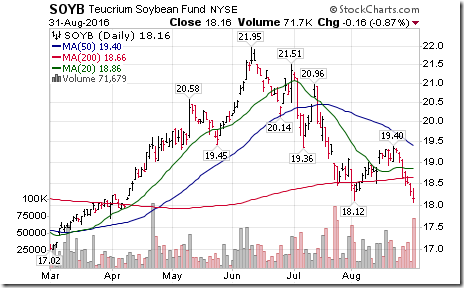 Trader's Corner
Daily Seasonal/Technical Equity Trends for August 31st 2016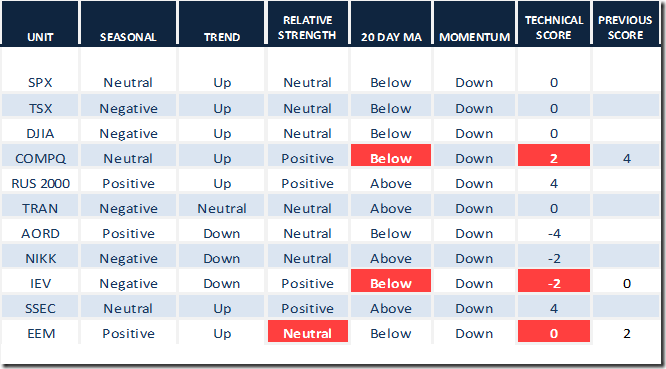 Green: Increase from previous day
Red: Decrease from previous day
Daily Seasonal/Technical Commodities Trends for August 31st 2016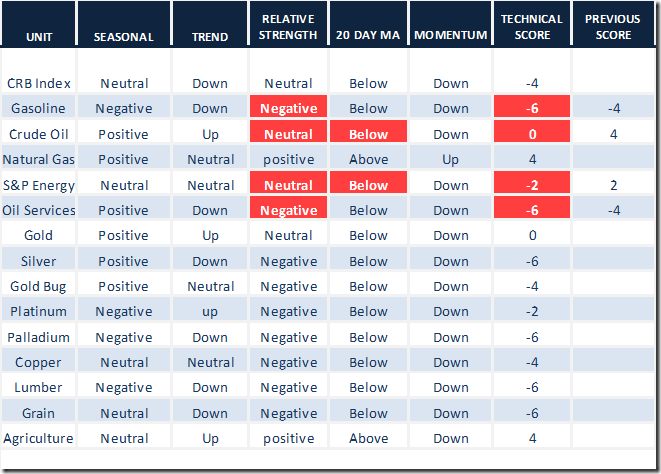 Green: Increase from previous day
Red: Decrease from previous day
Daily Seasonal/Technical Sector Trends for August 31st 2016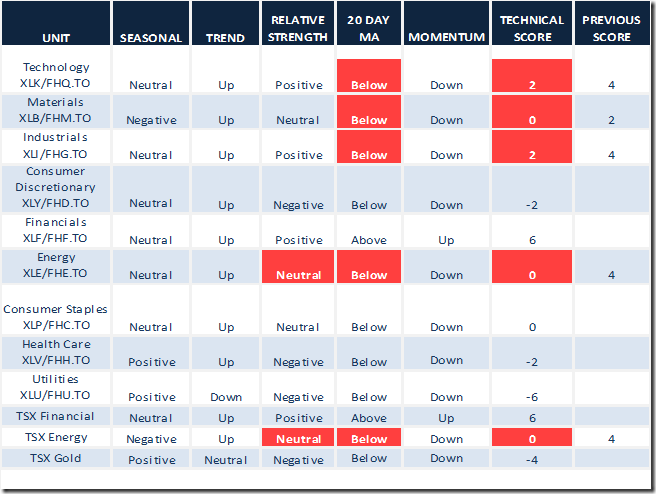 Green: Increase from previous day
Red: Decrease from previous day
Keith Richards' Blog
Following is a link:
http://www.valuetrend.ca/three-commodity-plays/
Adrienne Toghraie's "Trader's Coach" Column
Choices of Time
By Adrienne Toghraie, Trader's Success Coach
How many opportunities do we let slip by because of the comfort of knowing that we can start tomorrow? I talk to some of the same people year after year at shows who tell me of their plans to become a trader only to repeat themselves the next year. Here are some of the promises I have heard traders make that keep them from becoming the person they want to become. I will:
· Start reading that book tomorrow
· Make arrangements for that seminar
· Quit my job
· Spend more time with my family
· Plan that trip
· Take on that hobby
· Volunteer for that cause
· Give up the drugs I am currently taking
· Go to see the doctor
· Hire that coach
· Lose that weight
· Do the things that it takes to become a better trader
The fact is that yesterdays are what brought you to this moment of now and today is what will decide tomorrow. If you put off your life until tomorrow, you will not enjoy the life you want to have.
Bad choices

Over the past few years, we have lost three celebrities whose lives we have followed for many years:
Ed McMann, who was Johnny Carson's comic sidekick for over thirty years. The choices he made about his financial situation after a lucrative career brought him to a place of needing rescue from foreclosure of his home.
Farrah Fawcett, the actress and pin up girl, we lost from cancer. She created many stressful situations in her life by some of her choices that weakened her body so that it would be a good host for cancer.
Michael Jackson, an icon of rock music, abused his body with prescription drugs, his mind by his choices of conduct and his body by extreme dance rehearsals. And now his children are without their father and the rest of us are mourning his early passing.
Good choices
Clark was a participant in my Master Class in Australia. He is a land developer from New Zealand who decided that he wanted to enhance his income by trading. He asked many questions during the class, which revealed a lot about him. I have learned over the years that by the questions people ask I can usually tell if they will succeed in trading. At lunch I was able to learn more about him, which made me feel certain about the belief I was developing that he would be successful as a trader.
Clark told me about how he worked with his father in construction from the time he could lift a hammer and he loved every moment. He said that his father's story telling made it not seem like work. It was from this experience that work became a pleasure for him. His mom encouraged him to save two thirds of the money he earned, so he worked extra hard because the third that he could spend would be for the games and entertainment he enjoyed. Clark's mother also encouraged him to take care of his health by eating well and having balance in his life. Clark purchased a small property at the age of sixteen and built a small house with his father's licenses. With the profit he earned from selling this property, he purchased and even larger property. This pattern continued to where he is today as a highly successful developer.
I recommended a trading mentor to Clark specific to his personality, and I also recommended that he take my Top Performance Seminar after he traded for at least a month. Clark completed my Trading On Target Course by the time I saw him again. He made two trips to the United States to complete both of my suggestions. After six months since I originally met Clark, he is now earning a substantial living from trading and only putting in two to three hours a day while still maintaining his business. I asked Clark how he finds trading. His response was that the whole process was a blast and he is having a lot of fun. His wife and children were also happy because they got to vacation in the states when he came to study here.
What is time for you?
Is life full of fun time in work and play? Is each area of your life developing into how you want your future to be? If not, make a plan and act today so that your trading and everything that supports it will bring you to a better tomorrow.
Free Newsletter
More Articles by Adrienne Toghraie, Trader's Success Coach
Sign Up at – www.TradingOnTarget.com
Mr. Vialoux presenting at . . .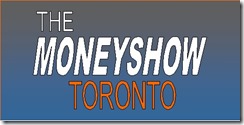 Join us at the annual show on September 16-17th. Mr. Vialoux's topic is "Sell in May and Go Away?"

September 16-17, 2016 | Metro Toronto Convention Centre
Donald Vialoux invites you to The MoneyShow Toronto, September 16-17, 2016, at the Metro Toronto Convention Centre. Designed specifically for investors and traders looking to create a profitable investment strategy, this free conference features over 50 eminent economists, top-performing money-managers, and successful professional traders who will share their wisdom and experience with you.
With over 50 in-depth expert presentations, you'll be exposed to varying ways of looking at the markets you may not have previously considered and be introduced to new methods of reading charts and finding opportunities you may have missed in the past.
Don't miss this opportunity to deepen your understanding of specific investment or trading topics by discovering the insights, strategies, tools, forecasts, and specific recommendations that can turn investment potential into profitable success!
Click here or call 800-970-4355 to register for your free spot at The MoneyShow Toronto! (please mention priority code 041368)
Learn complete details http://goo.gl/6okRkB
Special Free Services available through www.equityclock.com
Equityclock.com is offering free access to a data base showing seasonal studies on individual stocks and sectors. The data base holds seasonality studies on over 1000 big and moderate cap securities and indices. To login, simply go to http://www.equityclock.com/charts/ Following is an example: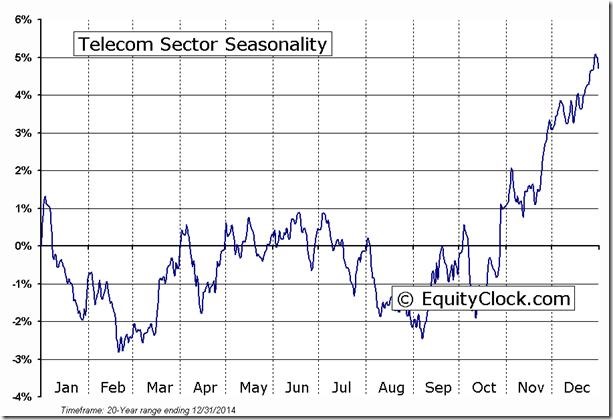 S&P 500 Momentum Barometer
The Barometer dropped another 4.40 to 57.60 yesterday. It remains intermediate overbought and trending down.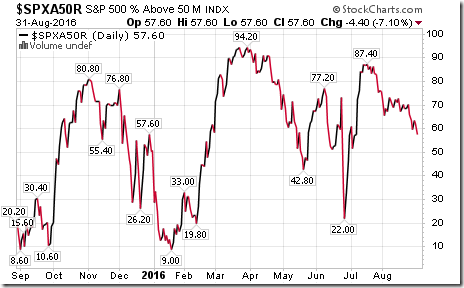 TSX Momentum Barometer
The Barometer dropped another 3.43 to 52.79 yesterday. It remains intermediate overbought and trending down.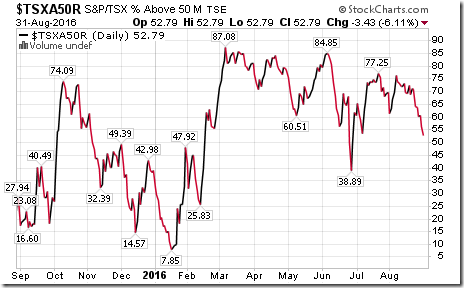 Disclaimer: Seasonality and technical ratings offered in this report by www.timingthemarket.ca and www.equityclock.com are for information only. They should not be considered as advice to purchase or to sell mentioned securities. Data offered in this report is believed to be accurate, but is not guaranteed
Copyright © DV Tech Talk, Timingthemarket.ca