Hillary Crushes Biotechs
by Eddy Elfenbein, Crossing Wall Street
A fairly average day in the market disrupted when Hillary Clinton tweeted this:
Price gouging like this in the specialty drug market is outrageous. Tomorrow I'll lay out a plan to take it on. -H https://t.co/9Z0Aw7aI6h

— Hillary Clinton (@HillaryClinton) September 21, 2015
The market reacted swiftly. Check out the Biotech ETF (IBB):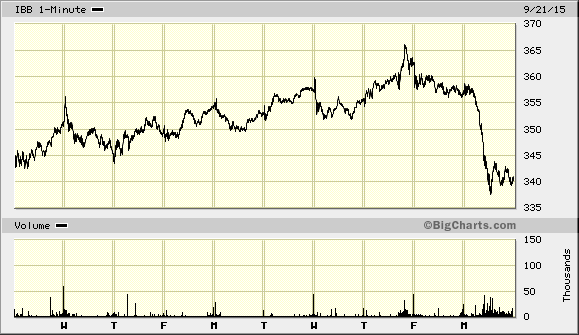 Don't feel too bad for biotechs. That ETF is currently at $340. Four years ago, it was going for $94. Biotechs have done incredibly well.
There are a few points to highlight. The first is that anything can impact your stock. The entire biotech sector was hit just from this one tweet.
This is also why I'm leery of stop-losses. Stops can be a useful tool, but bear in mind that you can get knocked out of good positions for silly reasons.
We can also see how one sector can depart from the rest of the market. The overall stock market did fairly well today. Here's how the ten S&P sectors performed today. See how big the gap is between Health Care and everybody else.
Financials 1.07%
Technology 1.00%
Staples 0.85%
Discretionary 0.75%
Energy 0.57%
Industrials 0.45%
Utilities 0.43%
Materials 0.29%
Telecom 0.26%
Health Care -1.38%