Emerging Markets Radar (June 23, 2014)
Strengths
Greece was the best performing emerging market for the week aided by a favorable risk-on environment. The most important news out of the country is a report by Moody's highlighting positive developments in Greece's fiscal health and the local credit sector. In addition, the ratings agency revised its growth estimate for this year in Greece from 0.0 to 0.4 percent. The report was viewed by market analysts and government officials as a prelude to a credit rating upgrade.
Taiwan was the best performing country in Asia and recorded the largest equity inflow adjusted for market size this week, driven by outperformance from semiconductor and electronic component producers, which continued to benefit from new smartphone rollouts globally in the second half of this year and China's 4G network deployment.
Shire, an Irish pharmaceutical company, rose to an all-time high after announcing it had rejected a takeover approach from the American drug maker AbbVie that valued the company at about $46.3 billion. Shire said AbbVie's proposal "fundamentally undervalued the company and its prospects."  According to the New York Times, the offer is the latest in a rush of recent tie-ups by pharmaceutical companies, particularly as American companies look to reincorporate in countries with lower tax rates, such as Ireland and Britain.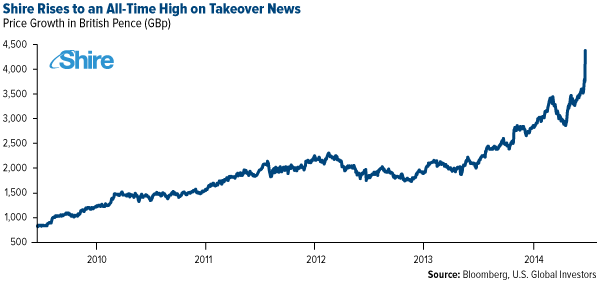 click to enlarge
Weaknesses
Egypt was the worst performing emerging market for the week, followed by other Gulf markets, which were affected by the escalating violence in Iraq. The conflict is especially damaging for Egypt as higher oil prices could worsen its balance of payments and hit state finances through the fuel subsidy system.
Financials was the worst performing sector in emerging markets this week, driven by weaknesses in Chinese property developers. Official government statistics confirmed private party observations showing that new home prices softened month over month in 35 of 70 major cities in May, a rapid deterioration compared with April's eight out of 70.
Ukrainian president Petro Poroshenko declared a unilateral ceasefire to give anti-government insurgents time either to leave Ukraine or give up their weapons. However, as The Economist argues, the fighting now has its own self-perpetuating logic, showing that decisions taken in Kiev, or in Moscow, may have little effect on the ground. As such, the conflict and instability may continue, even if Poroshenko and Putin reach de-escalation agreements.
Opportunities
Refrigerator contents speak volumes about their owners, and their proliferation signals a country's economic progression. This is one of the conclusions reached by Alliance Bernstein's emerging markets analysts. By analyzing the contents of 70 refrigerators in rural and urban homes across 12 developing countries, the analysts discovered striking similarities between the contents and the refrigerator owner's socioeconomic status. By understanding how people's tastes change as incomes rise, it is easier to identify consumer goods sectors that stand to benefit from lifestyles and spending habits that unlock earnings growth.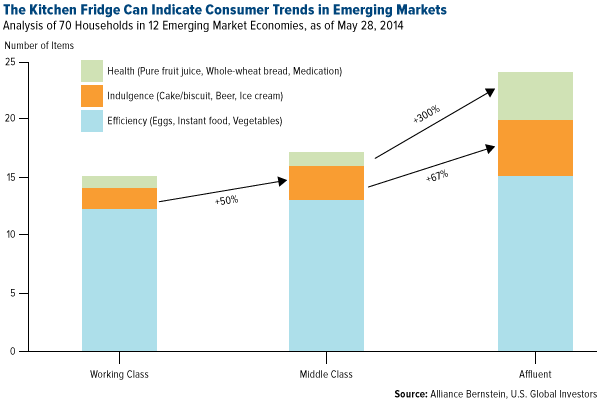 click to enlarge
JP Morgan's emerging markets strategist Adrian Mowat is "confident that the emerging markets bull market will continue into the second half this year." Mowat's arguments start with the fact that tapering from the Federal Reserve has turned out to be a non-event for emerging markets. In addition, the bank expects emerging markets to grow above potential, a stark difference from the World Bank's projections.
A recent correction in Chinese internet names makes China's internet infrastructure providers more attractive. They are set to benefit from rapidly increasing internet traffic in the country, forecast to grow at a 35.8 percent compounded annual rate from 2012 to 2016, outpacing major developed countries according to Cisco VNI. China's data center service industry is more concentrated with higher barriers to enter and healthier pricing competition, a more resilient alternative to play the megatrend in mobile internet and enterprise cloud.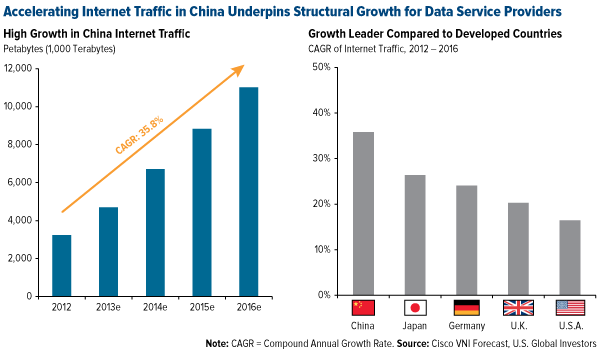 click to enlarge
Threats
A sad record was broken in 2013 when more than 50 million people were forced to flee their homes, the highest number since recordkeeping began. A recent article in The Economist highlights the most recent report by the UN High Commissioner for Refugees, which also shows 2013 marked the sharpest year-on-year rise for decades. The main contribution to the recent rise is out of Syria. However, the tally is rising fast, with more than 300,000 people fleeing Mosul, Iraq after it was captured by extremists.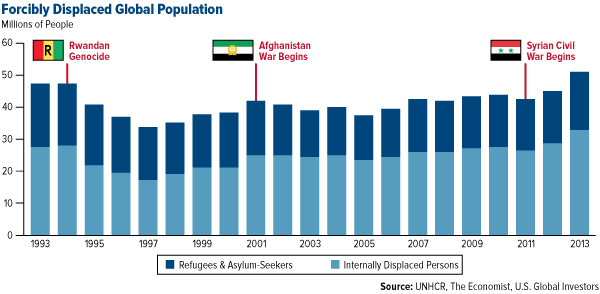 click to enlarge
Leaked recordings of conversations between Polish government officials and the central bank governor are threatening to disrupt the government and lead to a call for early elections. In the recordings, central bank Governor Marek Belka is heard discussing with Interior Minister Bartlomiej Sienkiewicz steps to boost the economy and help the ruling party win an election next year. An early election scenario would be negative for the markets due to the uncertainty over economic policy changes resulting from the transition.
Renewed weakness in Chinese property developers validated investors' caution on the most significant risk to the Chinese economy. Fragile and deteriorating sentiment toward Chinese residential property oversupply in lower-tier cities only adds to volatility of property-developer stocks in the near term.