A Surprising Way to Participate in Today's Tech Boom
By Frank Holmes, CEO and Chief Investment Officer, U.S. Global Investors
December 20, 2013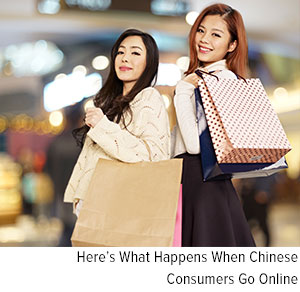 If I assked you to name the biggest online shopping day of the year, what would you guess? Black Friday? Cyber Monday? Free Shipping Day in mid-December?
Guess again.
Even though Cyber Monday sales were spectacular this year, as online sales surged 20 percent and beat Black Friday receipts, the day didn't top November 11, Singles' Day in China. Singles' Day is a day of celebration for people who are single and has become popular among the young in China.
China saw so many online purchases on this day that sales exceeded Black Friday and Cyber Monday online purchases in the U.S. In fact, sales on Singles' Day were nearly double that on Black Friday and Cyber Monday. According to BCA Research, transactions processed through Alibaba totaled $5.75 billion on 11/11. Online sales on Black Friday and Cyber Monday together were only about $3 billion.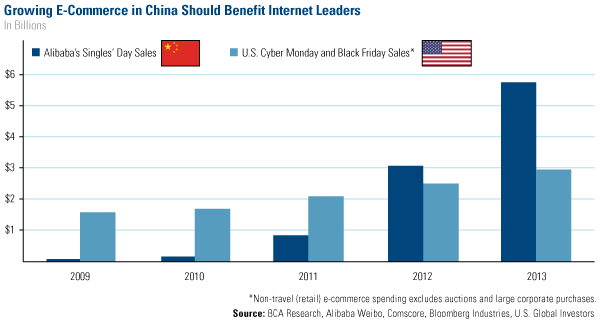 click to enlarge
Online transactions have grown so quickly in China over the past few years, the country may have surpassed the U.S. in becoming the largest e-commerce market in the world. The spectacular growth also "defies the widely held consensus of China's perceived 'weak' consumption," says BCA.
The Asian country has become one of the best consumption stories out there, and looking over the next few years, local technology companies are almost certain to benefit.
So while many U.S. investors are getting excited about the growing number of initial public offerings in the tech sector, they would be remiss if they didn't look beyond Silicon Valley.
After all, the world has drastically changed since the last tech boom. Back then, China's share of world GDP growth was in the single digits; now its share is close to 20 percent. Former state-run economies, such as China and Russia, are embracing an entrepreneurial spirit and markets are continuing to open up.
We're especially excited about the opportunities that will likely develop from China's removal of the hukou system that determines residency status and urbanization trends. In addition, as China changes its one-child policy, Internet companies may likely see an even larger increase of users in the years ahead.
Do They "Google" in China?
Americans may "Google" for directions, recipes or stock prices, post to Twitter, and shop online at Amazon or eBay, but outside the U.S., different tech leaders are finding lucrative and innovative ways to shape online experiences, grow revenue, and gain market share.
Baidu, for example, is the search engine leader in China with an 81 percent market share, significantly overshadowing Google, which has only a 12 percent revenue share, according to CLSA. The research firm anticipates Baidu will "sustain 35-40 percent revenue growth," due to its monetization in search advertising, mobile games and mobile videos.
Competition is heating up though. When U.S. Global analyst Xian Liang visited his family in Shanghai this year, he noticed the Internet search page automatically populated to Qihoo (pronounced "chee-hoo"). Qihoo, which has only about 15 to 20 percent traffic share in China right now, bundles its own search engine along with its Internet security software. After installing the anti-virus software, the search engine becomes the default. The company is using this strategy to gain market share against heavy competitors such as Baidu and Google.
When purchasing goods online, most residents of China head to Alibaba, which processes about 80 percent of China's total online retail businesses. It has a unique model with Amazon- and eBay-like features and hosts sites for small businesses. Its volume of sales is so massive, Alibaba may overtake Wal-Mart as the world's largest retail network by 2016, according to CNBC.
As an "undisputed market leader," Alibaba enjoys revenues that are growing 60 to 70 percent year-over-year, says CLSA. Yahoo! has benefited from its 24 percent stake in Alibaba, and next year, investors could get in on the action if the company goes public.
Michael Ding, portfolio manager of the China Region Fund (USCOX), likes Tencent Holdings, whose subsidiaries provide mass media, Internet and phone services, social media and online advertising. According to CLSA, Tencent is "best positioned for mobile," due to its app called WeChat.
Users of Tencent's phone applications may not be all too familiar with an app called SnapChat, but they are feverishly downloading a new app called WeChat. WeChat is a mobile social networking application that allows real time multi-party voice messaging and location sharing, boasting 236 million monthly active users.
Tech in Asia reported that Tencent is now set to open a WeChat office in the Philippines, saying that WeChat "became the most downloaded free app" in the country since June.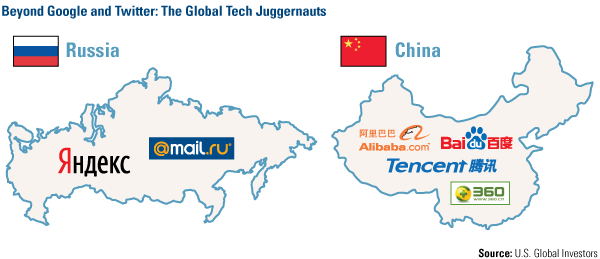 click to enlarge
Exploring Russia 2.0
Another area of the emerging world benefiting from the growing wealth of the consumer is Russia. In our recent webcast, Tim Steinle, portfolio manager of the Emerging Europe Fund, talked about investing in "Russia 2.0" companies. Whereas familiar Russian companies, such as Gazprom and Lukoil, tend to be large and state-owned, we prefer dynamic, independent, shareholder-driven companies.
For example, Mail.Ru is an Internet company focused on social networks and gaming. Yandex is the dominant Internet portal in Russia in direct competition with Google.ru, the Russian operation of Google. Both companies have been outstanding performers compared to overall Russian stocks in 2013.
To learn more about why we find Russia 2.0 exciting, you can listen to the on-demand webcast here.
Wishing You a Happy Holiday!
During this holiday season, we would like to wish you and your family peace, joy and lots of laughter. We hope the new year brings you health, wealth and happiness.