In this weeks edition of the SIA Equity Leaders Weekly, we are going to take a look at a Bullish development on the relationship between the U.S. Dollar and the Canadian Dollar through the USDCAD. In addition, we will take a look at Gold Bullion as it is generally affected by the strength or weakness of the USD and as such an update in todays ELW is warranted.
United States Dollar/Canadian Dollar (USDCAD)
Since September 15th of 2011, we have written on the rebound we have seen in the U.S. Dollar vs. the CAD Dollar. This reversal of fortune by the USD has not come at an amazingly fast pace but over the past couple of years has consistently moved upward vs. its Canadian counterpart. This change in relative strength between the two cannot be ignored as it also signaled the change in relative strength seen between U.S. Equities over Canadian Equities, a diversion that readers of the ELW and subscribers to SIA have taken advantage of for significantly better performance in their portfolios.
Looking at the USDCAD today, we can see that it has moved above key resistance at the 1.0639 level and although faced with minor resistance below 1.0745 (not shown on the chart) we can see the price objective is significantly higher in the 1.15 range. For those investing in U.S. Equities over Canadian Equities, this relationship continues to add relevance to your portfolio allocation and for those still overweight Canadian Equities adds an additional threat to your ability to outperform your peers. We continue to see U.S. Equities lead the Asset Class rankings and Commodities in last place among that list. The chart below on Gold highlights the near term risk to Commodities as it sits on key support.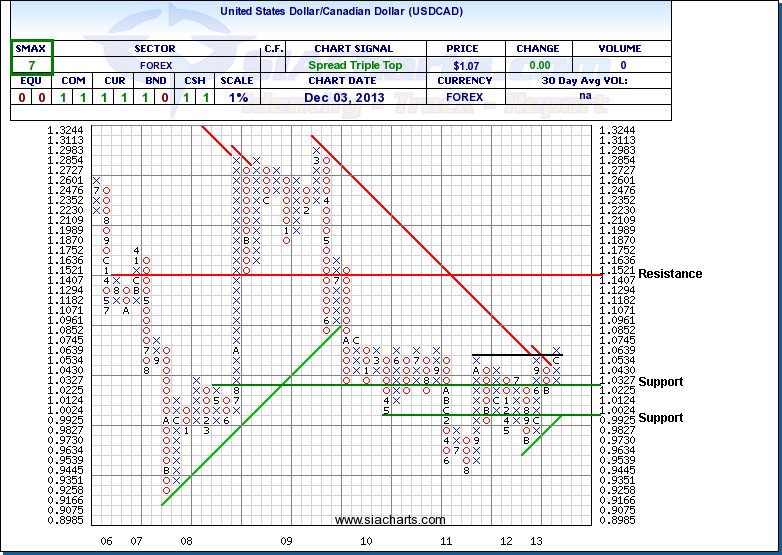 Click on Image to Enlarge
Gold Continuous Contract (GC.F)
Gold (GC.F) is currently sitting around a key support level of $1200 on a 2% point and figure chart. If you have followed our commentary on Gold throughout 2013, you will notice that we often discussed this key support level as an important level to watch for several reasons. First, it marks a level not seen since 2010 and if GC.F breaks through this key support level, the next potential support is not seen until $1045.81 (a drop of 14%). Second, GC.F is also sitting right on the long term upwards trendline that was drawn from the low in 2003 (a 10-year upwards trendline). Third, if the USD continues to strengthen as discussed above, this could put additional downward pressure on Gold because of its intermarket relationship (ie. inverse relationship of USD vs Gold).
Furthermore, Commodities as an Asset Class continues to show significant weakness and continues to sit at the bottom of our SIA Asset Class Rankings, a position it has occupied for 2 straight years. The Metals and Mining sector entered the Unfavoured Zone of the SIA
Stock Sector's Report (31 Equal Weighted Stock Sectors) back in June 2011 and moved to the very bottom of this report in March 2012 which it has virtually occupied ever since. And finally, of the 49 stocks that make up our SIA Metals and Mining Report, only 10 stocks (or ~20%) have positive SMAX scores of 6 or higher (shorter term indicator of Relative Strength). GC.F's current SMAX score of 1 out of 10 shows near-term weakness across all asset classes.
To conclude, keeping an eye on this key support level could be crucial to see if Gold continues in the channel it has been in for the past 5-6 months or if it moves through this support level possibly leading to even further weakness for gold and potentially other related commodities.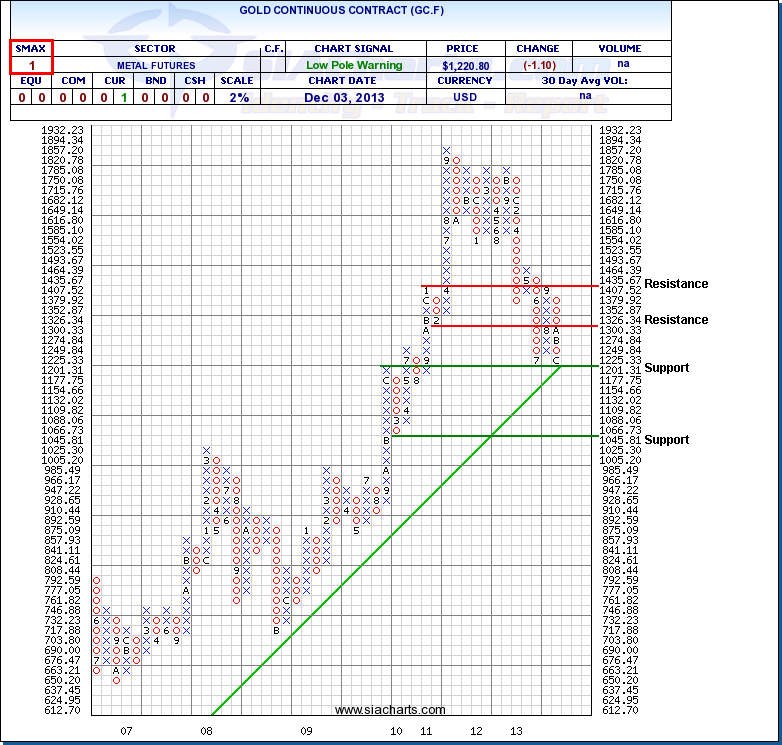 Click on Image to Enlarge
SIACharts.com specifically represents that it does not give investment advice or advocate the purchase or sale of any security or investment. None of the information contained in this website or document constitutes an offer to sell or the solicitation of an offer to buy any security or other investment or an offer to provide investment services of any kind. Neither SIACharts.com (FundCharts Inc.) nor its third party content providers shall be liable for any errors, inaccuracies or delays in content, or for any actions taken in reliance thereon.