Earnings & the Bull Market (excerpt)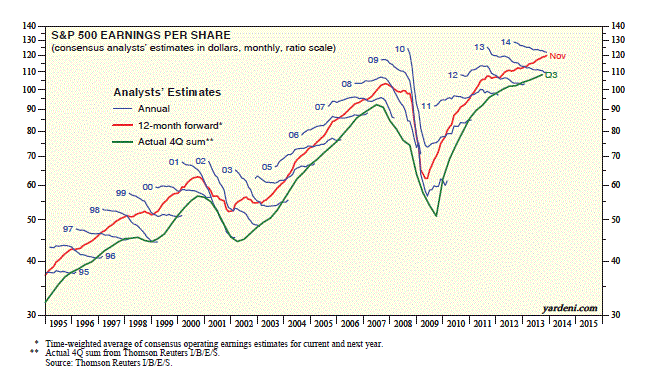 My bullishness since March 2009 has been driven by rising earnings. The rebound in S&P 500 forward earnings was V-shaped from 2009 through mid-2011, breaking out to new highs during May 2011. It's been making new highs ever since then. In November, it was at $120.55 per share, up 92% from the cyclical low of $62.92 during May 2009.
Forward earnings, which is the time-weighted average of consensus operating earnings for the current year and next year, is a very good year-ahead leading indicator of actual earnings over the next four quarters So there's a good chance that the S&P 500 will earn about $120 per share in 2014, which coincides with my forecast.
That forward earnings number is currently in the market with the forward P/E at 15, up from about 10 during the summer of 2011. That was a retest of the P/E low in March 2009. Forward earnings are also at record highs for the S&P 400 MidCaps and S&P 600 SmallCaps with their respective forward P/Es at 16.9 and 18.5.
Today's Morning Briefing: Thanksgiving. (1) Counting our blessings. (2) Thanks to Tom Hanks. (3) Symbology and strategy. (4) From 666 to 1802. (5) Is there any meaning in 777? (6) Since March 2009, forward earnings up 83%, P/E up 45%. (7) Net Earnings Revisions Indexes are mostly negative around the world. (8) NERI dives in France and runs out of mojo in Tokyo. (9) NERI upticks in China and India. (10) Focus on market-weight-rated housing-related stocks. (More for subscribers.)