The Economy and Bond Market Radar (November 11, 2013)
Treasury bond yields rose sharply this week on stronger than expected employment and better than expected third quarter GDP growth. As we mentioned last week, the idea that the Fed will taper in December or January has quickly become consensus and is putting pressure on the bond market.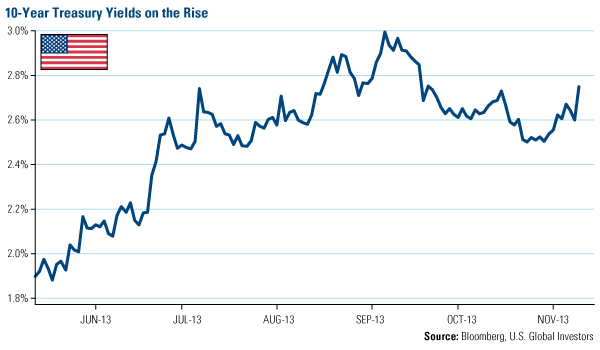 click to enlarge
Strengths
The employment report was much better than expected, with 204,000 nonfarm payroll jobs created in October and an additional 60,000 added to prior months through revisions to the data. Expectations were for growth of 120,000.
The European Central Bank cut interest rates by 25 basis points. This rate cut came sooner than most analysts had predicted and was a catalyst for the U.S. dollar to rally this week.
Third quarter GDP rose a better than expected 2.8 percent. The results were downplayed somewhat due to the replenishment of inventories, which is unlikely to repeat in upcoming quarters.
Weaknesses
Bond yields rose sharply this week on better economic data and the building expectations that the Fed will taper sooner rather than later.
Mortgage applications fell five percent in the week ended November 1.
The University of Michigan Confidence Index fell in November and was below expectations. This is consistent with other recent consumer surveys.
Opportunity
Despite recent conflicting commentary, the Fed continues to remain committed to an overall accommodative policy and is unlikely to raise interest rates in 2013 or 2014.
Key global central bankers remain in easing mode such as the European Central Bank (ECB), Bank of England and the Bank of Japan. This idea was reinforced this week with the ECB's rate cut.
There remain many moving parts to the taper decision and it is very possible that tapering could be delayed well into 2014.
Threat
Inflation in some corners of the globe is getting the attention of policy makers and may be an early indicator for the rest of the world.
Trade and/or currency "wars" cannot be ruled out which may cause unintended consequences and volatility in the financial markets.
The recent bond market sell off may be a "shot across the bow" as the markets reassess the changing macro dynamics.