Energy and Natural Resources Market Radar (November 4, 2013)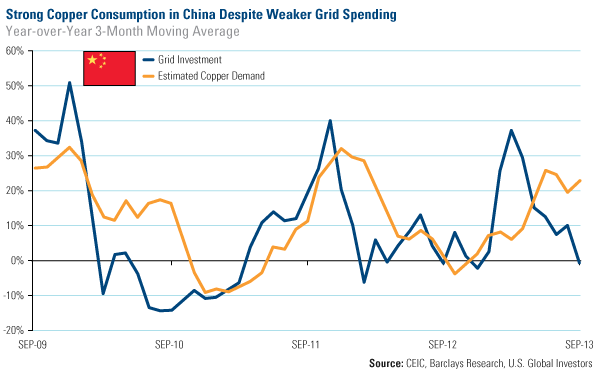 click to enlarge
Strengths
Steel and iron ore mining stocks gained for the fourth consecutive month. Iron ore prices remain over $130 per tonne and Chinese economic data continues to point to expansion. China's official PMI climbed to an eighteen-month high of 51.4 in October versus 51.1 in September.
The weekly average price for copper gained slightly as the price of the metal continues to hover around $3.30 per pound. Bellwether copper miner Freeport-McMoRan closed at a 52-week high this week, gaining nearly 40 percent since the end of June.
Weaknesses
West Texas Intermediate lost 3.5 percent this week, slipping back to levels not seen since late June, and remaining on a four-week losing streak.
Precious metals sold off late in the week as the U.S. dollar bounced off the 79 level. Gold fell 2.5 percent and silver fell 2.7 percent, while platinum and palladium were flat on the week.
Opportunities
China's steel output will exceed 800 million metric tonnes next year as fixed asset investment and economic growth remains steady, according to Li Xinchuang, Vice Secretary General at the China Iron and Steel Association. Crude steel production will rise from an estimated 780 million tonnes this year, according to Xinchuang who is also head of the Metallurgical Industry Planning & Research Institute, during an interview today. "Steel output is likely to rise as long as China's fixed asset investment can meet 17 percent growth and the gross domestic product can expand 7.4 percent next year," he said. The world's second-largest economy will probably grow 7.6 percent this year and 7.4 next year, as the nation tackles local government debt and financial reforms, according to the median of 52 economists' forecasts survey by Bloomberg this month.
In Russia, the government approved a long-awaited law to liberalize liquefied natural gas (LNG) exports for independent companies. Speaking to a government meeting in Moscow, Russian Prime Minister Dimitry Medvedev said, "Let's hope that this will create additional scope for the whole energy industry and allow us to secure a footing in fast growing economies," Reuters reported. At present, only Gazprom and its wholly-owned subsidiaries are permitted to export LNG out of Russia.
Mergers and acquisitions (M&A) activity is increasingly trending toward exploration and production assets and new discoveries while corporate deals are on the decline. About 45 percent of all M&A transactions so far this year were for producing assets, while 24 percent were for development projects, and 10 percent were for interests in new discoveries, according to a study by London and Bangalore's Derrick Petroleum Services and Houston's PLS. Over the same period, corporate deals are trending downward to the lowest level on record at 21 percent, compared to a five-year average of 55 percent, says the research and advisory firms. The analysts said a record $135 billion worth of assets were currently in play for M&A.
China's consumption of refined copper is expected to grow quicker in 2014. However, the consumption is not fast enough to boost imports significantly as production increases quickly, according to state-backed research firm Antaike. China is the world's top producer and consumer of the metal and imports have been dropping in line with weaker economic activity, dragging international prices down nearly 10 percent so far this year. Nevertheless, the market has been looking for a rebound next year as the economy stabilizes and infrastructure spending increases. China's consumption of refined copper is forecast to grow 6.5 percent to 8.7 million tonnes in 2014, as Beijing continues to invest heavily in the power sector, according to Antaike's chief copper analyst Yang Changhua.
Threats
OGX Petróleo e Gas Participações S.A., the Brazilian oil company controlled by former billionaire Eike Batista, sought court protection from creditors this week in Latin America's largest-ever corporate bankruptcy filing. The bankruptcy protection request, filed in a Rio de Janeiro court, came after OGX failed to reach an agreement with creditors to renegotiate part of its $5.1 billion debt load. The request marks another chapter in the unraveling of Batista's once high-flying industrial empire, which he has been dismantling in recent months after disappointing output from offshore OGX wells set off a crisis of investor confidence.
Zambia will restore a 10 percent export tax for unprocessed metals less than a month after the government removed the levy, Bloomberg reports. President Michael Sata ordered the government to repeal the law that removed the tax in comments broadcast on state-owned ZNBC. Treasury Secretary Fredson Yamba confirmed the decision by phone, the report stated. The law abolished the tax for about a year. The reinstatement will be effective "when the finance minister signs it," Yamba said.