Emerging Markets Radar (October 7, 2013)
Strengths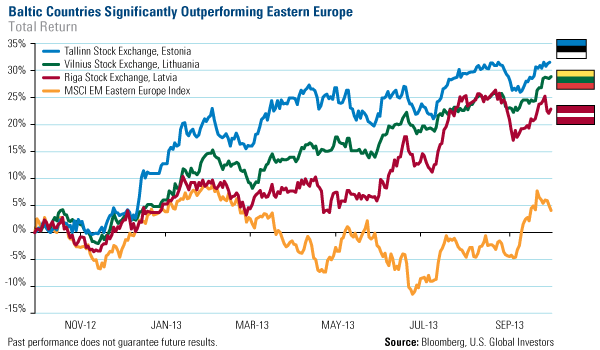 click to enlarge
The chart above shows that the Baltic nations appear to be on a healthy trajectory relative to the emerging market universe. The Baltic nations are expected to grow at a rate higher than 3.5 percent for the next four years, significantly outpacing the eurozone's average. It is the Baltic nations' willingness to adopt the euro (Latvia is set to join in 2014, and Lithuania in 2015) and commit to a whole range of measures, addressing economic freedom and the investment environment, which resulted in outstanding economic growth following the crisis along with lower unemployment and sizeable increases in exports. Moreover, these nations boast an innovative, entrepreneurial culture with less bureaucracy and lower unionization than many European Union (EU) and emerging market countries. For the rolling twelve-month period, the Estonian, Lithuanian and Latvian indices outperformed the MSCI Emerging Markets benchmark by 30, 28 and 22 percent, respectively.
The HSBC Brazil Composite purchasing managers' index (PMI) rebounded from 49.7 in August to 50.7 in September. The PMI reading was stronger than HSBC forecasted and together with a $2.14 billion trade surplus in September, the reading suggests there is upside risk to the current economic growth forecast for 2013.
China's official manufacturing PMI rose to 51.1 in September from 51.0 in August, versus the estimate of 51.6. HSBC's final Chinese PMI also rose 0.1 percent, disappointing at 100 basis points below the flash number. Nevertheless, both China's official PMI and HSBC's final PMI reports confirm that industrial activities are slightly stronger in September than in August.
Macau's September Gross Gambling Revenue (GGR) was up 21.4 percent to 29.0 billion Macau pataca (MoP29.0 billion), in line with the market estimate of MoP29.1 billion. China's Golden Week started strong as well, as the number of mainland visitors was up 16 percent, which pushed hotel rates higher this year. Mainland Chinese are spending a great deal more per visitor compared to spending by those from Hong Kong or other regions. Casino stocks have been doing extremely well in the last six years thanks to increasing visitation and capacity expansion.
Indonesia's inflation for September surprised to the downside at 8.4 percent versus the consensus outlook of 9.0 percent. The reading was 8.8 percent in August. The lower-than-expected inflation was driven by food prices. Indonesia's August current account turned into a surplus of $132 million versus a current account deficit of $2.3 billion in July. Although exports and imports both contracted further and missed the market expectation, the bigger pullback in imports actually helped the current account balance. The Indonesian government announced a series of policies for stabilizing the currency and the economy which included an interest increase, tax deduction and a higher tariff for imported luxury goods.
Sovereign debt in the Philippines was upgraded to investment grade, Baa3, by Moody's.
Weaknesses
The Russian ruble should remain volatile this quarter as the central bank cut the second quarter current account surplus to $3 billion. The implications are that the third quarter report, which is due shortly and is known to be the weakest quarter, should see a negative current account balance. This would be the first such deficit since 1999 and could lead to weakness in the ruble, according to Moscow Times contributor Chris Weafer. The risks are still on the downside and may be exacerbated by Vladimir Putin's pension plan proposal. The proposal follows Poland's unpopular reform of using pension savings to prop its fiscal budget amid anemic economic growth.
Moody's lowered its outlook on Brazil's sovereign debt rating to stable from positive, citing deteriorating debt and investment ratios. According to the credit rating agency, despite recent signs that the Brazilian economy may be starting to recover, Moody's believes that the upturn, should it materialize, is unlikely to be strong enough to restore a positive trend in Brazil's credit metrics.
August retail sales in Hong Kong grew 8.1 percent, weaker than July's 9.3 percent and June's 14.6 percent. The reading is also lower than the estimate of 10.1 percent, which could be blamed for falling sales of durable goods. The collapse of transaction volume in the property market has also slowed purchases of consumer durables.
The Philippines' Consumer Price Index (CPI) spiked to 2.7 percent in September from 2.1 percent in August. Although not too concerning due to the base effect, inflation is expected to go up further in 2014, which may require the central bank to raise interest rates in order to counter a higher inflation expectation.
Thailand's September CPI was 1.4 percent, versus the market expectation of 1.55 percent. Although the country remains in a deflationary environment, it is expected to be near the final phase.
Korea's inflation for September was 0.8 percent, the lowest since 1999 due to slow domestic demand and lower prices for agricultural products. September exports fell 1.5 percent and imports fell 3.6 percent, all weaker than the month prior. An upswing in vessel and semi-conductor exports continued during the month, while auto and auto parts sank.
Indonesia tightened its property and auto loans by raising down-payments and lowering loan-to-value ratios (LTRs). This was done in order to slow credit growth and strengthen banks' balance sheets.
Opportunities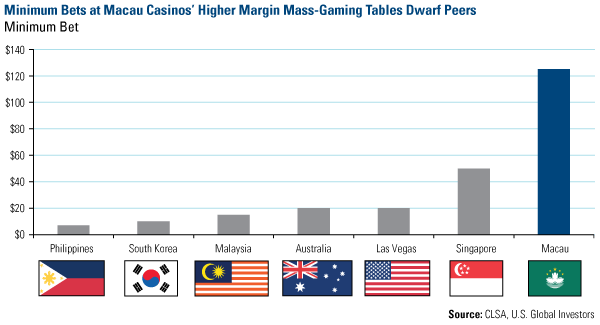 click to enlarge
As shown in the chart above, casino companies have been able to raise minimum bets since 2002 when the Macau government issued six gambling licenses. Higher minimum bets and an increasing number of visitors to the gambling enclave have benefited the casino companies in their earnings and cash flow growth. By 2017 and after Cotai new casinos are fully in operation, Macau gambling tables should be doubled along with revenues, as expected by analysts.
BCA Research says that it's time to catch Italy's falling knife. Italian assets have three solid fundamental support factors which include (1) improving eurozone macroeconomic conditions, (2) a market-positive outcome of the German elections, and (3) the European Central Bank's support, evidenced by Mario Draghi's mention of long-term refinancing operations (LTROs) in his recent speeches. Hence, the noise and the headline risk of recent days, along with a vote of confidence and talks of expelling Silvio Berlusconi from the Senate (which sent Italian bond spreads upward and the Milan bourse down), could be seen as a buying opportunity.
Mexican Finance Minister Luis Videgaray has agreed to review some aspects of the fiscal reform bill, which could represent a concern for some productive sectors. According to Videgaray, members of the Business Coordinating Council (CCE) brought forward a series of valid concerns, mainly related to the fiscal reform's negative impact to job creation and exports. This will be communicated to the legislature as part of the process introducing changes to the bill. Gerardo Gutierrez Candiani, CCE President, declared himself satisfied with the progress made and felt confident that the CCE's input will be considered for any modifications made to the bill.
Threats
Slovenian Prime Minister Alenka Bratusek is set to step down if she's ousted as leader of the Positive Slovenia party. This move could trigger an early vote and could also threaten the country's fight to avoid becoming the next euro-bailout case. Bratusek has been committed to fixing ailing banks and raising investor confidence since taking over in March, according to Bloomberg. Slovenia is trying to rescue its mostly state-owned banking industry following a six-quarter recession. The country is moving bad loans, worth more than one-fifth of economic output, into a "bad bank" as well as injecting new capital into lenders.
Many investors are worried that the expectations for favorable policies, coming from China's third plenary meeting of the 18th Party Congress in November, are too high. This could cause the market to sell off if those expectations are not met.
Two hurricanes that struck Mexico last month have led traders to increase their bets that the central bank will lower borrowing costs in order to alleviate any damage to economic growth. According to Bloomberg, there is a 76 percent chance that Mexico's central bank will cut its benchmark rate by 0.25 percentage point in the next three months. However, hurricanes Ingrid and Manuel, leaving 157 people deceased, flooded crops and disrupted logistics as well as transportation. The destruction will likely push up inflation as food prices rise, limiting room for the central bank to maneuver monetary policy in an economy already growing at the slowest pace since 2009.