Energy and Natural Resources Market Radar (September 16, 2013)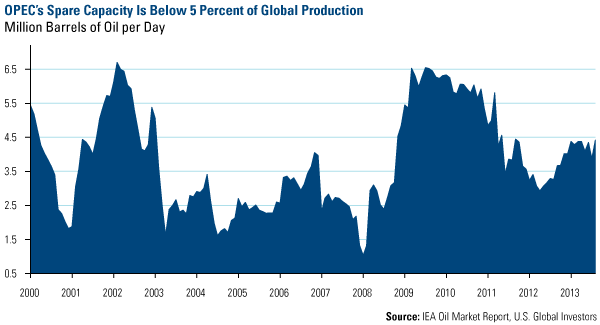 click to enlarge
Strengths
U.S. oil production jumped last week to the highest level since May 1989, cutting consumption of foreign fuel and putting the U.S. closer to energy independence. Drilling techniques including hydraulic fracturing pushed crude output up by 124,000 barrels per day or 1.6 percent. Output rose to 7.745 million barrels a day in the seven days ended September 6, according to the Energy Information Administration (EIA).
Chinese power output hit a record high in August with 498.7 billion kilowatt-hours (kWh), up 13.4 percent year-over-year. This brought total generation growth in the period of January to August to 6.4 percent year-over-year.
U.S. crude oil output was 7.745 million barrels a day last week, which is the highest since May 1989, according to the EIA.
Weaknesses
Crude oil prices pulled back from a 52-week high last week to close at $107.90, down approximately $2.50 per barrel or 2.4 percent this week.
Copper futures fell 1.3 percent this week to a five-week low. This came on speculation that the Fed will start to scale back U.S. monetary stimulus after its meeting next week, signaling slower economic growth.
Opportunities
Gold prices are unlikely to fall below $1,200 per ounce for very long because many producers would be forced to shut mines, former BHP Billiton COO Alberto Calderon told Bloomberg TV. Calderon sees gold in the $1,200 to $1,500 per ounce trading range. Nickel and aluminum are oversupplied and no one should invest in these, Calderon advised while also adding that copper demand has a long way to grow.
The U.S. Department of Energy awarded a fourth liquid natural gas (LNG) export license to Cove Point LNG (approximately 1 billion cubic feet per day) to export LNG to non-free trade agreement countries from planned liquefaction facilities alongside its existing Cove Point LNG terminal in Maryland. Total U.S. permitted export capacity now totals approximately 6.6 billion cubic feet per day (bcf/d).
According to the International Energy Agency (IEA), the demand for crude oil from OPEC will be 29.2 million barrels a day, as supplies from North America surge. Global crude oil consumption will increase by 1.1 million barrels a day to 92 million barrels a day next year.
Threats
China will aim to lower coal consumption to less than 65 percent of the country's total energy use by 2017, reported Platts, also citing a comprehensive plan to tackle air pollution which was posted on the website of the Chinese government. The country will not approve any new coal-fired power plants, except for heat and power facilities in the Beijing-Tianjin-Hebei, Yangtze River Delta and Pearl River Delta regions. By 2017 the country will increase its installed nuclear capacity to 50 gigawatts, and will raise the share of non-fossil energy consumption to 13 percent of the total energy consumption, according to the plan. China will also stop importing low quality coal with a high ash or sulfur content, though no specific thresholds or details were provided.