by David L. Fingold,
Vice President & Senior Portfolio Manager,
Dynamic Funds

March 3, 2021
While many Canadian advisors are able to easily build custom portfolios of U.S. and Canadian securities, gaining access to international equities can be a challenge, as their platform can only custody securities listed on a Canadian or U.S. exchange. Consequently, a truly international fund that invests exclusively outside North America could be the missing piece in helping advisors build fully diversified portfolios for their clients.
Many investors don't even know how overexposed they are to North America even if they think that they're investing globally.

— David Fingold
When Global Isn't Really Global
For advisors concerned about being overallocated to U.S. and Canadian equities, many might turn to a global equity fund. However, it's crucial to recognize that a lot of funds positioning themselves as global funds feature a low active share (i.e., very similar to the benchmark) with a high weighting of U.S. and Canadian holdings. As a result, many investors don't even know how overexposed they are to North America – even if they think that they're investing globally. A quick look at the MSCI World Index reveals that, as of year-end 2020, the combined exposure to U.S. and Canadian securities was more than 69%.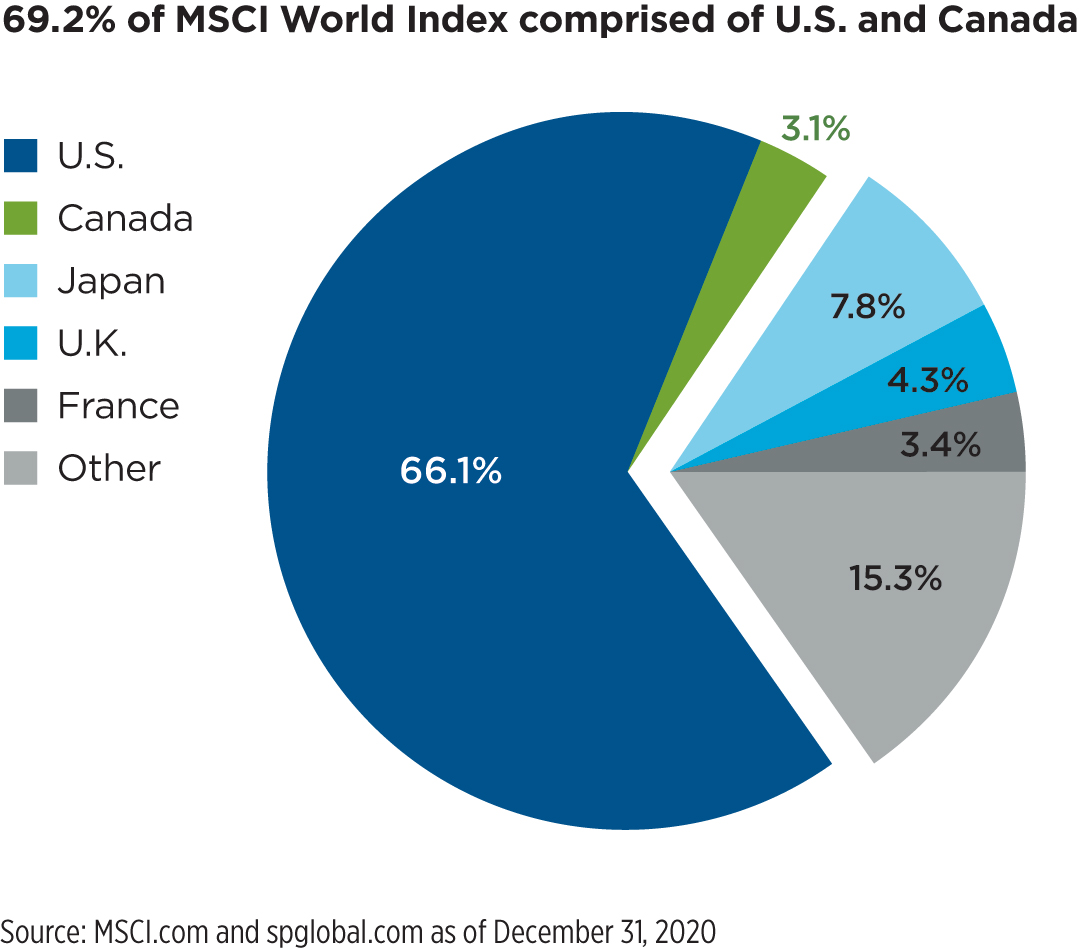 If you want to invest internationally, it makes sense to do so with an experienced investment team focused on providing equity exposure beyond North America. Experience is critical especially when it comes to managing an international mandate. Many investors and advisors alike are often shocked when they see the statistic that less than 25% of all fund managers have more than 15 years' experience.
International Opportunity
While geographical diversification is important, international exposure is really a story about opportunity. I am a value investor. I invest in companies that generate strong free cash flows, have good margins and are valued at a discount to my assessment of their intrinsic value.

The current reality is that I'm finding a growing number of attractively priced companies outside the U.S. and Canada that meet our investment criteria. In fact, in the global funds I already manage, we have been finding more opportunities outside of the United States and Canada.

Introducing Dynamic International Discovery Fund
The latest fund from Dynamic's David Fingold, Dynamic International Discovery Fund is a go-anywhere mandate looking for international industry leaders with exceptional returns on invested capital and high free-cash-flow yields. The Fund's underlying investment strategy is very similar to that of Dynamic Global Discovery Fund, which David has managed since 2002.

Whether you're looking to strengthen your portfolio diversification or are searching for growth opportunities, international equities have an essential role to play in any overall investment strategy. International economies are expanding, productivity is increasing, and we're seeing the emergence of a growing global middle class. These trends suggest the case for truly international investing will only get stronger.



About David L. Fingold, BSc. Management, Vice President & Senior Portfolio Manager

David Fingold has more than 25 years of industry experience and has been the sole lead manager on Dynamic Funds' mandates for more than 15 years, in which time he's navigated the Iraq War, the U.S. sub-prime housing bubble, the Great Recession and the global pandemic.

He is lead portfolio manager for a number of U.S. and Global strategies, including Dynamic Global Discovery Fund, Dynamic Global Dividend Fund and Dynamic American Fund.




Disclaimer:
Commissions, trailing commissions, management fees and expenses all may be associated with mutual fund investments. Please read the prospectus before investing. Mutual funds are not guaranteed, their values change frequently and past performance may not be repeated.

Views expressed regarding a particular investment, economy, industry or market sector should not be considered an indication of trading intent of any of the mutual funds managed by 1832 Asset Management L.P. These views are not to be relied upon as investment advice nor should they be considered a recommendation to buy or sell. These views are subject to change at any time based upon markets and other conditions, and we disclaim any responsibility to update such views. To the extent this document contains information or data obtained from third party sources, it is believed to be accurate and reliable as of the date of publication, but 1832 Asset Management L.P. does not guarantee its accuracy or reliability. Nothing in this document is or should be relied upon as a promise or representation as to the future.

© Copyright 2021 1832 Asset Management L.P. All rights reserved.

Dynamic Funds® is a registered trademark of its owner, used under license, and a division of 1832 Asset Management L.P.