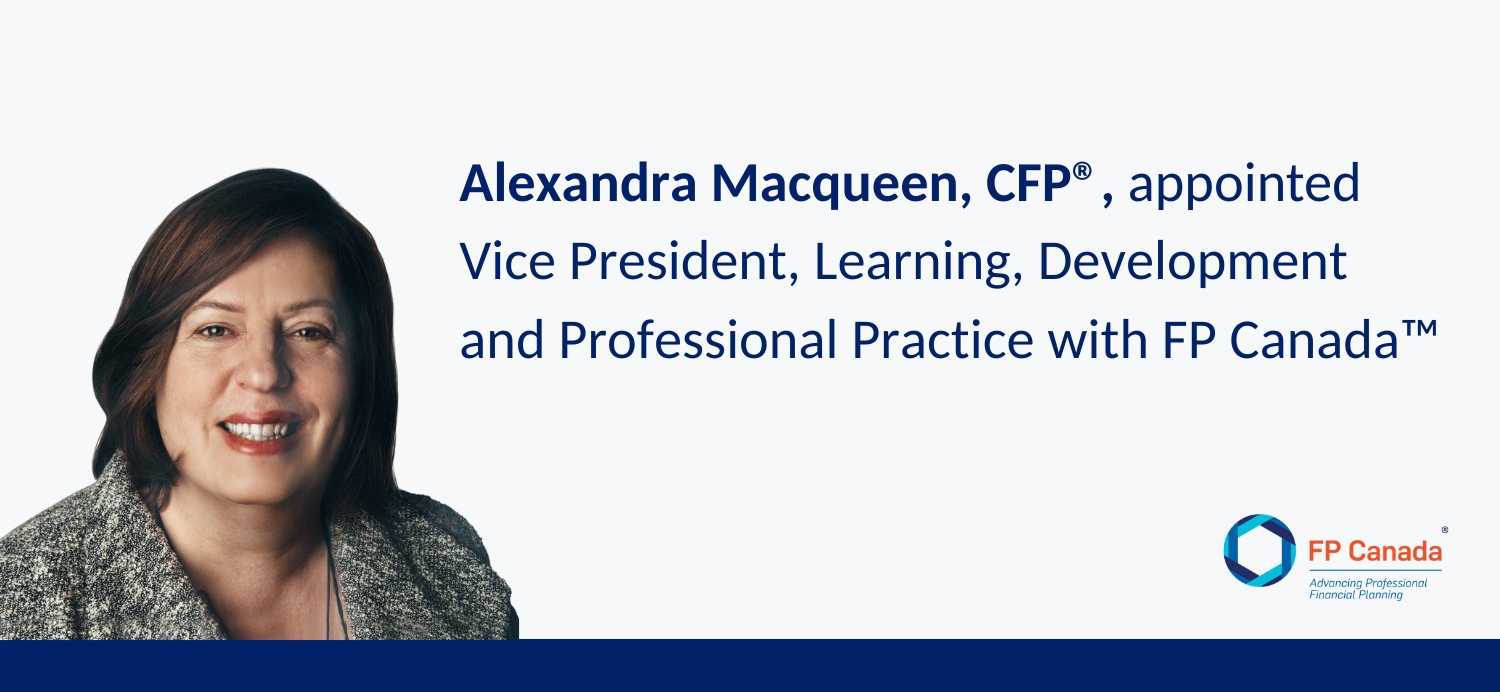 TORONTO, ON – March 21, 2023 – FP Canada has announced the appointment of Alexandra Macqueen, CFP, as Vice President, Learning, Development and Professional Practice, effective April 1, 2023. Macqueen will lead the FP Canada Institute, a division of FP Canada, which is dedicated to raising the bar for financial planning through education.
Macqueen has a storied career in the financial planning field, having served in numerous roles such as a Certified Financial Planner® professional, author, personal finance educator, and industry commentator. Most recently, she held the position of Director of Content Development for the FP Canada Institute, where she contributed her expertise and passion for promoting financial well-being in the development of pre- and post-certification education for QAFP™ professionals and CFP professionals.
"I am honoured to lead the FP Canada Institute at this exciting time for the financial planning community and believe this is a role I've been training for my entire career to assume," said Macqueen. "My career has always been fueled by my passion for supporting Canadians on their paths to financial resilience, which I believe starts with the training and education of trusted and high achieving professional financial planners."
Tashia Batstone, President and CEO of FP Canada, expressed confidence in Macqueen's appointment, saying, "Her exceptional industry experience and deep personal commitment to personal finance knowledge-sharing make her the natural leader to guide the Institute through its next chapter."
The FP Canada Institute is currently working on a groundbreaking end-to-end education initiative for QAFP certification and CFP certification, which will include technical education for the first time ever. This Canadian first establishes the Institute as the single source solution for unrivaled technical and professional financial planning proficiency. The new program will provide aspiring QAFP professionals and CFP professionals with streamlined, direct, and relevant content created by professional planners for professional planners, supporting them from start to finish on their certification journey.
The decision to expand the FP Canada Institute's education offerings was driven by demand from aspiring financial planners and the broader financial services industry. Batstone commented, "We've heard loud and clear that this is something the profession wants and needs, and we believe Canadians deserve to have the confidence of knowing that their financial planners are earning the full breadth of education they need from the source of financial planning excellence in Canada."
Macqueen anticipates that the new technical education offering and end-to-end learning path will be a transformative milestone for the industry. She said, "This approach will better prepare financial planners and their clients for the challenges of our fast-changing world, and I look forward to working with the FP Canada Institute team to bring to life this fresh and innovative new approach to financial planning education."
For more information about Alexandra Macqueen, visit the FP Canada website.
FP Canada is a national certification and professional oversight body that champions better financial wellness for all Canadians by leading the advancement of professional financial planning in Canada. As of December 31, 2022, there are approximately 17,300 CERTIFIED FINANCIAL PLANNER® professionals and around 1,600 QUALIFIED ASSOCIATE FINANCIAL PLANNER™ professionals who meet FP Canada's rigorous professional and ethical standards. More information can be found on the FP Canada website.
The FP Canada Institute, a division of FP Canada, is committed to elevating the practice of financial planning. The Institute provides professional education, practice support tools, and additional resources to financial planners and students to help them meet the needs and expectations of Canadians seeking financial planning advice from certified professionals.
Footnotes:

1 Adapted from source: "FP Canada." Default, 23 Mar. 2023, www.fpcanada.ca/news?Id=alexandra-macqueen-cfp-to-lead-the-fp-canada-institute-in-new-role-as-vice-president-learning-development-and-professional-practice-with-fp-canada.
2 Photo by Arturo Castaneyra on Unsplash