by Ellis Phifer, CFA, CMT, Managing Director, Fixed Income Capital Markets, Raymond James
August 22, 2022 The Morning Notes – Your Fibbey Sense
Intended for Institutional Investors Only – See Important Disclosures Below
As it seems to happen after a poor Friday showing, the equity markets are weak this morning. The weakness on Friday was, at least in part, a function of an options expiration week after a very successful run from the bottom.  From the lows in June, the S&P 500 was up almost 19% and the NASDAQ 100 (measured by the QQQs) was up almost 24% - a very successful run.  We have discussed the machinations of options expiration week in the past (max-pain) so I will spare you this morning.  While it is very difficult to tell where the max-pain will come into play, it will typically hit issues with the biggest moves.
The bond market has been in repricing mode after its successful run from its June yield peak.  From the high of 3.50%, the 10-year treasury note fell 99bps to a low of 2.51% before pushing back higher 48bps to this morning's high (so far) of 2.98%.  By watching these charts enough, your Spidey Fibbey sense may have kicked in, and it would be correct – that is right at a 50% retracement of the rally.  Two things now come to mind: 1) On a technical note, a 50% retracement is not technically a Fibonacci retracement, but that is a minor point that we can discuss at another time, and 2) just because we retraced 50% of the rally, we do not know if this is the turning point or if the selloff will continue. Retracements are like every other tool in our toolbox – they all work together to help us build a picture of what is happening and is likely to happen.
The markets are feeling pressure as well from the upcoming Fed Jackson Hole soiree that begins on Thursday, plus more Russian concerns on European natural gas supplies.  With the Nord Stream natural gas pipeline running at only 20% capacity for weeks, Gazprom announced work is needed on the only functioning turbine that can pump gas into the pipeline so it will be shut down for three days as of August 31st.  The markets are positioning for the possibility that this will be the time Russia shuts down European gas supplies.  The chart below shows the European Natural Gas (ENG) futures market in the top panel, the US (UNG) market in the bottom panel, and a red vertical line showing the Russian invasion into Ukraine.  The ENG price is up 431% over the past year and has been extremely volatile.  In contrast, the UNG market is up 150% over the same period.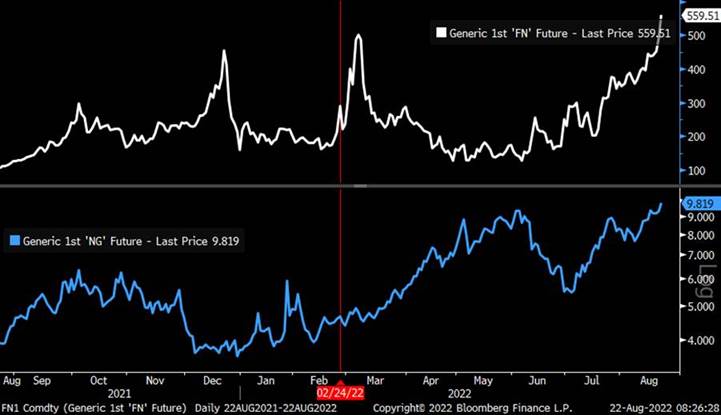 For the rest of the week, we look forward to getting data on New and Pending Home Sales, Durable and Capital Goods, the second estimate for second quarter GDP, PCE data, and the U. of Mich. Sentiment complex.  Speaking of quarter GDP, the Atlanta Fed's GDPNow estimate for third quarter GDP is 1.6%, dropping from 1.8%.
"It is pretty hard to tell what does bring happiness; poverty and wealth have both failed."

Kin Hubbard
Ellis Phifer, CFA, CMT
Managing Director
Fixed Income Capital Markets
Copyright © Raymond James
---
Conflict of Interest & Important Disclosures:
This research contains the views, opinions and recommendations of Raymond James research analysts.  Research analysts routinely consult with Raymond James trading desk personnel in formulating views, opinions and recommendations in preparing research.  Trading desks may trade, or have traded, as principal on the basis of the research analyst(s) views and report(s).  Therefore, this research may not be independent from the proprietary interests of Raymond James trading desks which may conflict with your interests.  In addition, research analysts receive compensation based, in part, on the quality and accuracy of their analysis, client feedback, trading desk and firm revenues and competitive factors.  As a general matter, Raymond James or its affiliates normally make a market and trade as principal in fixed income securities discussed in our research reports.
Explanation of Raymond James Fixed Income Research Ratings (where applicable):
Raymond James uses the following ratings nomenclature;
Overweight – for varying periods up to six months, the recommended risk position is expected to outperform the relevant index, sector, subsector or benchmark for total return accounts.  Used interchangeably with Buy and Favor for buy & hold accounts.
Marketweight – for varying periods up to six months, the recommended risk position is expected to perform in-line with the relevant index, sector, subsector or benchmark for total return accounts.  Used interchangeably with Neutral and Stable for buy & hold accounts.
Underweight – for varying periods up to six months, the recommended risk position is expected to underperform the relevant index, sector, subsector or benchmark for total return accounts.  Used interchangeably with Avoid, Disfavor and Sell for buy & hold accounts.
Other Disclosures:
ADDITIONAL INFORMATION IS AVAILABLE UPON REQUEST
The information contained herein is based on sources considered to be reliable but is not represented to be complete and its accuracy is not guaranteed. The opinions expressed herein reflect the judgment of the author at this date and are subject to change without notice and are not a complete analysis of every material fact respecting any company, industry or security. Raymond James and affiliates and their officers, directors, shareholders and employees and members of their families may make investments in a company or securities mentioned herein before, after or concurrently with the publication of this report. Raymond James may from time to time perform or seek to perform investment banking or other services for, or solicit investment banking or other services from any company, person or entities mentioned herein. Neither the information nor any opinion expressed herein constitutes a solicitation for the purchase or sale of any security. Raymond James makes no representation as to the legal, tax, credit, or accounting treatment of any transactions mentioned herein, or any other effects such transactions may have on you and your affiliates or any other parties to such transactions and their respective affiliates. You should consult with your own advisors as to such matters.