by Avi Hooper, Senior Portfolio Manager, Invesco Canada
Canadian companies continue to benefit from a strong earnings growth backdrop, especially in domestic facing sectors of the economy. Demand for new bond issuance remains exceptionally strong, highlighted by the recent all-time record number of buyers1 for a 10-year bond issued by Telus Corporation. In a world of a growing stock of negative-yielding debt, demand for high-quality, I believe positive-yielding bonds should continue to be well supported.
[backc url='https://sendy.advisoranalyst.com/w/lgqcdDSJflebCCc655T9Tg/za5cc7vXpIl2mKiUPlgWXg/jqYKsQaW892XQHzxECWpS2KA']
Canadian fixed income has historically performed in line with U.S. fixed income. This is not only because of the large trading relationship between the two economies, but also because of the similar credit quality of the respective markets. In the past few years, this quality comparison has deteriorated in U.S. corporate debt markets as companies have taken advantage of the exceptionally low bond yields to issue record amounts of debt. Today, over half of the U.S. investment grade corporate universe is rated the lowest investment grade quality (BBB), while only 12% is BBB-rated in Canada.2
Total returns have historically been similar between the two markets, but Canadian corporate bonds have exhibited less price sensitivity than U.S. corporate bonds. For example, during the 2008 global financial crisis and 2013 taper tantrum. This matters most at times when lower-rated credit are under downward price pressures. Canadian corporate bonds provide superior defensive characteristics, adding overall portfolio diversification from the duration component within this fixed income sector.
As active managers, we are focused only on finding the best corporate credit opportunities in both markets. We continue to add selectively across both U.S. and Canadian corporate debt in all our investment-grade fixed income solutions. Canada may be a smaller market, but sometimes smaller is better.
Corporate debt – total returns (base 2005=100)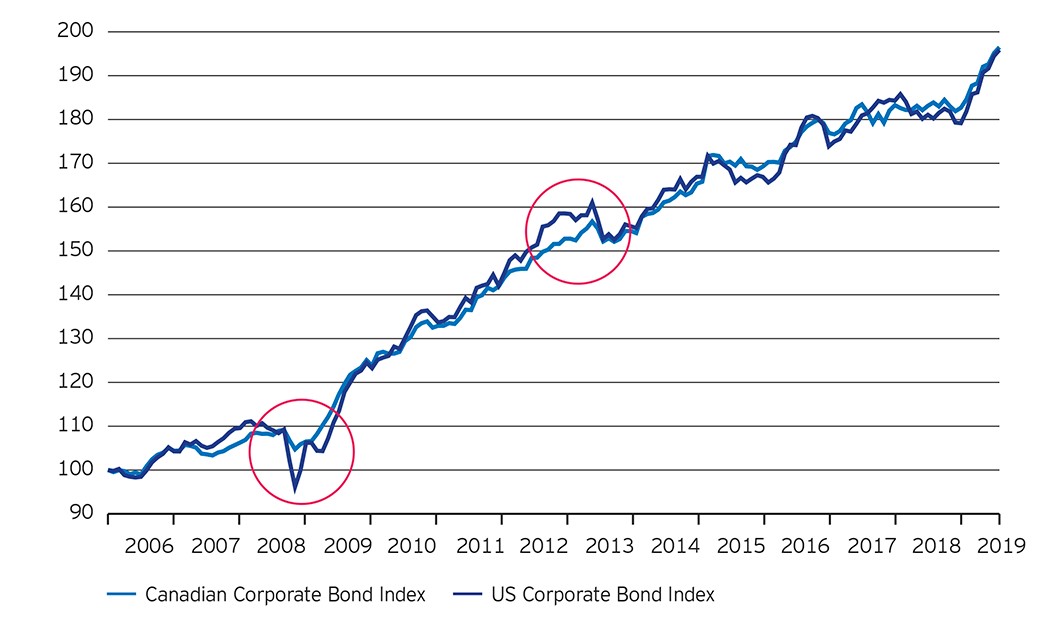 Source: Bloomberg/FTSE Canada, as at June 17.
This post was originally published at Invesco Canada Blog
Copyright © Invesco Canada Blog