by Fred Alger and Company
The yield curve has a strong track record of predicting recessions. However, recently the Federal Reserve published a paper that shows a shorter term yield curve is a more accurate forecaster of recessions than the traditional yield curve. Interestingly, the short-term yield curve tells a different story than the traditional one.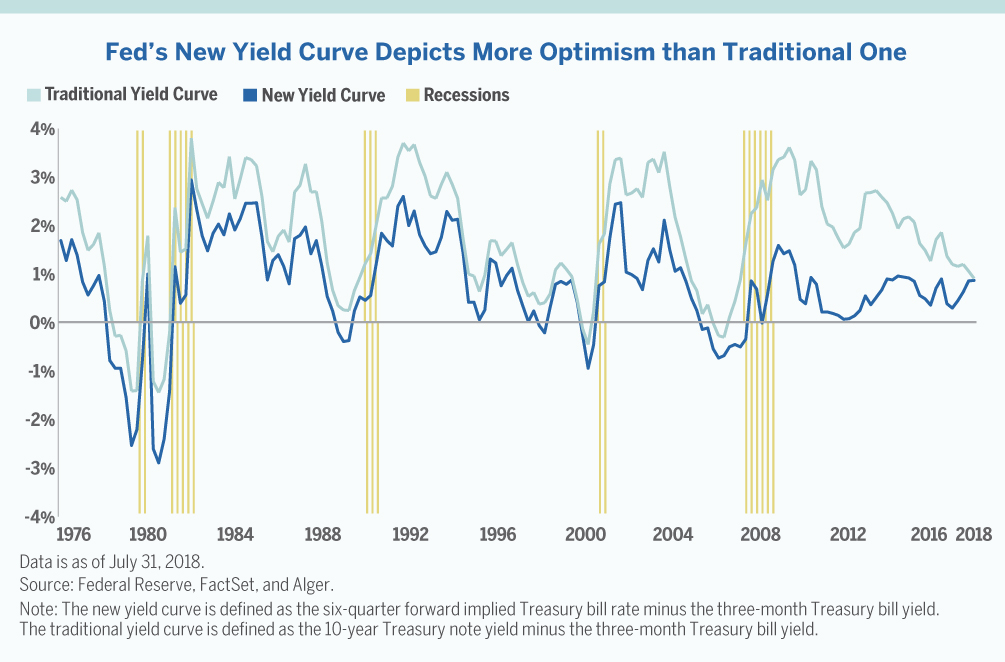 The traditional yield curve contains signals about the fixed income market's outlook on interest rates. When the curve is flatter, the market is less bullish on medium-term interest rates relative to current rates, implying a less positive view of growth over the intermediate term or the possibility of recession. However, global monetary policy and other factors may be distorting mid-to-long-term yields and therefore this metric.
According to the Fed, a shorter term curve may serve as a better "proxy for market expectations of Federal Reserve policy." When negative, it indicates the market is anticipating the federal funds rate to decline because of a recession, and when positive it indicates the expectation of a rising federal funds rate because of strong growth.
Unlike the traditional longer term yield curve, the shorter term curve has not been trending down and is less indicative of a recession. In our view, it implies approximately less than a 15% chance of recession in the next few quarters. This new yield curve may not signal a curve in the road of investing; slowing down may be unnecessary.
---
The views expressed are the views of Fred Alger Management, Inc. as of August 2018. These views are subject to change at any time and they do not guarantee the future performance of the markets, any security or any funds managed by Fred Alger Management, Inc. These views are not meant to provide investment advice and should not be considered a recommendation to purchase or sell securities.
Risk Disclosure: Investing in the stock market involves gains and losses and may not be suitable for all investors. Investment return and principal value of an investment will fluctuate so that an investor's shares, when redeemed, may be worth more or less than their original cost. Many technology companies have limited operating histories and prices of these companies' securities have historically been more volatile than other securities, especially over the short term. Technology companies may also face increased competition, government regulation, and risk of obsolescence due to progress in technological developments.
Fred Alger & Company, Incorporated 360 Park Avenue South, New York, NY 10010 / www.alger.com