by Richard Turnill, Global Chief Investment Strategist, Blackrock
Richard explains why we believe earnings strength is likely to extend through the rest of the year.
We have had another outstanding earnings season–championed by U.S. companies. Firms beating expectations have been rewarded with rising stock prices, even as investors fret about rising economic uncertainty, trade frictions and a strong U.S. dollar. We expect earnings strength to power on through the rest of the year amid solid global growth, as companies have become more confident in their outlook.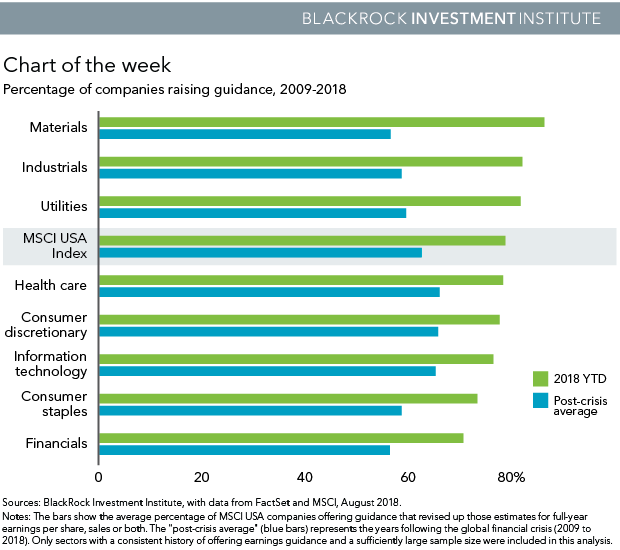 Company executives have sounded more upbeat. Almost 80% of the companies in the MSCI USA Index that offer guidance have raised their full-year forecast for earnings, sales or both so far this year, as the chart above shows. This compares with an average of 63% since the global financial crisis ended in early 2009. The optimism is widespread: More companies across all sectors have revised up their guidance this year than the post-crisis average. Health care and information technology, with a combined 40% of the index's market cap, have traditionally had relatively high upward earnings revisions – and are exceeding this bar in 2018. Consumer sectors have modestly lagged the average rate of upward revisions in the broad index. Some of these companies are citing dollar strength and rising input costs that can be hard to pass on to consumers, our analysis of second-quarter earnings call transcripts shows.
Onward and upward
We see earnings growth being driven by more than one-off stimuli, such as the U.S. tax cuts. A solid global economy–with our BlackRock Growth GPS pointing to room for upward revisions in global growth forecasts–has been supporting high revenue growth. U.S. companies reported 10% annual revenue growth in the second quarter–the strongest in nearly seven years. Sales growth for EM companies is on par with that in the U.S., our analysis shows, although just one-third have reported so far for the latest quarter. Europe and Japan are relative laggards with 5% revenue growth.
Rising trade conflicts have been front and center in the markets and the media. So far they have had limited impact on global earnings–or the earnings outlook. There are exceptions: Consumer discretionary firms were among the first to feel the pinch from tariffs. Case in point: Global auto and household appliance makers guided earnings lower after the U.S. slapped tariffs on steel and aluminum imports. Corporate executives in most other sectors are expressing confidence that much of the increased cost can be passed on.
We expect earnings growth, dividends and share buybacks–not multiple expansion (rising price-to-earnings ratios)–to drive equity returns over the coming quarters. We see solid fundamentals underpinning global growth and supporting corporate earnings, though geopolitical risks such as trade conflicts are amplifying economic uncertainty. See our BlackRock geopolitical risk dashboard for our latest assessments. We believe portfolio resilience is critical against this backdrop. We prefer companies with strong balance sheets and solid earnings momentum. We find these primarily in the U.S. We also like EM equities supported by economic reforms, improving corporate fundamentals and reasonable valuations, but see escalating trade conflicts and a stronger U.S. dollar as potential risks. A currency crisis in Turkey highlights the risks in EM economies dependent on external funding, and argues for a selective approach.
Richard Turnill is BlackRock's global chief investment strategist. He is a regular contributor to The Blog.
Copyright © Blackrock