by Laurent Saltiel, Naveen Jayasundaram, Sergey Davalchenko, Kate Huang, AllianceBernstein
Millennials are becoming a powerful force in emerging markets (EM). Understanding the social and consumer dynamics of this generation can lead to surprising investment opportunities in diverse sectors.
People born in the 1980s and 1990s are coming of age. Commonly known as millennials, this segment of the population is becoming increasingly important as contributors to society and drivers of consumption growth.
In emerging Asian countries, the millennial engine is racing ahead. Millennials account for a larger portion of the population (Display 1) and are wealthier in aggregate than their developed-market peers (Display 2). Since they're often better educated than their parents, they enjoy brighter job prospects. And Asian millennials have vastly different habits and tastes from past generations. Businesses that successfully cater to this generation can enjoy prolonged growth, in our view.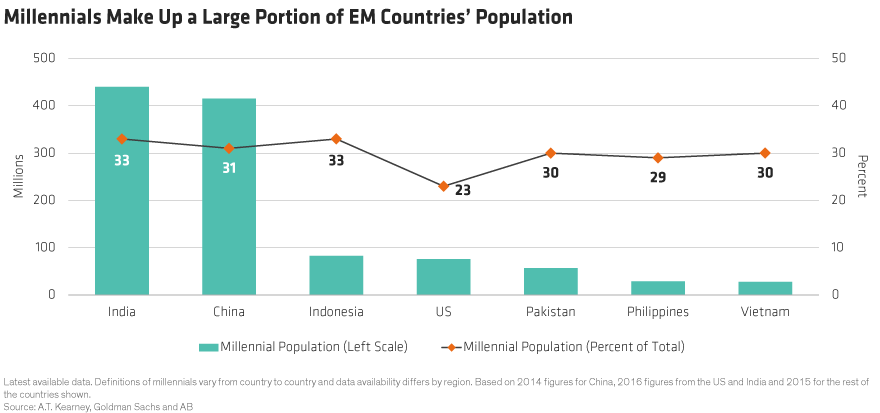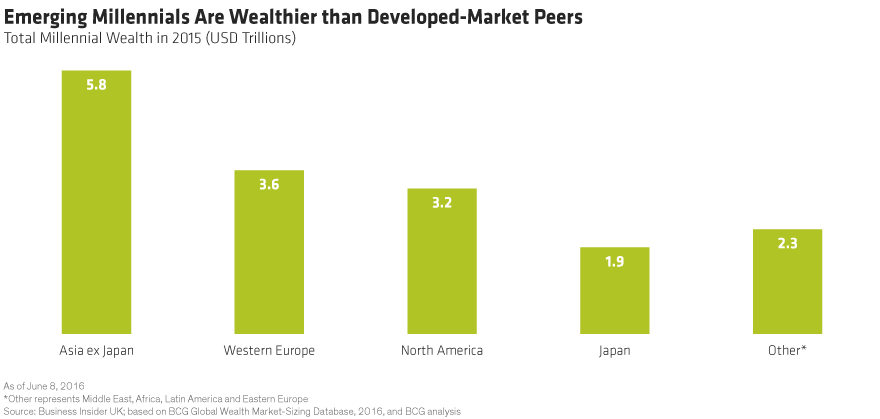 China Leads the Way
China deserves special attention. With 415 million millennials and a relatively high per capita income, spending power of the younger generation in China is much greater than in other emerging countries.
In China, 35% of people born in the 1990s are expected to graduate from college, up from just 4% among their parents, according to a Goldman Sachs report. Since 70% of Chinese millennials already own a home, they have more disposable income than young Americans, who are typically saddled with student loans. It is no surprise that recent surveys show greater optimism about the future among EM millennials than their western counterparts.
Private Education Is Booming
Education is a top priority. Owing to cultural norms in Asia, parents spend a disproportionate amount of their income on education (Display 3).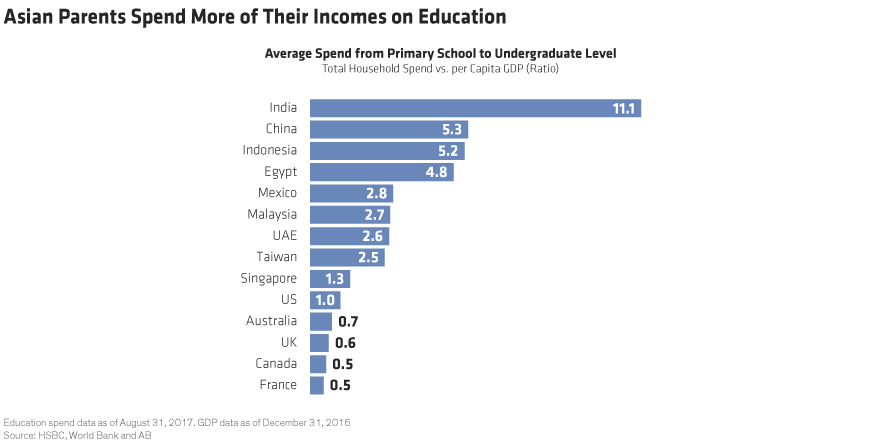 China stands out for several reasons. First, as a result of China's "one child" policy, families are often willing to spend handsomely to ensure their child's success. Second, the number of high-quality universities is limited. Third, older Chinese millennials who have reaped the benefits of a better education are keen to invest heavily in their child's future.
Private companies have stepped up to serve needs not addressed by the country's public school system. Examples include New Oriental Education & Technology Group, a household name in K–12 after-school tutoring in China. Many millennials send their young children to New Oriental's early-education classes. As they grow older, these kids join the company's tutoring programs for hypercompetitive exams that are a prerequisite to enter China's best universities.
Travel Bug Is Spreading
Beyond education, Chinese millennials are also passionate about travel. In 2016, Chinese people aged 18 to 34 made 82 million trips abroad, accounting for 60% of the country's foreign travel and spending more than US$150 billion. By comparison, Americans of all ages made 75 million journeys abroad last year. As more young people enter the workforce, we expect Chinese outbound tourism to grow at more than double the global rate over the next five years.
Young Chinese also have travel preferences that are more similar to those of their western peers. For example, over 70% of Chinese millennials rely on online resources to plan their trip. They increasingly shun popular destinations like Paris and Tokyo in favor of unique experiences like watching the Northern Lights in Finland. While older Chinese may spend a chunk of their travel budget on a Louis Vuitton bag, Chinese millennials seek to invoke similar envy among their friends by instantly sharing their travel experiences on social media platforms like WeChat and Weibo.
For example, Ctrip.com, the country's leading online travel agency, serves as a one-stop shop for all travel needs from air and hotel booking to packaged tours and corporate travel. The company is also investing in travel guides and alternative accommodation (like TripAdvisor and Airbnb).
Millennial dynamics vary from country to country. In India, for example, large lenders like HDFC Bank are capturing market share by creating online banking tools that fit the lifestyle of a millennial customer. In Vietnam, shopping mall operators like Vincom Retail are catering to millennials' preference for modern retail over traditional wet markets and mom-and-pop stores, as well as their desire for international brands and entertainment venues.
For investors, the millennial boom is an exciting opportunity. But it requires a long-term perspective on cultural and consumer nuances of individual markets. By focusing on the constantly changing needs of young people, we believe investors can discover companies poised to benefit from demographic trends that will unfold over a generation or more.
The views expressed herein do not constitute research, investment advice or trade recommendations and do not necessarily represent the views of all AB portfolio-management teams.
Copyright © AllianceBernstein