by Don Vialoux, Timingthemarket.ca

Pre-opening Comments for Wednesday September 14th
U.S. equity index futures were higher this morning. S&P 500 futures were up 4 points in pre-opening trade.
Bayer has agreed to purchase Monsanto at $128 per share. Value of the deal is estimated at $66 billion. Monsanto added $0.49 to $106.59
Biogen (BIIB $297.41) is expected to open higher after reporting positive new data for its multiple sclerosis treatment.
Potash added $0.09 to US$16.25 after Stiffel Nicolaus upgraded the stock to Buy from Hold.
Ford slipped $0.25 to $12.13 after lowering its 2017 guidance.
Macy's added $0.72 to $35.40 after Citigroup upgraded the stock to Buy from Neutral.
Coach slipped $0.84 to $35.45 after Morgan Stanley downgraded the stock to Underweight from Equal Weight.
EquityClock's Daily Market Comment
Following is a link:
http://www.equityclock.com/2016/09/13/stock-market-outlook-for-september-14-2016/
Note seasonality charts on 10 year Treasury prices and crude oil as well as a study showing S&P 500 returns in weeks surrounding September Quadruple Witching
Observations
More interest rate increase fears!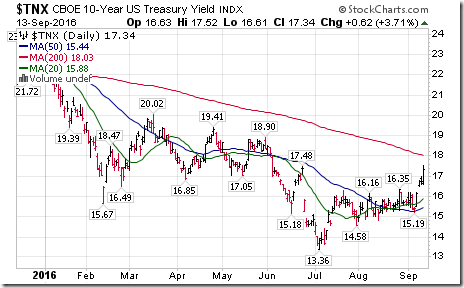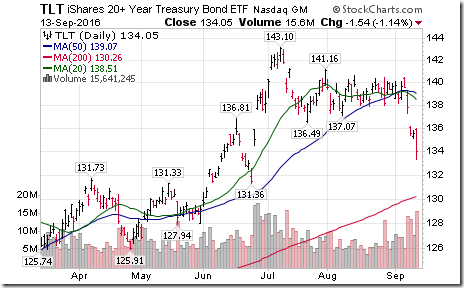 The VIX Index responded accordingly. 'Tis the season!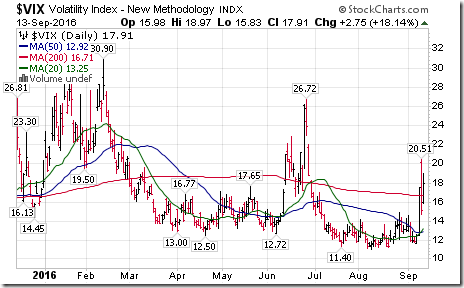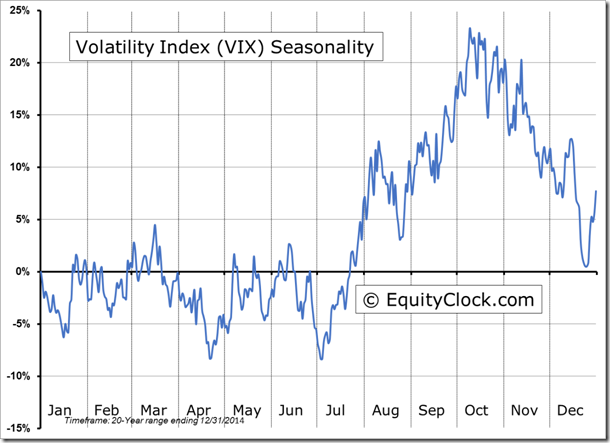 StockTwits Released Yesterday @Equityclock
S&P 500 testing previous support, now resistance at 2160.
Technicals by S&P 500 stocks to 11:00: Bearish. 8 stocks broke support: $CNX, $HAL, $MRO, $PXD, $WFC, $INTU, $DOW, AYI. None broke resistance.
Editor's Note: After 11:00 AM EDT, another six stocks broke support: AIV, PAYX, APD, ETR, COH and ECL.
Energy stocks on both sides of the border are notably weak: $CNX, $HAL, $MRO, $PXD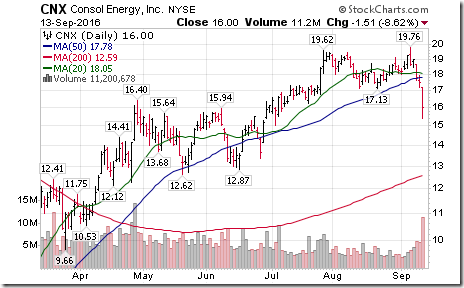 'Tis the season for weakness in Canadian energy stocks to mid-October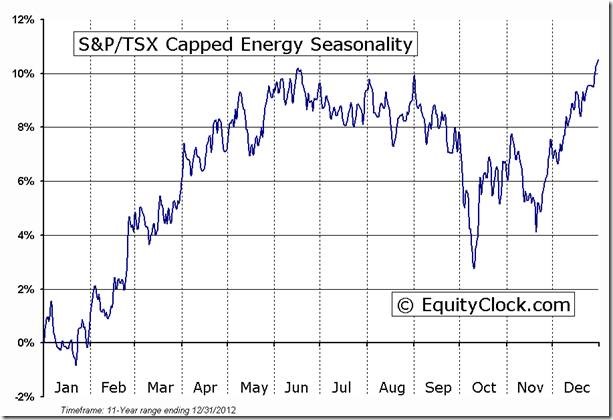 Brazil ETF $EWZ broke support at $32.65. Post-Olympics hangover?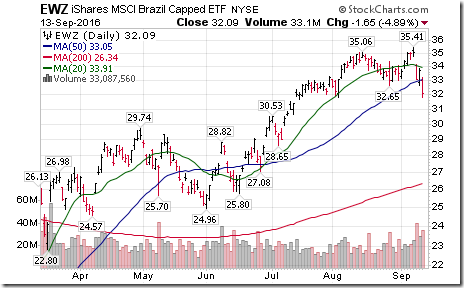 Grocery price wars impacting Metro $MRU.CA. Downtrend extended on break below $42.37.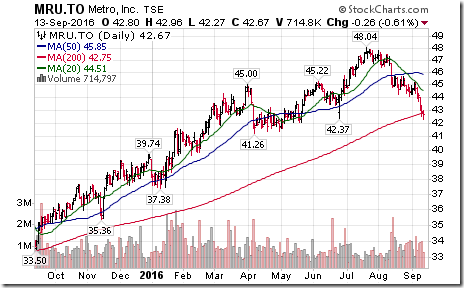 Oil Service stocks such as $HAL breaking support completing double top patterns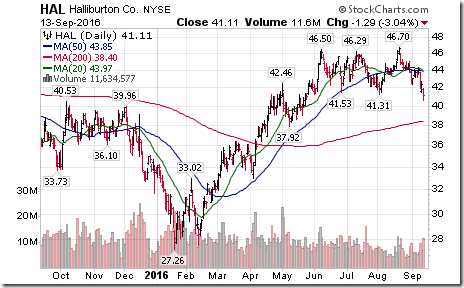 'Tis the season for $HAL and other oil service stocks to move lower to mid-October!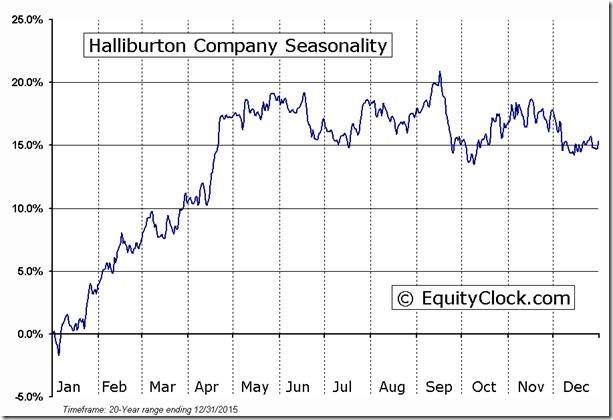 Hasbro $HAS broke support at $78.04 extending downtrend. 'Tis the season for weakness until end of September!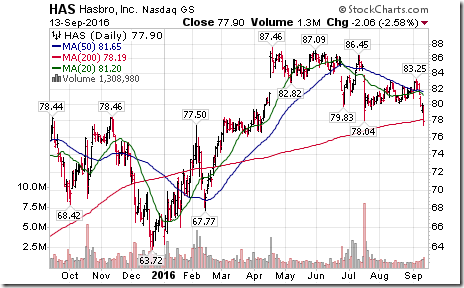 Uranium equity ETF $URA broke below $13.33 extending intermediate downtrend on declining uranium prices.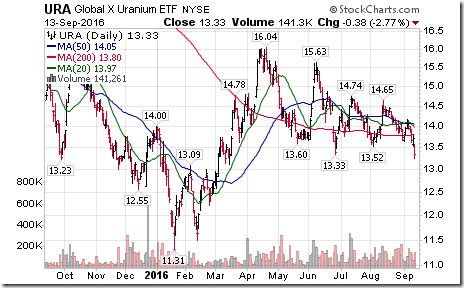 BMO Global Base Metal ETF $ZMT.CA broke below $7,65 completing double top pattern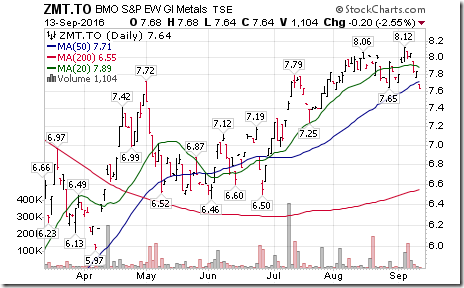 Global Copper Miners ETF $COPX broke below support at $15.70 completing Head & Shoulders pattern.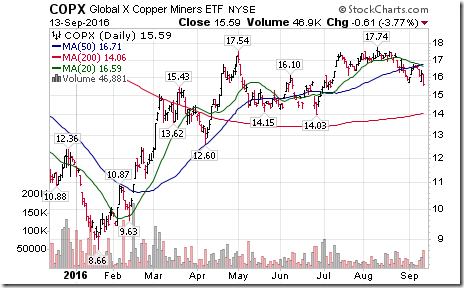 'Tis the season for copper prices to move lower until mid-November! $JJC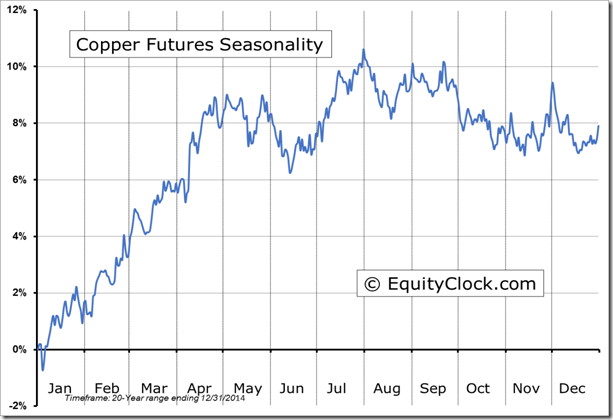 Gildan $GIL.CA broke support at $37.42 extending an intermediate downtrend.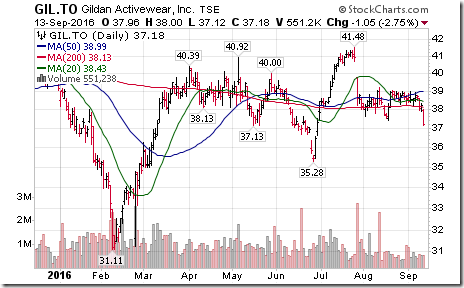 'Tis the season for Gildan to move lower to mid-October! $GIL.CA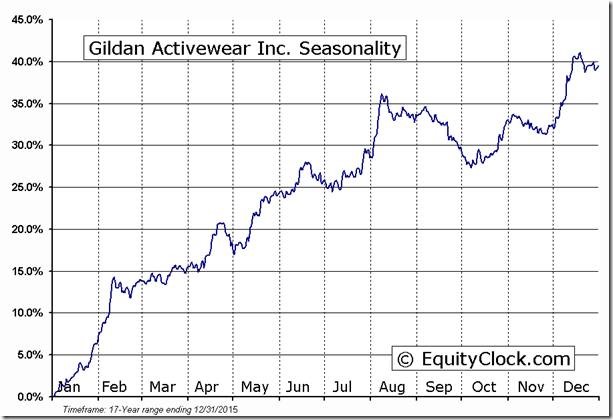 Mr. Vialoux presenting at the Toronto MoneyShow
Presentation is held from 2:45 to 3:30 PM EDT on Saturday September 17th .Topic is "Sell in May and Go Away???" Focus of the presentation is on how to take advantage of periods of volatility during the summer.
Trader's Corner
Daily Seasonal/Technical Equity Trends for September 13th 2016
Green: Increase from previous day
Red: Decrease from previous day
Daily Seasonal/Technical Commodities Trends for September 13th 2016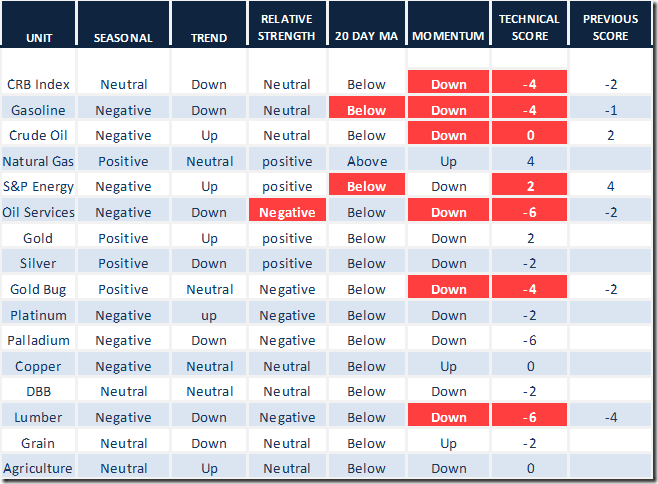 Green: Increase from previous day
Red: Decrease from previous day
Daily Seasonal/Technical Sector Trends for September 13th 2016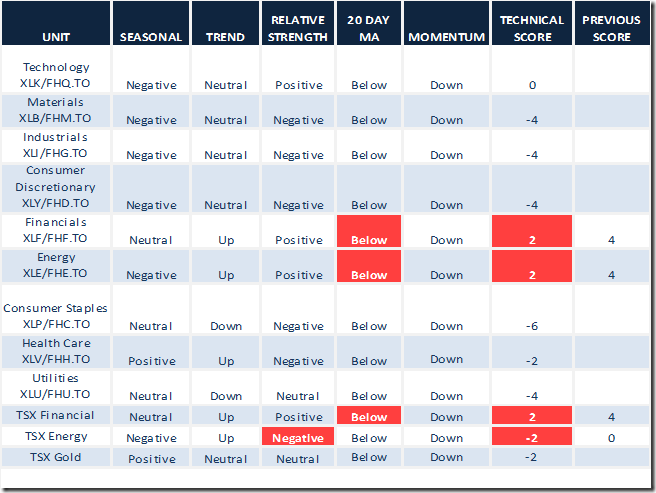 Green: Increase from previous day
Red: Decrease from previous day
Adrienne Toghraie's "Trader's Coach" Column
Repressed Emotions
By Adrienne Toghraie, Trader's Success Coach
Do you have a pattern of making money in the markets and
then losing a great deal of those profits in one fell swoop?
In my experience coaching traders for many years, this form of self-sabotage is from what I call repressed emotions. Repressed emotions result from events from the past where there was a deep emotion that was repressed from being expressed. When these emotions are not allowed to express themselves, they are then buried deep within our neurology. The emotions then become like a pressure cooker that builds up steam. Add more such incidents, and the steam from the pressure cooker overtakes the lid and bursts out into one big mess. For a trader that generally means a big loss.
Combine repressed emotions with other forms of sabotage such as fear of success, failure, or loss and you then have a double-whammy of sabotage. These issues usually require coaching at a subconscious level.
Yuri the yo-yo trader
I met Yuri at an Expo in London. He took my Trader's Evaluation and it was clear to me that he had repressed emotions and other self-sabotage issues that showed up negatively in his trading results.
Yuri was born in Russia and left when only a child. His father did what he could to keep food on the table and eventually became a taxi cab driver. Yuri knew many hungry days as a child and listened to countless arguments of his parents over money. His father drank heavily and there were many beatings. However, Yuri refused to let his father see him cry.
Yuri's mother became a seamstress, then a designer and finally opened her own shop. She eventually asked for a divorce and took Yuri with her. From then on, Yuri lived a privileged life with his mother who afforded him a college education where he learned to be a gentleman. He eventually received a Masters Degree in finance and was accepted to work for a bank in training to be a trader.
At first Yuri was considered the wonder-boy, but when he started to put pressure on himself to produce more profits he had a meltdown and lost a huge amount of earnings in one day. From then on Yuri's confidence was damaged, and he continued the pattern of earning good profits, only to lose a large chunk of them.
Yuri had many self-sabotage issues, but he thought that he could overcome them on his own. He took my trader's home study course and recognized himself in many of the books. He realized he needed a Trader's Coach to face the repressed emotions that were holding him back from being as profitable as his strategy would allow and decided to work with me privately.
Signs of repressed emotions
Here is a list of some of the signs that you might be dealing with repressed emotions:
· Repeated pattern of making money consistently and then losing a large amount
· Temper outbursts
· Addictive behavior
· Creating situations where people who were once friends and other significant others do not want to be with you
· Being fired from several jobs in a row
· Getting bored easily
· Needing constant stimulation
· Depression
While there are other issues that can be related to the issues stated above, the self-sabotage of repressed emotions is usually part of the mix.
What steps you can take to overcome the issue of repressed emotions:
· Acknowledge that it is a problem
· Work only when you are feeling peaceful and relaxed in a nurturing environment
· Create situations where you feel great emotions, through reading books, looking at movies, going to a comedy club
· Take a class in Stanislavski Method Trading for actors
· Work with a Trader's Coach who has the ability to work at the subconscious transformational level
Conclusion
Repressed emotions will always find a way to become active especially when people put pressure on themselves. It has been my experience that all self-sabotage issues will reach the surface and eventually create havoc in profits for a trader. When self-sabotage becomes a chronic issue, then it will continue to be such until it is handled on a subconscious transformational level.
Free Newsletter
More Articles by Adrienne Toghraie, Trader's Success Coach
Sign Up at – www.TradingOnTarget.com
S&P 500 Momentum Barometer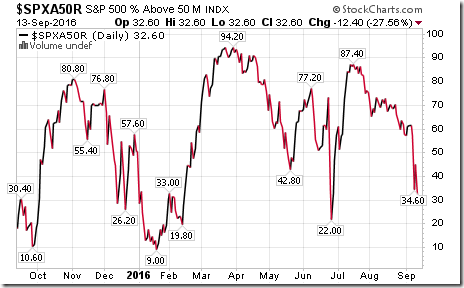 The Barometer plunged 12.40 to 32.60. It dropped to a slightly intermediate oversold level, but continues to trend down.
TSX Momentum Barometer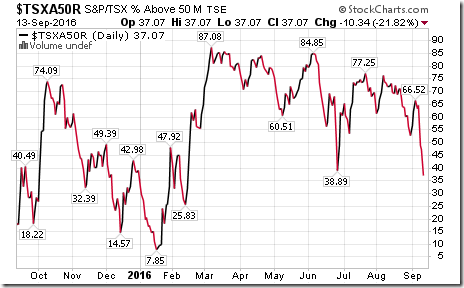 The Barometer plunged 10.34 to 37.07. It dropped to an intermediate oversold level, but continues to trend down.
Disclaimer: Seasonality and technical ratings offered in this report by www.timingthemarket.ca and www.equityclock.com are for information only. They should not be considered as advice to purchase or to sell mentioned securities. Data offered in this report is believed to be accurate, but is not guaranteed
Copyright © DV Tech Talk, Timingthemarket.ca