SIA Weekly: Canadian and U.S. Real Estate Going Strong
For this week's edition of the Equity Leaders Weekly, we are going to take a look at the real estate sector once again. We last looked at the real estate sector back on the April 21 2016 edition of the Equity Leaders Weekly. The real estate sector has been in the favored zone of both SIA's ETF Sector rankings and Mutual Fund Sector Rankings. For those of you looking for some increased diversification, real estate can be an option as it is often considered a separate asset class of its own due to its unique characteristics. Real estate is perceived to benefit from a low interest rate environment which we have experienced over the last number of years. Also, with many "Baby Boomers" reaching retirement age (or already in retirement) there has been an increasing thirst for income as an important requirement in their investment portfolio mandates. Real Estate Investment Trusts (REITS) offer another avenue for one to obtain this income requirement without having to get exposure to traditional dividend paying securities which may be more correlated to the equity asset class. Let's re-examine both the BMO Equal Weight REIT ETF (ZRE.TO) and the IShares US Real Estate REIT which we last commented on in the April 21st edition of the Equity leaders weekly.
BMO Equal Weight REITS Index ETF (ZRE.TO)
The BMO Equal Weight REIT Index ETF (ZRE.TO) is designed to replicate, to the extent possible, the performance of the Dow Jones Canada Select Equal REIT Index, net of expenses. In looking at the attached chart, you can see that the ZRE.TO has just recently broken above its previous resistance point at $19.68 and has resumed its upward trend which has been intact since the February of this year. As mentioned previously, it is said that REIT's can be influenced by the level and direction of interest rates. With the Canadian central bank lowering interest rates twice in 2015 due to the weaker Canadian economy brought on by weak oil markets, it seems to have re-invigorated the Canadian REIT market of late.  The next level of resistance can now be found at the $21.00 area. If a pullback materializes, main support can be found at $18.72 and, below that, $18.35. With an SMAX score of 7 out of 10, ZRE.TO continues to show strength against most asset classes.
Please note that we have used a 1% point and figure chart analysis of ZRE.TO just as we did on April 21st to stay consistent with the past commentary. A 1% box size was used to look at a shorter time frame to see more movement of the Canadian real estate market over the last few years.
Click on Image to Enlarge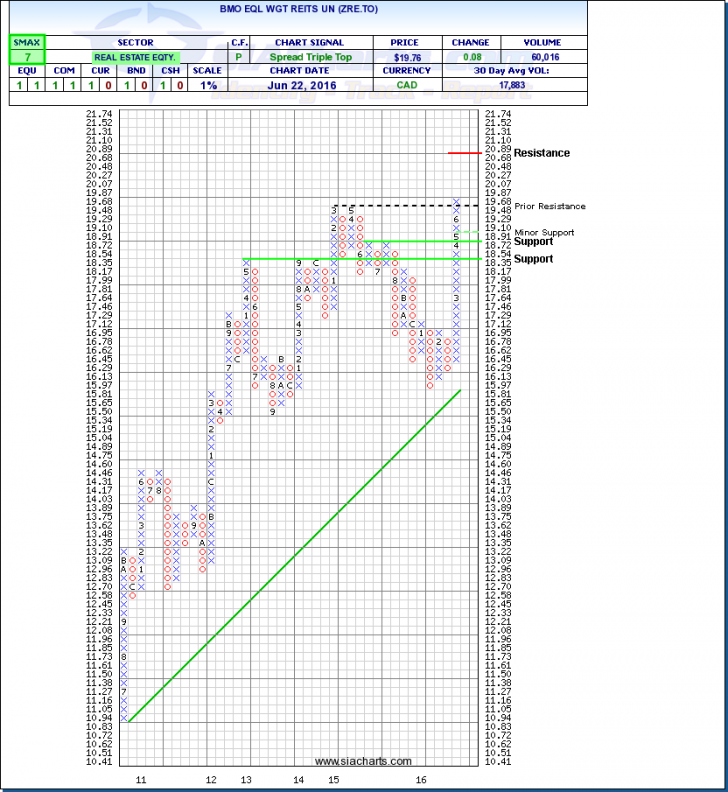 IShares U.S. Real Estate ETF (IYR)
Now let's draw our attention to the chart of the IShares U.S. Real Estate ETF (IYR). The IShares U.S. Real Estate Market ETF (IYR) tracks the Dow Jones U.S. Real Estate Index composed of the real estate sector of the United States equity market, and includes companies in certain industry groups, such as real estate holdings and real estate investment trusts. The attached chart shows you that IYR has also recently broke its previous resistance point at the $79.07. In fact, it has reached a new all-time high. The next level of resistance is now at the $85.59 level. Support can be found at $73.05 and, below that, $66.16. Going forward, it will be interesting to see if the real estate sector can resume its upward trend in the coming weeks and months. With an SMAX score of 10 out of 10, it is showing near term strength against all asset classes. Since the real estate sector is ranked high in both the SIA ETF sector rankings and the SIA Mutual Fund Sector rankings, we suggest you keep a close eye these sectors to see if the strength will continue going forward.
Click on Image to Enlarge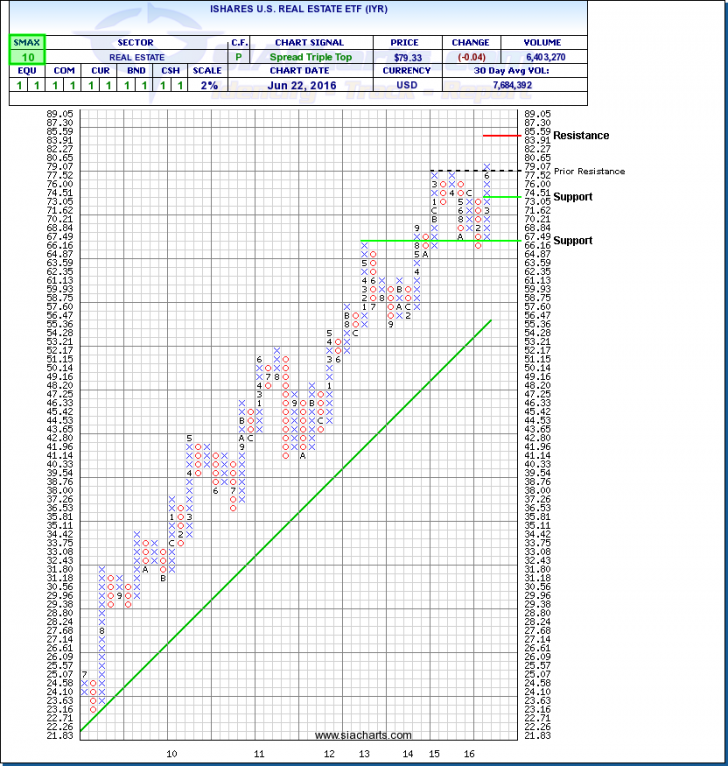 SIACharts.com specifically represents that it does not give investment advice or advocate the purchase or sale of any security or investment. None of the information contained in this website or document constitutes an offer to sell or the solicitation of an offer to buy any security or other investment or an offer to provide investment services of any kind. Neither SIACharts.com (FundCharts Inc.) nor its third party content providers shall be liable for any errors, inaccuracies or delays in content, or for any actions taken in reliance thereon.
For a more in-depth analysis on the relative strength of the equity markets, bonds, commodities, currencies, etc. or for more information on SIACharts.com, you can contact our customer support at 1-877-668-1332 or at siateam@siacharts.com.