While it seems investors have been very U.S.-focused it seems there are some interesting setups that are taking place in some country-specific ETFs. What I'd like to look at today is the iShares Brazil ETF ($EWZ). Brazil has fallen about 40% from its September 2014 high. With the down trend the 50-day Moving Average has acted as good resistance on counter-trend rallies. While at the same time Momentum (RSI indicator) remained in a bearish range as sellers continued to apply pressure to the downside.
However, recently there has been an interesting setup created in the latest price action for $EWZ. Earlier this month price tested the December low and bounced higher. At this test of the prior low the Relative Strength Index (RSI) put in a higher low. This bullish divergence is a good sign for Brazil bulls. What I'll be looking for next is to break out of the resistance near 58 on the RSI as a positive sign that momentum is strengthening.
The On Balance Volume (OBV) indicator also put in a positive divergence. This volume indicator simply adds and subtracts the number of shares traded based on whether that day's price action was positive or negative. We can see that fewer shares were traded on the downside as price fell to test that Dec. level, meaning there was potentially less interest by traders to push shares lower during this re-test.
As price approaches it's 50-day MA and it's declining trend line, this could be a place for price to do battle. Bulls will want to push $EWZ above this trend line as well as the Moving Average and hopefully get a test and a break of the prior lower low of $38.
I'll be watching the price action in Brazil and see if momentum and price are able to show some constructive signs in ending the current down trend.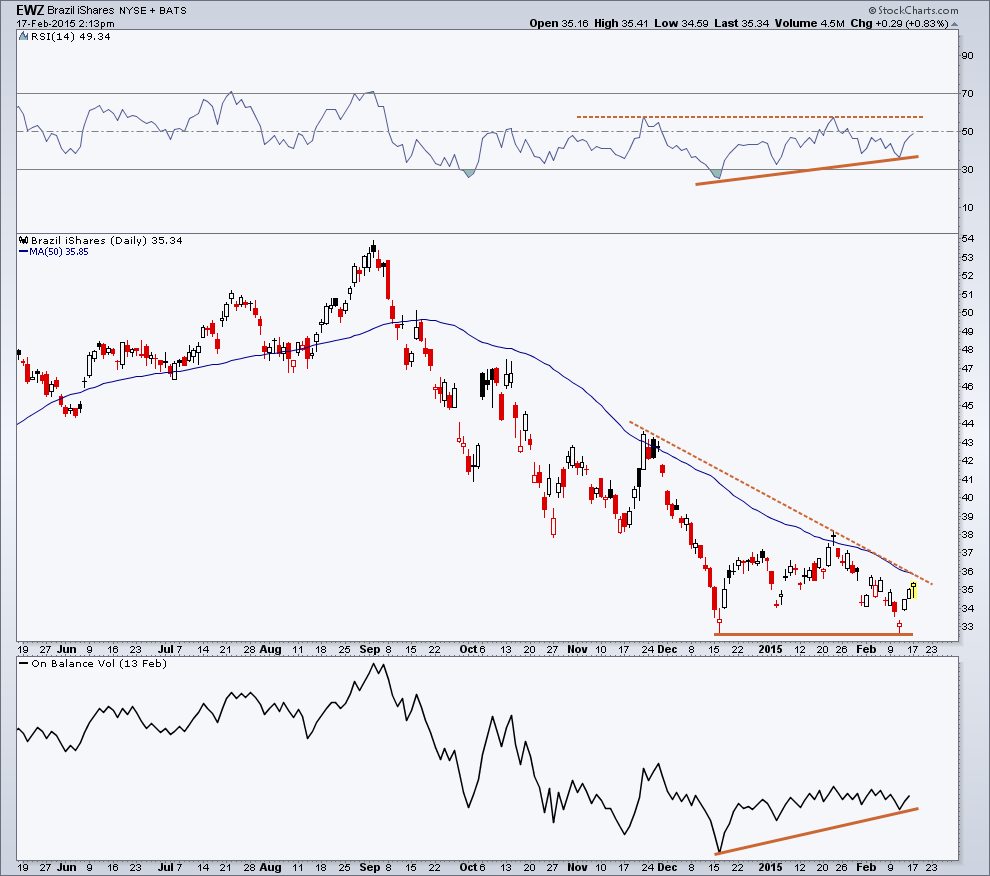 Disclaimer: Do not construe anything written in this post or this blog in its entirety as a recommendation, research, or an offer to buy or sell any securities. Everything in this post is meant for educational and entertainment purposes only. I or my affiliates may hold positions in securities mentioned in the blog. Please see my Disclosure page for full disclaimer. Connect with Andrew on Google+, Twitter, and StockTwits.