The Economy and Bond Market Radar (October 21, 2013)
Treasury bond yields fell this week as the government reopened and the debt ceiling was raised, lifting the overhang of potential treasury default. Yet another outcome of the political wrangling is the likelihood that any tapering of quantitative easing (QE) will be delayed, possibly into next year. This was also a factor in bonds rallying this week. For a few months we have commented on the increasingly synchronized global recovery and this week we received more confirmation with strong results from the German ZEW investor sentiment index, which shows economic expectations roughly at four-year highs.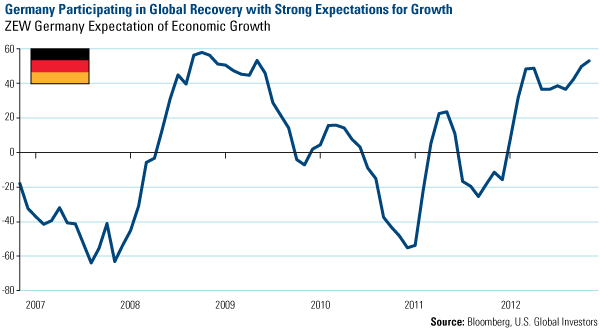 click to enlarge
Strengths
The German ZEW investor sentiment index shows economic expectations are hitting close to four-year highs. This is a key investor sentiment index for Europe.
European car sales rose 5.5 percent in September, the biggest increase in two years.
China's third quarter GDP accelerated to 7.8 percent year-over-year, and affirms the improving economic situation in China. This reading is key for Europe and many emerging market countries.
Weaknesses
The government shutdown will likely have a negative impact on October and fourth quarter economic data.
The Bloomberg Consumer Comfort Index fell to a two-year low this week. The likely culprit was the political shenanigans in Washington, DC.
The Federal Reserve's beige book reported signs of economic slowing in certain parts of the country.
Opportunity
Despite recent conflicting commentary, the Fed continues to remain committed to an overall accommodative policy and is unlikely to raise interest rates in 2013 or 2014.
Key global central bankers remain in easing mode such as the European Central Bank, the Bank of England and the Bank of Japan.
The government shutdown damage is probably done and will likely push QE tapering into 2014.
Threat
Inflation in some corners of the globe is getting the attention of policy makers and may be an early indicator for the rest of the world.
Trade and/or currency "wars" cannot be ruled out which may cause unintended consequences and volatility in the financial markets.
The recent bond market sell off may be a "shot across the bow" as the markets reassess the changing macro dynamics.