Monthly Strategy Report December 2011
by Alfred Lee, CFA, DMS, Vice President & Investment Strategist,
BMO ETFs & Global Structured Investments
BMO Asset Management Inc., alfred.lee(@)bmo.com
Just when you thought financial markets couldn't get any more extreme, they suddenly prove otherwise. Such was the theme over the course of 2011, a year where market volatility caused constant changes in sentiment and significantly frustrated many investors. Global equities fell 6.5% on the year, as indicated by the MSCI World Index (Total Return), which should actually be viewed as a positive given the macro-economic backdrop.
As the year progressed, the market was hit with an increasing number of negative headlines including: the unfortunate Japanese earthquake/tsunami; the downgrade of U.S. Treasuries by Standard & Poor's; deteriorating sovereign debt issues in Europe; and growing concerns of a hard landing in China. As a result, most of the gains experienced in broad market equity indices during the first quarter of the year rapidly reversed course as sentiment became increasingly bearish from these news items during the last six months of the year. Moreover, since August, both realized and implied volatility have remained elevated, providing a serious test of discipline for investors.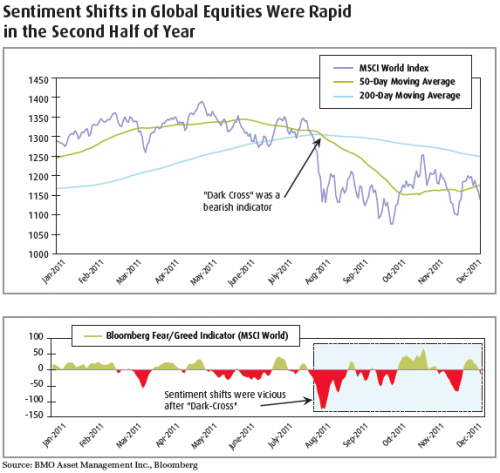 We started the year with a more bullish tone as markets continued to enjoy the effects of "QE2" (the second instalment of quantitative easing by the U.S. Federal Reserve). However, as the year progressed and market sentiment soured, our Global Inter-Market Model showed developing trends in defensive-oriented assets. Consequently, and also considering the worsening macro-economic data, we issued a report on August 15, titled "Navigating Market Volatility" where we recommended a more defensiveoriented portfolio strategy. Given the rapidly changing market environment, our recommendations in 2011 were significantly more tactical than the previous year. Below, we highlight some of the recommended themes throughout the year.
Asset Allocation Themes:
1) "Overweight Equities Relative to Bonds:"
This asset allocation decision fared extremely well during the first quarter with the S&P/TSX Composite Index to DEX Universe ratio expanding until April 8, as Canadian equities outperformed bonds. Though we remained optimistic on equities through June, as the summer progressed, both macro-economic data and technical indicators suggested a greater emphasis to fixed income. We therefore recommended an overweighting in bonds in our previously mentioned August 15 report. That tactical shift to fixed income has served us well as our BMO Aggregate Bond Index ETF (ZAG) has gained 3.5% on a total return basis since that report, while the S&P/TSX Composite Index returned -6.7% on a total return basis from the same period. That tactical shift led to a difference of 10.2% in performance.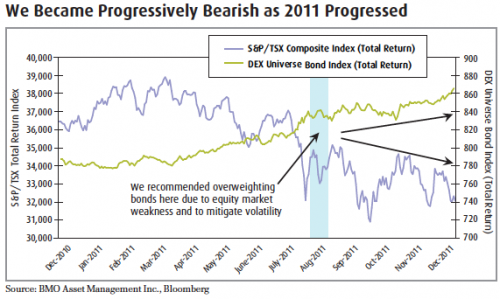 2) "Be Prepared for Sudden Upside Volatility:"
At the beginning of the year and a theme highlighted throughout 2011 was to prepare for constant shocks in volatility or what we noted as "volatility-squared," as markets were becoming more behaviourally driven and increasingly reactive to negative headlines.