Emerging Markets Cheat Sheet (October 11, 2011)
Strengths
China will spend roughly 4 trillion RMB in the next five years to improve water and agriculture infrastructure. In Shandong province, the government plans to spend 20.6 billion RMB to construct the eastern route of the South-North Water Diversion Project. Such projects bode well for machinery and construction materials.
Taiwan's consumer price index (CPI) in September was 1.35 percent, slightly higher than 1.34 percent in August, while the Philippines' CPI in September was 4.8 percent, also slightly higher than 4.7 percent in August.
Korea's CPI rose 4.3 percent in September, slowing from the 5.3 percent in August which was a three-year high.
According to results of a sample survey, sixty main shopping areas in Shanghai realized total sales of RMB 1.035 billion from October 1 to October 3, a 26.2 percent increase year-over-year. Huiyin Household, a distributor of home appliances in tier 3 and 4 cities in China, released its sales from the national Golden Week holiday that showed a 74.64 percent growth on a year-over-year basis, with same-store sales increasing by 22.86 percent. This indicates China consumers are still spending.
On October 2, the Forbidden City in Beijing recorded 127,800 visitors, while the official capacity was 80,000 a day. In Anhui province, the Yellow Mountain recorded almost 40,000 visitors a day, while Shanghai received 3.2 million tourists in the first three days of the Golden Week. A record number of visitors was also reported in many other cities and provinces such as Qingdao, Nanjing, Wuhan, Henan, and Shanxi.
Chinese Premier Wen Jiabao said banks should support small businesses by extending credit to them with more tolerance for default, and the government needs to give them more preferential tax treatment, Xinhua News Agency reported. Mr. Wen was also quoted as saying the Chinese economy is "good" and "stable."
Turkey's central bank has taken further steps, including a reduction in required reserve ratios, to limit the weakening of the lira, which slid to a record low earlier this week. This follows acceleration in the volume the central bank has sold at its foreign exchange auctions and interventions by other emerging market central banks to support domestic currencies in the face of risk aversion.
Weaknesses
Korea's PMI for September fell to 47.5, according to HSBC Holdings Plc and Markit Economics. A figure below 50 indicates a contraction of industrial activities.
China's dealers of luxury cars have offered discounts to maintain sales as demand cools. In Beijing, BMW dealerships are discounting a 3-series car by as much as 19 percent, while Mercedes dealers are giving discounts of 20 percent.
Turkey posted a worse-than-expected $8.2 billion trade deficit ($100 billion on a 12-month rolling basis) in August, reflecting a rise in global commodity prices, especially energy products, as well as the large divergence between robust domestic demand and sluggish external demand.
Opportunities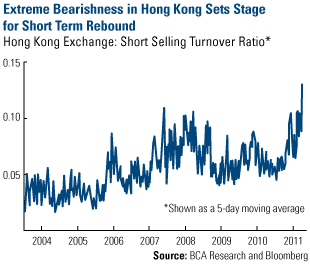 In Hong Kong, the short selling turnover ratio today is much higher than in 2008. Short sellers and hedge funds are crowded on selling positions to take advantage of the market volatility.  In today's news-driven market, any good news can cause a market squeeze, which is an event in which all short sellers are covering their short position at the same time, pushing up the stock price. This high short/long ratio can be a contrarian indicator.
Threats
In a recent news report, 89 percent of Wenzhou residents and 59 percent of businesses are involved in shadow bank lending, with total loans reaching 110 billion RMB. Some debtors have fled the city after they were unable to repay the debts. The Wenzhou news temporarily weighed on luxury stocks and banks. It looks like China has to battle a few important fronts at the same time – a property bubble, inflation, and bad debts arising from overexpansion. All of these could negatively affect economic growth.